Try this quick workout I put together to work  legs, core and back!
The back is often neglected in training, so I always make sure to incorporate it into my warmup, combo moves, and isolation training it as well.
It can be tough in the gym to do circuits because other people are using equipment too, so I set this up in sections so you can easily go through all 3 rounds of 2-3 exercises at a time in one place, then move on.
Be sure to read my notes on form at the bottom of this post!
Workout
Warmup: 1000-2000 meters on the rowing machine
3x
15 situps on GHG machine
—>if you don't have a GHG machine, you can do these on a ball. either way, 'set' to engage your core before each situp, and really feel your abdominals contract. reach your arms over your head for more challenge.
15 Jack knifes on bench
—>balance on your sit bones. open and close, keeping your legs straight.
50 L/R twists with a lightweight bar over your shoulders
—>keep your shoulders back, twist from your core. Try to keep your hips in place.
3x
15 L/R Hamstring curls: cable machine (these should be HARD, use an appropriate weight for yourself)
—>bring the head of the cable machine down low. put your working leg's foot in a strap. stand on a block with your other foot to level out your hips. curl your working leg up, keeping your hips level and your knees parallel.
15 L/R walking lunges with a barbell (medium difficulty – we're hitting the legs hard on these two)
—>hold the barbell over your shoulders and walk-lunge.
3x
10 L/R Single Leg deadlift/squat combo (light weight – it's the balancing muscles we're engaging here)
—>hold the dumbbells at your sides and balancing on one leg, come into deadlift position. keep your hips square and your bending knee over your toes, not in front of them. come up, and without touching your back foot down, squat. Repeat 10x on that leg and then switch.
10 TRX body weight rows
—> hold the straps with both hands and angle yourself to where it is challenging to pull yourself up. Keep your shoulders back.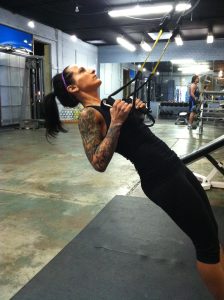 Notes on Form:
When rowing in your warmup and rowing on the TRX, it's important to keep your core engaged to protect your back, keep your shoulders plugged into their sockets (not allowing yourself to round forward). Keep your spine aligned – don't pitch your head forward or back.
On the GHG machine and while doing jack knifes, protect your back by engaging your core before you complete each rep.
In any of the leg exercises, keep your hips square. This means don't allow one hip to roll forward. This is especially hard while doing the unilteral exercises, but that's part of what develops muscles correctly. When you bend, always keep your joints stacked. This means, don't allow your knee to be out of line with your ankle.