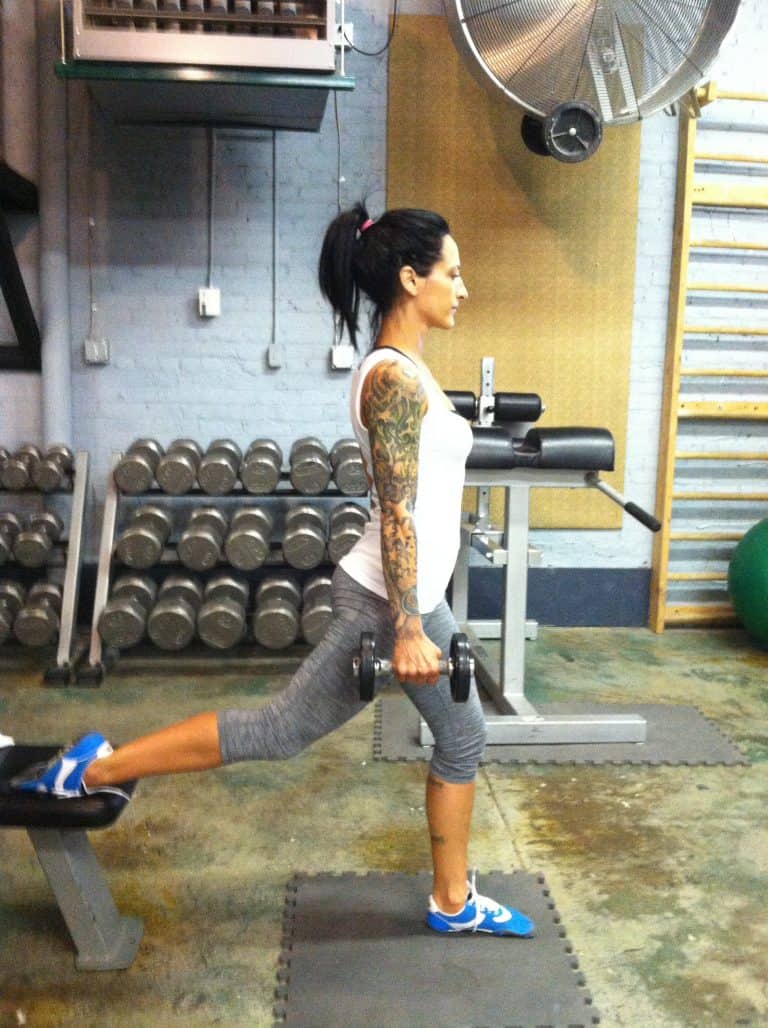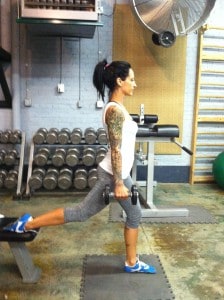 I love doing single-leg movements. They really challenge my balancing muscles and help me work on stabilizing my hips and core. Many people I work with have pelvic imbalances, so if you're willing to really work on your form and watch yourself while you do this move, it can be incredibly helpful in isolating weaknesses and building even muscular strength in the stabilizing muscles of the hip and leg.
Today's workout combines a challenging single-leg movement with a circuit I put together this morning. I included a little video to help you see how to do the ridiculous ab-shredding core moves I learned from my amazing coach, Tom Terwilliger. I was exhausted in the best way when I finished! Leave a comment below and let me know if you try it, and what the hardest move was!
WARMUP:
Elliptical Intervals for 15 minutes
3 minutes 'casual' speed at a low resistance – like 3
10 minutes of:
30 second 'sprint' – go as hard as you can! It's only 30 seconds! resistance up to 7 or 8
30-45 second rest at 3
Repeat to minute 13
2 minute cooldown at level 2 or 3
SEQUENCE A
3 Rounds:
10 Split Squat with (light-medium) Dumbbells – plus Hop!
—>practice this one without the weight first. Add the hop when you're comfortable. Be sure your knee doesn't go past your toes as you come down into the squat, and keep your chest open and shoulders back whether you're holding dumbbells or not. The hop is a small movement. As you come up fromt the squat, add a small hop at the end.
10 Ball Crunch-Ups
—>watch the video (below) for how to do these next two. For this one, get the ball as close to the wall as you can without touching it, and be sure to keep your core engaged all the way through to protect your lower back! I also keep soft fists under my chin on this one to ensure my neck is in the right position. a good modification is to do crunches on the ball with your feet on the floor – but be sure to begin by really engaging your lower abdominals before you crunch up (pelvic tilt up)
10 Reverse Straight Leg Raises
—>(see video) the perfect compliment to the first move. don't let the ball touch the wall, but have it close and tuck your chin slightly to protect your neck. a good modification for this one is laying on a bench, and doing straight leg raises, engaging your lower abdominals to lift your hips.
SEQUENCE B
3 Rounds:
10 Ball Roll-outs
—>check this post for the picture and more notes on form if you haven't tried this move before. It gets your hamstrings and abs perfectly. Be sure to keep your back as flat as you can on the down and the up, and only use the ball as a guide.
10 Cable Abductor Pulls
—> your AB-ductors are the hip/glute muscles that move your leg away from your body (opposite to the ADD-uctors, that move your leg in to your body). Get your foot situated in a cable pulley and square your hips. Engage your core and begin with legs together. Slowly raise your leg laterally (away from your body).
15 Skater Lunges (15 right, 15 left)
—>get your heart rate up right at the end of this sequence by going hard and fast laterally. Really swing your arms and reach for the ground each time.
Ready for more?
Grab the Hot Abs Workout Guide so you have fresh ab workouts every week to sexy sculpt your abs!
Video Demos, Printable Follow-Along Guides, Form Notes, Modifications and More!