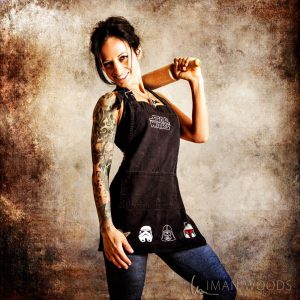 New on the Blog…
7/30 8 Amazing Ab Exercises: Workout Wednesdays There's really nothing sexier than a flat, toned stomach, but there is no point in having abs that look great and don't actually function at their job of stabilizing us in all the movements we do. Back pain is definitely NOT sexy, but training your core wrong can actually set you up to hurt your back.
Most people just think of their "core" as their stomach muscles, but it's actually made up of an entire band of muscle that wraps around your body above your hips – not just your stomach but your lower back as well.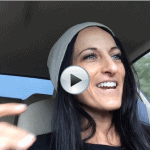 7/28 F*%$ Self Doubt: Motivational Mondays You wouldn't know it if you talked to me or just watched my videos, but I deal with my own head just as much as anybody else. The bigger my dreams get, the bigger my fears want to get. I doubt my abilities, my worth and my strength – sometimes often. I know I talk a lot of motivation, but did you ever wonder how I know what needs to be said?
Most of the time it's because that's what I had to say to myself to get over a hurdle or figure out how to deal with a problem I was having!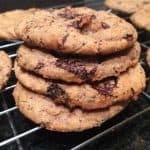 7/27 Gluten-free, Flourless Chocolate Chip Cookies This Saturday, I was CRAVING some cookies!
I've been wanting to try the whole "chickpea" cookie thing because the pictures of them are just awesome, but I really can't stand the smell of garbanzo bean flour and I've also read that you can't eat the chickpea cookies cold.
The gluten free flourless chocolate cupcakes I made in another post came out really well, and not having a bunch of flour makes assembly super easy.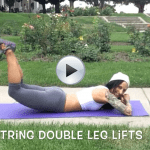 7/23 Bodyweight Shred for Calves, Hamstrings and Glutes Ready for a fast, fun circuit that targets the entire back of your legs? GREAT! Today we're working the calves, hamstrings and glutes with 5 targeted bodyweight moves, sequenced to maximize your fat burn and build strength. You can sequence this for time if it's limited by doing each move for 0:30 and running through it 3 times for a 7-8 minute burn, or extending it to 1:00 each move and going for 3 rounds for a 15 minute bonus shred.
To make this workout longer, I would pair it with this total glutes and abs ladder circuit that's fast, fun and you can do it with me just like this one.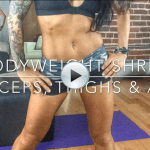 7/16 12-Minute Bodyweight Burn: Thigh's, Tri's and Abs You don't need much time and you don't need any equipment to get a serious workout for your thighs, abs and triceps!! I know those areas can be trouble spots for a lot of us…areas that like to store stubborn fat that keep us from seeing that lean, sculpted muscle.
I have to be brutally honest guys,….doing workouts that target your troubled body parts will not magically melt the fat off of those areas. BUT – what they will do is sculpt the lean muscle that creates the shape you want to see and contributes to the overall reduction of fat we carry.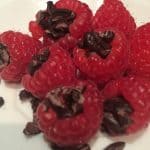 7/10 Chocolate Stuffed Raspberries Raspberries and chocolate were made for each other. I was actually unpacking my kitchen and spilled a bunch of cacao nibs on the counter – right next to the raspberries I had just gotten. Oh, happy accident! I started stuffing cacao nibs inside of the raspberries because they looked like just the right size, and I have to say you're lucky I stopped to take a picture because these suckers are so good, they go down fast!
I was completely entranced with how the sweetness of the raspberries was just enough to make that raw, unsweetened chocolate really taste extra chocolatey, and the combination of textures was just awesome.
Champions aren't made in gyms. Champions are made from something they have deep inside them-a desire, a dream, a vision. They have to have the skill, and the will. But the will must be stronger than the skill. -Muhammed Ali

---
Connect with me so I can continue to share my most current content with you!