Option 1: SHAKE IT UP!
Getting started with Berry Green Protein is EASY. You can Shake it, bake with it, or blend it up in a smoothie. Here is the FASTEST, EASIEST and most CONVENIENT way to get started using your Berry Green Protein – my shake it guide!
---
Instructions:
1 serving Berry Green Protein
8-10 oz water
Add water to a shaker cup (or a glass – leave room in the glass for mixing)
Add Berry Green Protein.
Shake or vigorously mix your powder with the water until well combined.
Pour, serve and enjoy! (You may enjoy pouring it over ice for a cold, refreshing glass of Berry Green goodness)
Note, due to the lack of artificial binders, Berry Green Protein will naturally separate if allowed to sit in your glass for longer than 5-10 minutes. Simply give it a quick twirl with your spoon to remix!
---
 OPTION 2: BLEND IT UP!
You can use your Berry Green Protein in any Smoothie or Blend! Join me for this Blend It guide, with smoothie making tips, and a delicious, easy smoothie recipe that tastes great with Berry Green Protein!
---
Berry Blast Smoothie
1-2 cups spinach (or other leafy green)
8-10 oz unsweetened almond milk (or other milk or water of your choice)
1/2 cup berries (fresh or frozen)
1 serving Berry Green Protein
1.5 T chia seeds – optional (big "T" is always Tablespoon, "tsp" always refers to teaspoon in my recipes)
Add greens and liquid to your blender, and blend well. If you have greens with heavy stems, trimming the leaves off may help make a creamier blend, as well as chunking up your greens. With a high speed blender like mine (Blendtec – here's where to find refurbished Blendtecs for a great deal), you can simply throw everything in at once.
Add fruit, Berry Green Protein, and seeds (optional)
Blend until smooth. Feel free to add ice cubes if you like your smoothie colder. You can also add additional liquid if it's too thick.
#stopdropandbettyrock during your blending process!
---
OPTION 3: BAKE IT UP!
You can even BAKE with your Berry Green Protein! Here are just 2 of my favorite recipes to add the Berry Green Protein to! It will give your recipes an added boost of superfood nutrients, a natural vanilla strawberry sweetness AND a boost of protein.
I'd love to hear what you try it in!
Superfood Chocolate Energy Bars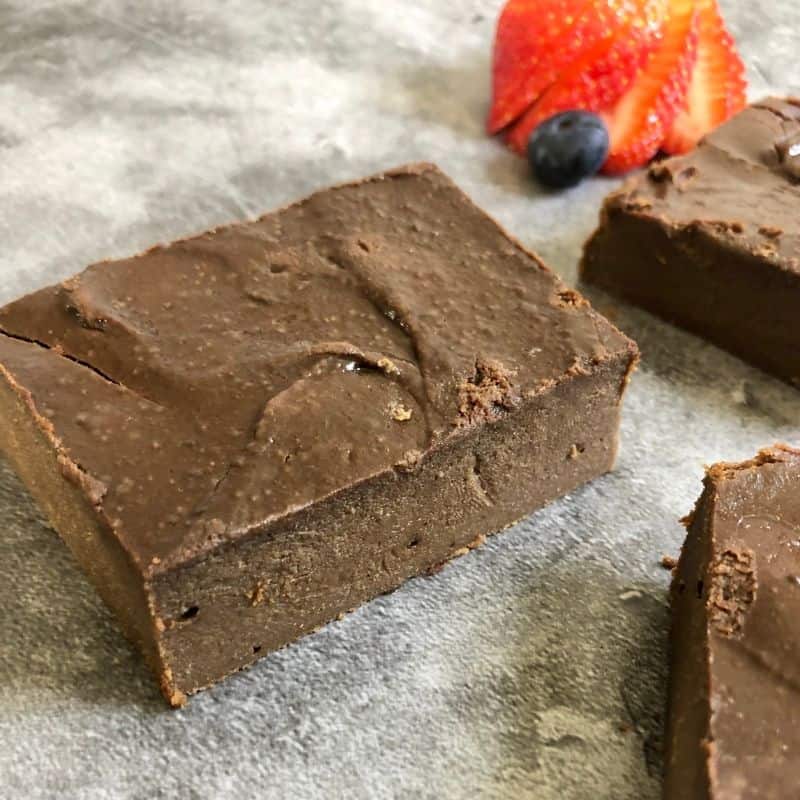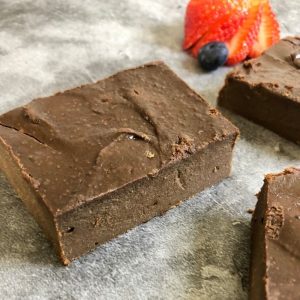 Yield: 8 bars
You will need: mixing bowl, fork, square baking dish, food processor
Key: T=Tablespoon; tsp=teaspoon
Ingredients:
5 bananas (not overly ripe)
1 cup almond butter
2 tsp vanilla extract
5 T cacao powder
1/2 cup Berry Green Protein
Instructions:
Preheat oven to 350 F
Mash bananas in a bowl.
Transfer bananas to a food processor and blend til smooth.
Add almond butter and vanilla extract, and blend again til smooth.
Add cacao and protein powder and blend one final time.
Prep a 9×9″ baking dish with coconut or olive oil.
Transfer batter to baking dish and spread evenly.
Bake for 18-20 minutes, or until a toothpick inserted comes out clean and the edges of the bars begin pulling away from the sides of your pan.
Green Zucchini Protein Muffins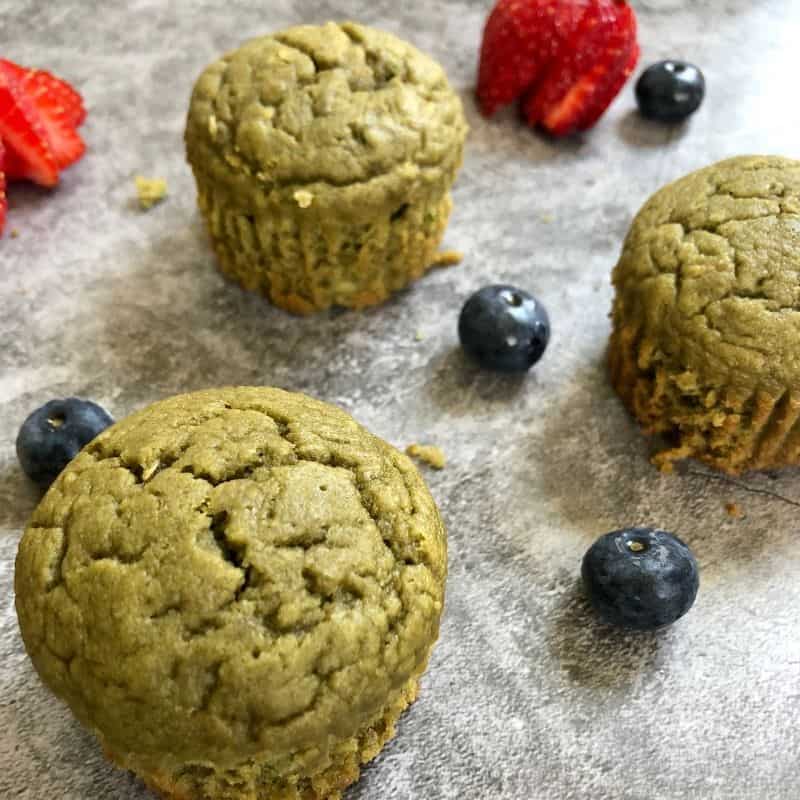 Yield: 10-12 Muffins
You will need: muffin tin with baking cups, cooking oil spray, mixing bowls, whisk, measuring cups and spoons
Key: T=Tablespoon; tsp=teaspoon
Ingredients:
1 cup zucchini, grated fine and drained of excess liquid
3 eggs
1 T lemon juice or orange juice
5 T coconut oil
4 T raw honey
4 T water
1 tsp vanilla extract
1 tsp baking soda
1 1/2 cup almond flour
1 cup Berry Green Protein
Instructions:
Preheat the oven to 350 F and line 10-12 muffin cups with cupcake liners.
Press excess liquid out of your zucchini after shredding/grating so your muffins aren't runny.
Whisk together the zucchini, eggs, juice, coconut oil, honey, water and vanilla extract
In a separate bowl, mix together the baking soda, almond flour and Berry Green Protein.
Combine the wet and dry ingredients until just mixed – do not over mix.
Fill the muffin cups 2/3 full and bake for approximately 20 minutes, or until a toothpick inserted comes out clean.
Remove from tin to cool.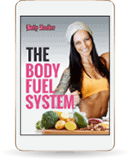 The Body Fuel System is my signature eating system that has rocked bodies worldwide – try delicious, healthy recipes (gluten and dairy free, includes vegetarian options) and 6 week meal planning guide. Includes the ultimate getting started easy blueprint to give you a solid foundation in nutrition so you can make the best choices for yourself now, and in the future! Smoothies, breakfasts, entrees and snacks!
---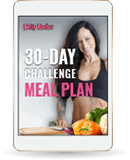 Ready for more recipes and sample meal planning guides? The 30 Day Challenge Meal Plan will give you EVEN MORE delicious, easy recipes (gluten and dairy free, plus vegetarian options), a 4 week sample eating guide, and a great overview of eating healthy for a lifelong love affair with food and your body! Smoothies, breakfasts, entrees, snacks and desserts!
---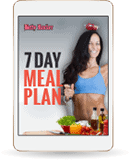 Looking for an easy way to check things out and see if you like my recipes and style? I got you! This 7-Day Meal Plan guide will set you up for success with healthy, delicious recipes (gluten and dairy free, plus vegetarian options) that are easy to make, plus a 7 day sample meal plan to guide you in making great choices all week long. Includes smoothies, breakfasts, entrees and snacks!