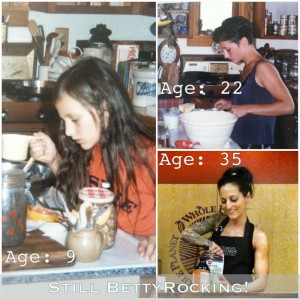 THE BETTY ROCKER
Cooking and Fitness Adventures in a Healthy Lifestyle of Awesome
My name is Bree Argetsinger, AKA The Betty Rocker, and I am here to help you get the body and life you want through healthy food, fitness, and a Jedi mindset.
This site is for you if you want to have a great body, look and feel fantastic, and do anything you set your mind to. And this is no average place or way of life – I'm talking about Living Awesome, finding Optimal Health, and always seeking your Edge.
Think of me and this site as resources to help you cultivate a strong mind, find healthy and delicious recipes, workouts you can do anywhere, and support as you make lasting changes to your attitude, your body, and your life!
HOW DID I GET HERE?
I've been fascinated with things that go fast, the science of baking, and the art of eating ever since I was a little girl. I am a traveler at heart, born with the wanderlust and an innate curiosity and interest in people, culture and communication. Some of my favorite things are motorcycles and race cars, feeding people I love, training my body and doing food science in my kitchen – and I am dedicated to creating simple, healthy, amazing tasting food!
The way I do things may seem a little unorthodox. I'm not a professional chef. I don't follow fad diets. I'm in rebellion against outdated food myths and the "food pyramid" that was created to sell things in a culture of excessiveness, unhealthiness, and dis-ease. Instead, I seek truly traditional ways (and I'm talking native to the foods' indigenous region) to prepare and enjoy real, whole food.
On my unconventional route to becoming a health and nutrition expert, I traveled all over the world to see and experience how people in other cultures live, eat and move. In between studying nutrition, chemistry, anatomy, anthropology, biology and kinesiology at great schools like Tufts and FIU, as well as studying muscular and structural alignment at BCMT, I have been in the middle of many different societies and mindsets, learning and experimenting with what works best for the body.
Too many of us suffer from pain, stress, disease, misalignment, unhappiness, and an overwhelming number of ailments. The general trend in our modern world has become 'to medicate' instead of to teach, 'to prescribe' instead of to listen.
It is my mission to change this. I want you to KNOW your body. To be able to calibrate yourself physically and mentally, and learn to understand how to heal and change yourself from within.
MY PHILOSOPHY
Results and the way you feel every day are what matter the most to me – and there's no "one right way" to do it. The body is wonderfully adaptable. You'd be amazed at the way people use their bodies in some of the places I've been, and how they look as a result.
This website features many recipes that are gluten freeand dairy free, as well as options that I've labeled vegan, paleo, vegetarian and more, to make them easily searchable.
As for me, the way I eat is what I've found to be the most sustainable, healthy practice for the most people and the customizable eating system that I created and personally follow (called Betty Rocker's Body Fuel System) is the result of my studies. I'd sum it up as the ultimate natural fat loss and get insanely healthy in 30 days guide. You can access more information about it here.
Whatever your food choices are, it is important to me to give you the tools and information you need to create lasting changes and experience amazing food. You can find all of my allergy-friendly recipes by clicking here.
The way I see it, the body performs at the level we fuel it – it's a high performance machine, not some old clunker! And it is yours to care for how you see fit. Treat your body like the sleekest, most expensive vehicle out there – premium fuel only.
JEDI MINDSET
Attitude isn't a third of the equation, it isn't half of the equation – it's the paper that all your equations get written on.
Training the mind is just as important as training the body. The REAL secret is that it's not always about following the rules or sticking to any one philosophy. It's about listening to yourself and your body, thinking critically about the information you are getting, and not being afraid to try something else if what you're doing isn't working.
I think it all comes down to BALANCE and FORM — when something is off-centered or misaligned, it is going to show up elsewhere in your life. We want to cultivate strength of mind and strength of body through knowledge, understanding, and experimentation.
Read everything. Ask smart people who are doing things that inspire you what they think. Try it, and if it works, great– if not, ask someone else. Create your own destiny – don't just accept the mainstream, mindless fast-food mentality! Get curious. Ask questions. Come up with a method that works for you. Take whatever truth you find in any given moment, and keep searching- always checking in, learning more, and re-calibrating to your mind and body.
Life is about the attitude you bring to the experiences you have, toward learning, and to your commitment to change your life. I want to help you in any way I can, but ultimately it's up to you. Seek sources of information. Turn off your TV. Read more. Consult with your heroes. Seek out mentors in subjects you are interested in. Never stop learning.
Ever since I was a child I have had this instinctive urge for expansion and growth. To me, the function and duty of a quality human being is the sincere and honest development of one's potential.

-Bruce Lee
Here's to your health, your happiness, and your body!
-The Betty Rocker
Betty Rocker's Motorcycle photos courtesy of Terry Teske at MT Imagery.
Fitness photos courtesy of Hillary Kaye Photography.