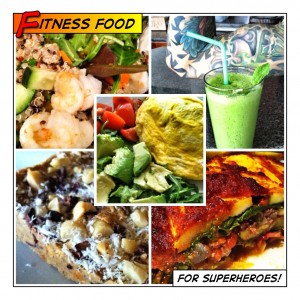 I call my kind of cooking "Fitness Food" because I eat to support an active lifestyle, keep my body in its optimal state and am mindful of inflammatory foods, foods that spike blood sugar, and foods my body has a sensitivity to.
I do not follow any diet plan, I follow the Body Fuel System, a rapid, natural fat loss plan that I created to mirror those principles. For more of my healthy, fitness food recipes, be sure to pick up your copy!
Green Smoothies, Protein Shakes and Energy Bars
Life is like photography. We use the negatives to develop.
If you could see all the adaptations and experiments I've tried that have gone awry, you'd never be daunted by your kitchen again. If I can figure it out with no fancy culinary training or professional chef experience, you can too.
I just like to cook whole, real foods in combinations that suit my body's preferences. I love cooking for friends and family and when someone has a food allergy or intolerance, my favorite thing to do is try to come up with something delicious and unexpected that they can enjoy.
My food science experiments often meet the standards of specific eating styles, so I have labeled them so you can find them easily. Look for:
gluten free, wheat free, dairy free, nut free, egg free, vegan, vegetarian, raw, grain free, organic, primal…and more.
99% of the following recipes are gluten free. I occasionally bake with spelt flour, which assimilates much better than wheat in those with gluten sensitivity – but it does contain some gluten. Be creative, have fun, and let me know if you try any of my recipes, I always love feedback, comments and requests!