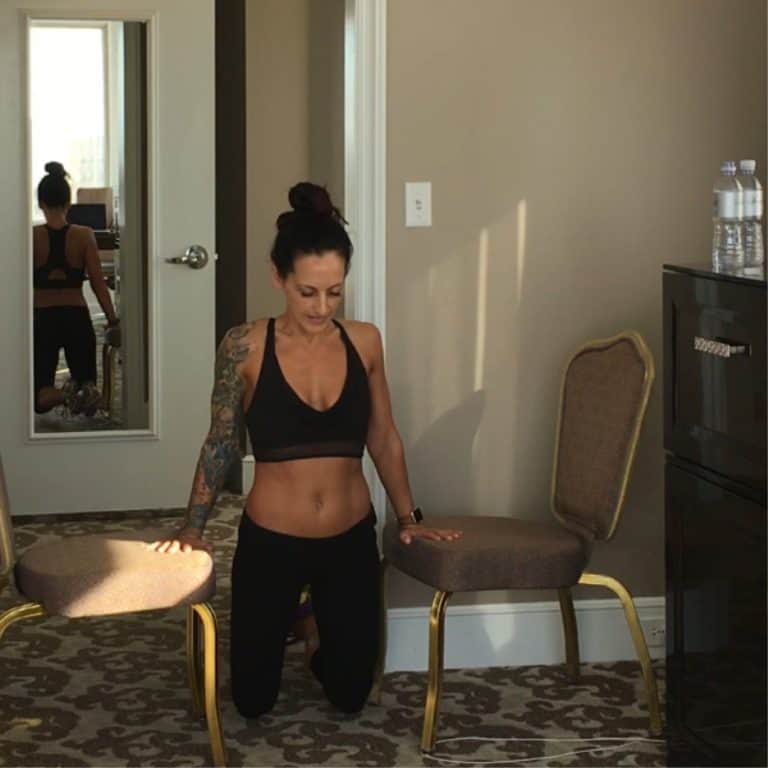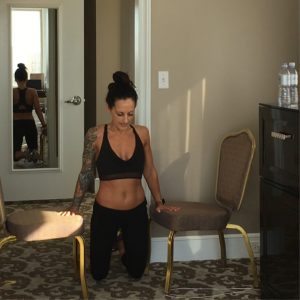 What's up ROCKSTAR! The holiday season has officially started – and I know we're all getting super busy, many of us have travel plans, and there's a lot of buzz around how to balance staying fit with the upheaval to our regular routine.
Not to worry! I've got all kinds of workouts here on the blog that you can take with you on the road or fit into a busy day.
For example, I got an amazing full body workout with today's 10 minute sweat sesh in a hotel room, using the small space I had available – and you could do this anywhere you happen to be!
If you love having a great plan that gives you lots of options for getting your workout in, check out Home Workout Domination, my brand new 8-week home workout plan that pairs resistance training with explosive cardio to give you amazing results in less time!
Enjoy today's workout and let me know how you do in the comments below!
---
One-off workouts are great, but having a plan to follow is even better! Check out Home Workout Domination for a total home workout program that uses minimal equipment and will get you on track to feeling and looking your best!
10 Minute Full Body Workout (Hotel Room)
Click to expand and see all workout move descriptions.
1: Single Leg Split Squat – 10 each leg
Elevate your right foot on a chair or raised surface behind you. Stand tall on your left foot, evenly balancing your weight in your heel and 2 sides of your foot behind your toes. Check your distance and alignment, and adjust as needed so your knee doesn't pitch forward over your foot as you bend the knee.
Bend your knee, coming into a forward lunge, keeping your chest lifting and core engaged. Press down through the heel to come back up. Repeat for prescribed reps then switch legs.
To up the intensity, add a small hop as you press back up on the standing leg.
2: Lateral Leg Lift to Crunch 15 each leg
Lean your right elbow on the back of a chair or simply lean into a wall, and bring left hand behind your head.
Lean your body towards the chair slightly. Lift your left leg up to hip height, then bend the knee and crunch the leg in toward your torso, keeping it at hip height. Lower it back down the floor and repeat the lift to crunch.
3: Box Jump 10
Position yourself in front of a chair, step or bench.
Squat down and load the weight in your heels.
Use your arms to propel you and explode up to land lightly on the chair surface. Step or jump back down and repeat.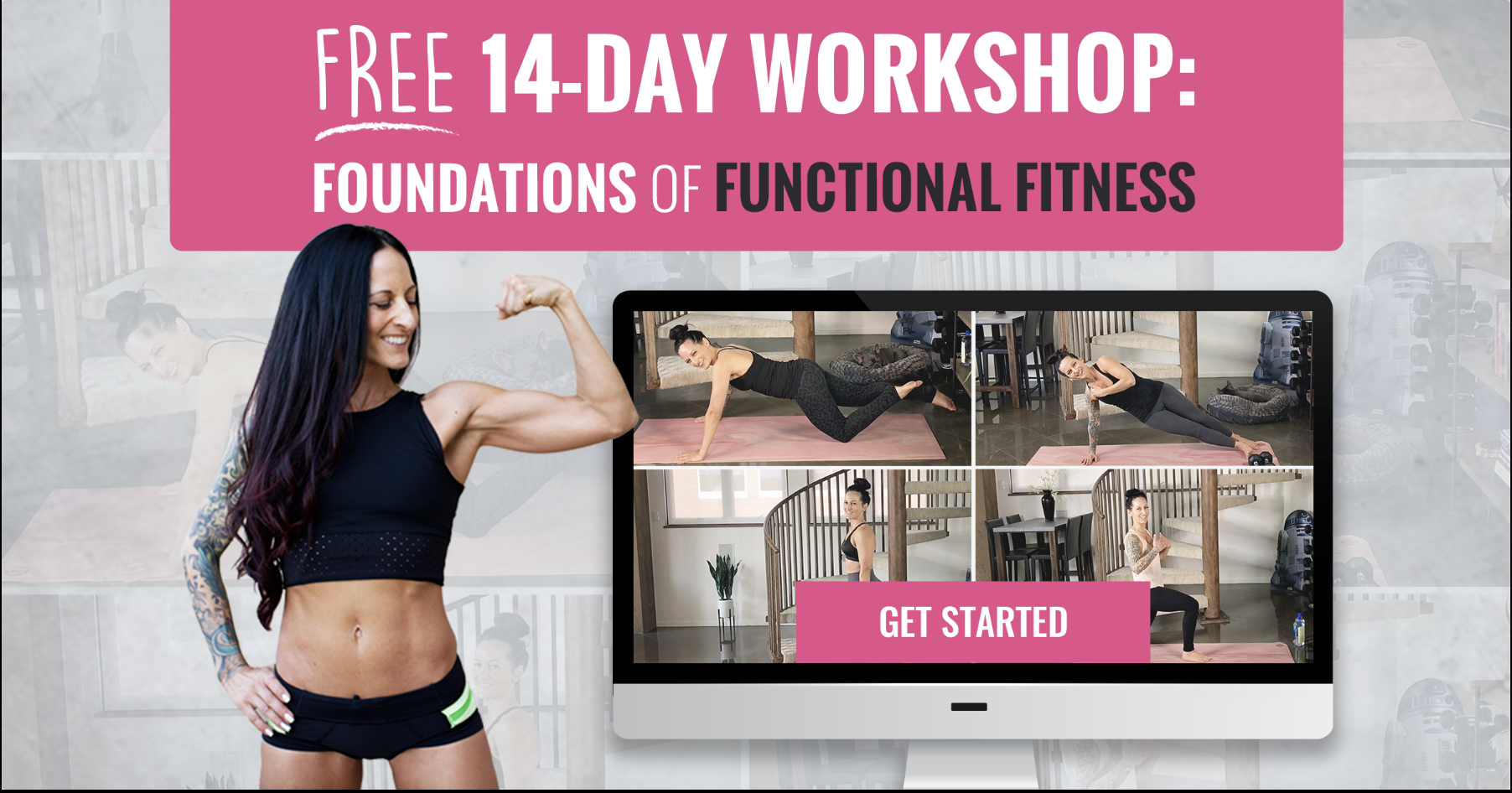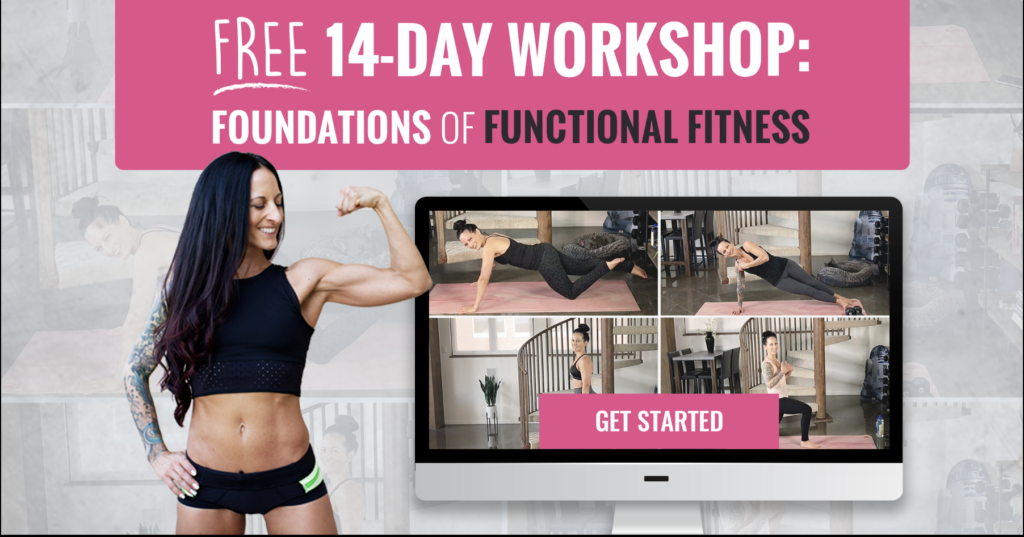 4: Ab Crunch 10
Option 1: Hold yourself up on 2 chairs, as shown, with knees hovering just above the floor. Use your lower abdominals to raise your knees up to your chest. Keep your shoulders back slightly – not rounded forward or collapsed.
Option 2: Sit on the edge of your chair and hold onto the sides. Extend your legs out, then draw them into your chest by bending your knees. Repeat.
5: Elevated Plank Jacks 15
Position yourself in an elevated elbow plank with your elbows on your chair seat. Your elbows will be stacked right under your shoulders.
Keep your core engaged, belly button in and up and back flat as you jump your feet in and out.
6: Knee Crunch Extension 10 each leg
Stay in your elevated elbow plank and draw your right knee into your chest, then press your heel back and up toward the ceiling.
Keep your hips level and your core engaged. Don't let your back arch.
---
Ready for more? I've got you covered!
The Home Workout Domination program is perfect if you're looking for a time-saving resistance training plan to do at home, at the gym, or on the road – it will torch body fat, and tighten and strengthen your legs, glutes, abs, and arms – total body domination!