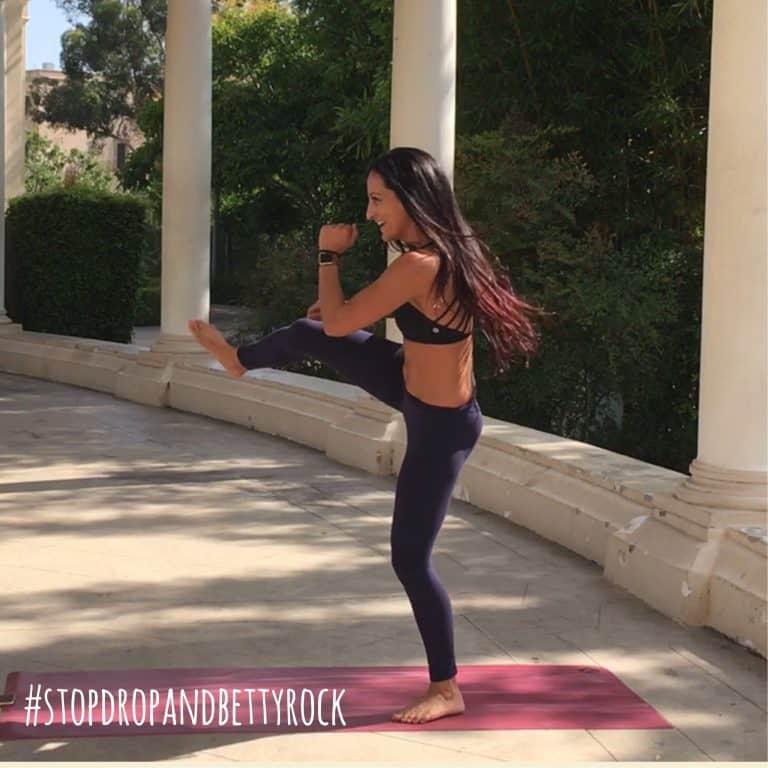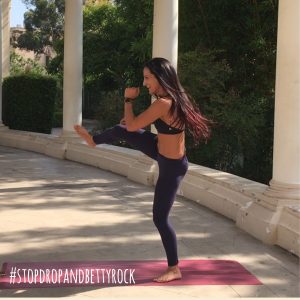 Sometimes you just need a fast workout fix you can do anywhere...and that's where today's workout comes in to save the day!
I've been traveling a lot lately and having workouts I can do on the go makes such a big difference for me in being able to actually stay on top of my training.
It's easy to skip a workout because we don't think we have time to go to the gym, or we're not in the perfect place or situation, but if you have simple, quick workouts to do like this one you can take action anytime, anywhere and make a difference to your body.
This isn't to say that we're going to sculpt our ideal physique with simple workouts alone. To get the full benefit of the time you put into your training, you MUST eat a balance of the RIGHT nutrients and avoid the foods that pretend to be healthy.
I don't cook every meal and I don't prep every week – I'm often very busy and on the go – so I have a simple set of "rules" that I keep in mind that help me stay on track in a variety of situations.
This is the quick and dirty version, if you want the full set plus a more in-depth explanation of each of these, go to Betty Rocker's Health, Fitness and Happiness Manifesto: Top 15 Rules for a Rockin' Body and Balanced Life.
Betty Rocker's Healthy Eating Checklist:
IDENTIFY: Whatever you're eating, look for what nutrients are in the meal. If you can start to identify where these are coming from in your meals, you can start to choose better and better whole food versions of them – and start to see how they work together to really boost your metabolism, shed excess body fat and provide you with lasting energy and vitality.
GREENS: Drink a green smoothie daily, and look for opportunities to include fresh veggies and greens with at least 2 other meals.
PROTEIN: Include Protein with all of your meals – I can't say enough about the importance of this! It will help you change your body composition from carrying extra fat to carrying lean muscle, which burns more calories at rest and will start to carve out those lean lines so many people want to see in their bodies. Here is a link to my top 5 favorite protein powders!
CARBS: Properly prepare and include the RIGHT slow-digesting carbohydrates  – that means fibrous vegetables and whole grains (that have been soaked, sprouted or fermented – think Ezekial sprouted grain breads and cereals, overnight oatmeal – these foods do not have sugars added to them either so you can stick to #6) and enjoy a couple servings of fruit (try to stick to just a couple, fruit is fructose – a sugar that is processed by the liver and it can only process/store a certain amount daily. Once it's full, it starts to store excess in your fat cells).
FATS: Eat good fats to stay lean.
QUALITY: Get the best quality source of your food that you can afford that is available.
AVOID: Stay away from foods with additives, added sugar and processing – unless you're having them ON PURPOSE as a treat (balance is important – but don't nickel and dime your sugar intake away on sugar-laden processed foods).
CONSISTENT: Be consistent with your eating habits – if you eat your whole foods daily, you can absolutely enjoy a treat – it's the binges you need to watch out for, which are often caused by a feeling of deprivation.
HYDRATE: Drink plenty of water, and avoid sugary beverages.
PLAN: Set yourself up for eating success by pre-planning a couple entrees for the week ahead of time that could be made to last for a few meals and have complimentary ingredients. Maybe a soup? Or chicken you can cook that will work in a salad, a dinner entree, and that soup? Sometimes simple is best when you're busy and short on time.

Alright – time to get this workout done! Be sure to post below today and let me know that you did this and how you feel!
You can find the workout descriptions with more modifications and form tips just below today's video.
Share this with a friend who would enjoy it!
---
Enjoying workouts like these? be sure to take my free 30-day home workout challenge!
Cardio Core: 11 Minutes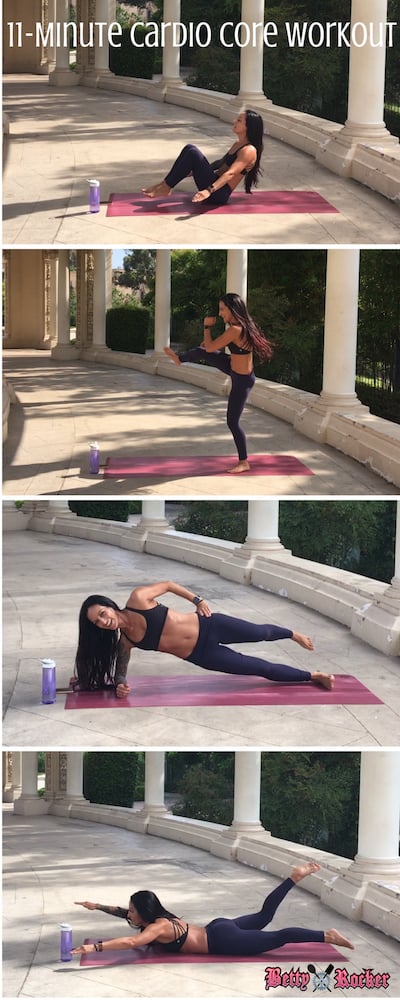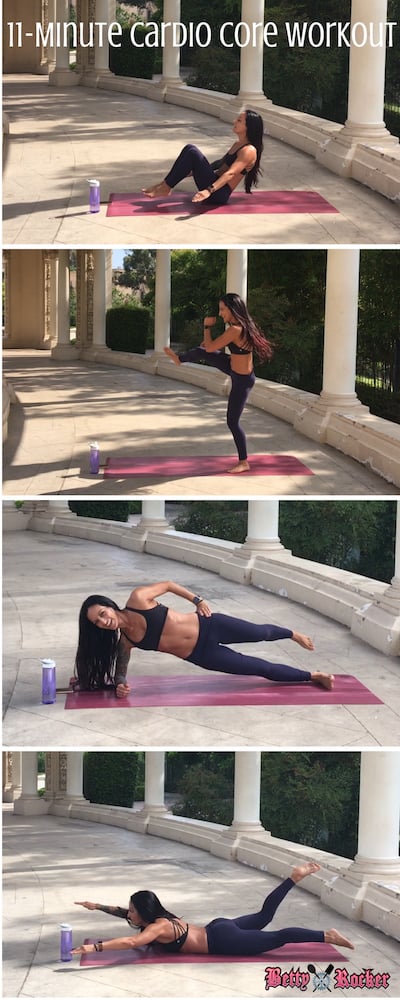 Move 1: Squat Thrust Mountain Climbers (0:30)
Stand tall, engage your core then bend your knees to plant your hands below your shoulders.
Jump your feet back to tall plank. Run your knees up to your chest, one time each. Run them out to your elbows one time each. Maintain a strong plank, no arched back, belly button in and up.
Jump your feet back into your hands, load the weight in your heels and jump up!
Mods: Step or jump your feet in and out. If the plank position is a bit much, do this next to your couch or a raised surface and balance your hands on that for an elevated plank. You can do the mountain climbers and side knees from that position as well. In place of a jump squat, do a body squat.
Move 2: Knee Ups In & Out (0:30)
Lie on your back, and engage your core. Straighten out your arms and legs and bring your knees up to your chest as you raise your torso. Your hands will come to the outside of your knees.
Return to start and repeat, but allow your knees to come out wide and your hands to come between them. Continue to alternate.
Mods: Keep your torso on the mat and lift your knees up and out, alternating the wide to narrow lift. 
Move 3: In & Out Jump Squats with a Kick (0:30)
Stand tall, core engaged. Jump out to a wide leg squat, toes lined up with knees, belly button in and up, hips shooting straight back. Don't bend forward at the waist.
Jump from this wide leg squat to a regular squat, feet about hip distance apart. Use the same strong squat form as before, just with narrower feet.
Come to standing and kick out to the right. Don't worry about how high you kick, just kick. Return to start and repeat the in and out jump squats and kick to the opposite side. Continue.
Mods: Step out to a sumo squat and squat down, then step in to a regular squat and squat down, taking the jumps out. You can switch to this after doing some jumping when you need a breather, or leave the jumping out entirely. Leave the kicks in if you can – and it may be helpful to hold onto a chair back as you work through this low-impact to help with balance.
Move 4: Side Plank Toe Taps (Split Time) (0:30)
Come down to an elbow side plank, with your feet scissored or stacked. Be sure your hips are square (one is not rolling forward). Make sure your elbow is just below your shoulder.
Tap your top foot in front of your bottom foot, then behind it. Hold your core strong and keep your hips lifted.
Mods: Drop your bottom knee down for more support.
Move 5: Swimmers (0:30)
Lie on your stomach with your arms and legs extended.
 Lift your right arm and left leg at the same time, and alternate with your left arm and right leg.
Keep a slight contraction in your lower back as you "swim" and keep your gaze in front of you so your neck isn't straining or hyperextending up or down.
Awesome work! Looking forward to hearing how you did today – be sure to comment below with any questions or to check in!
---
Try one of my awesome programs to get you on track!