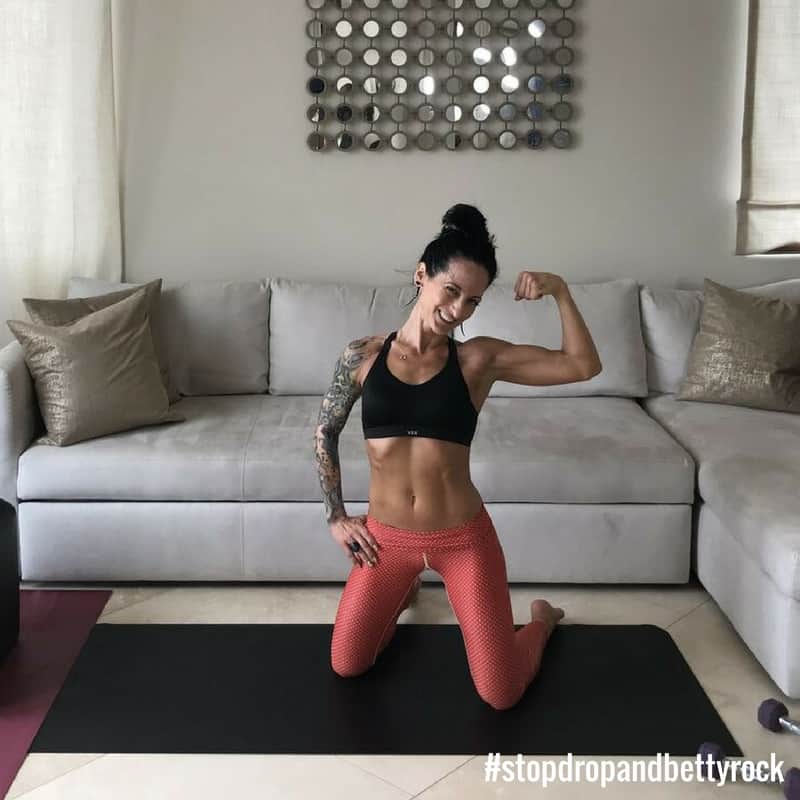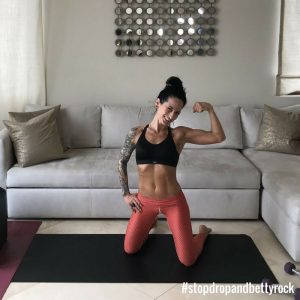 Hey Rockstar!
It's time to #stopdropandbettyrock in today's 12-minute Full Body Pyramid Shred workout!
I just know you're going to love this Pyramid format. It's one of the most top-requested training styles in Rock Your Life (my online virtual home gym community) – it's challenging, it's fun, and it's EFFECTIVE!
For this workout, I suggest you have something elevated nearby like a chair, box or stair (but no worries if you don't – I'll show you variations) as well as something to use for resistance. You can get creative here – I usually use full water bottles or light dumbbells, but you can use just about anything with some weight to it.
Get ready, get set, and LET'S GO!
---
12-minute Full Body Pyramid
Format: Each main move repeats at the following time intervals: 0:15, 0:30, 0:45, 0:30, 0:15. Between each interval take a 0:15 rest, or do the bonus move.
Move 1: Snap Climber Pop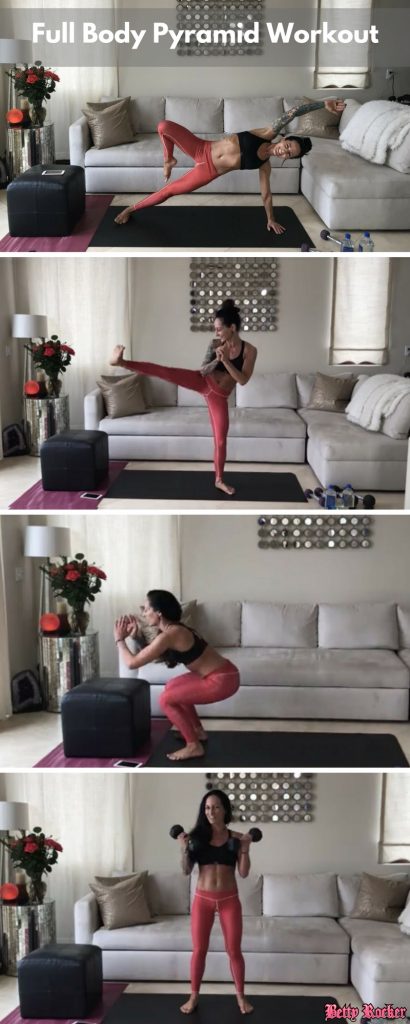 Come down to your mat into a tall plank position, core engaged

Snap your feet up into a pike position

Hop your feet back into tall plank position and do two mountain climbers

Mod: Come up to your elevated surface, jump in and back out, then run your knees to your chest.
Bonus Move

– Leg Extensions:

Come down to tabletop and straighten your right leg. Maintain a steady and stable torso as you lift and lower your leg, feeling your glute muscles engage.
Move 2: Sumo Squat Side Kicks
Step out into a wide sumo stance, toes turned out slightly, shoulders back, core engaged.

Drop your hips back, coming into a sumo squat – as you come up kick with your right leg, repeat alternating sides.

To add a little extra resistance grab your weighted object and hold them at your chest.

Bonus Move

– Alternating Cross Punches: Keep your abdominals nice and tight as you drive across your body into punches.
Move 3: Box Jumps
Stand back from your box and set your weight back in your heels. Shoot your butt back, keeping your core engaged, chest lifted and using your arms to propel you, jump up onto the box.

Land lightly, and fully extend through the hips. Step or jump down and repeat. A great modification is to perform alternating box step ups.

Mod: If you do not have a box to jump up on, feel free to do full body extensions or jump squats.
Bonus Move

–

Bicep Curls:

Standing, hold your weights with an underhand grip, chest up and open, gaze forward. Your hands should be about the same distance apart as your shoulders, elbows tucked in. Curl your weights up to your chest, then fully extend your arms straight and repeat.
Great job, Rockstar! Let me know where you're working out from today, how you're doing with your fitness goals, and what I can do to help you reach them! 
I love hearing from you!
---
Today is a great day to download the Betty Rocker app!
Just go to thebettyrocker.com/app to conveniently access all of my content in one place, and save all your favorite Betty Rocker workouts and recipes.
It's totally FREE and totally AWESOME!
See you there! 🙂