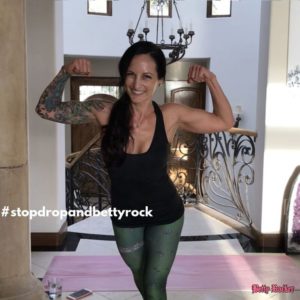 Join me for today's effective, time-saving 12-minute Sweaty Betty HIIT circuit designed to get you in, get you worked, and get you on with the rest of your busy day.
If you've been training with me for a while, you know that HIIT stands for High-Intensity Interval Training, and it's a highly effective way to maximize your fat burn. The way I write our HIIT workouts also helps you sculpt more muscle with resistance training moves in the mix.
Remember, there are no secret formulas or magic pills to getting – and staying – in the best shape of your life, nor does it require hours in the gym, day after day. Your most important asset on this health journey is an #allorsomething mentality – not all or nothing.
Today we'll work our bodies head to toe, and as always, I will talk you through modifications and form cues as we go. There is zero equipment needed for this one, so all you need to grab is your water bottle to stay nice and hydrated, and let's #stopdropandbettyrock! 
---
One-off workouts are great, but having a plan to follow is even better! Check out Home Workout Domination for a total home workout program that uses minimal equipment and will get you on track to feeling and looking your best!
12-minute Sweaty Betty HIIT
Click to expand and see all workout move descriptions.
Format: Perform 3 rounds for the prescribed amount of time. Rest as needed.
Move 1: Sumo Squat Knee and Kick (0:30)
Step out into a wide sumo stance, toes turned out slightly, shoulders back, core engaged.

Drop your hips back, coming into a sumo squat – as you come up, drive your right knee up, repeat alternating sides.

Once you get comfortable with the knee drive add in a kick alternating sides.
Move 2: Tabletop Combo (0:30)   
Come down to your mat in a kneeling plank, hands stacked just below your shoulders.

Come down into a push-up and as you come up kick your left leg up, repeat the push-up and kick your right leg up making sure to squeeze your glute at the top of the leg extension.
Move 3: Super Marios (0:45)
Begin standing, and step your left leg behind you coming into a reverse lunge. The knees are aligned with the toes.

As you come forward with the right leg, drive it up toward your chest, propelling yourself off the ground. Your left arm drives up into the air, reaching for Mario's gold coins.

Land softly on the left foot. Repeat on opposite side.

Mod: Step back into a reverse lunge, and as you come up don't jump. Power your knee up to your chest. It's a great idea to hold onto the wall or chair back to aid in balancing.
Move 4: In and Out Pop-Ups (0:30)
Come to a seated position on your tailbone with your hands behind you.

Engage your abdominals as you lean back slightly and lift your knees to chest level.

Extend your legs out straight, then draw the knees back into your chest.

After your 3 reps of the ab move, plant your feet flat on the mat and extend your hips upward into a reverse tabletop position, squeezing your glutes at the top.

Perform 3 reps of the pop-ups and move back to the in and outs. Repeat the same cycle for the prescribed amount of time.
Move 5: Squat Thrust Twist Punch (0:30)
Start with your feet hip-width apart, engage your core then bend your knees to plant your hands below your shoulders.

Jump or step your feet back to tall plank, feet out wide. Maintain a strong plank, no arched back, belly button in and up.

Jump or step your feet back in. When you come up punch with one arm moving across your body.

Repeat the Squat Thrust and do a cross body punch using the other arm.
Great work, Rockstar! Be sure to check in below in the comments, and let me know how you did!
---
Ready for more? I've got you covered!
The Home Workout Domination program is perfect if you're looking for a time-saving resistance training plan to do at home, at the gym, or on the road – it will torch body fat, and tighten and strengthen your legs, glutes, abs, and arms – total body domination!