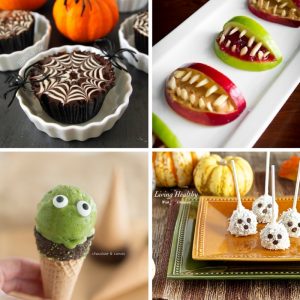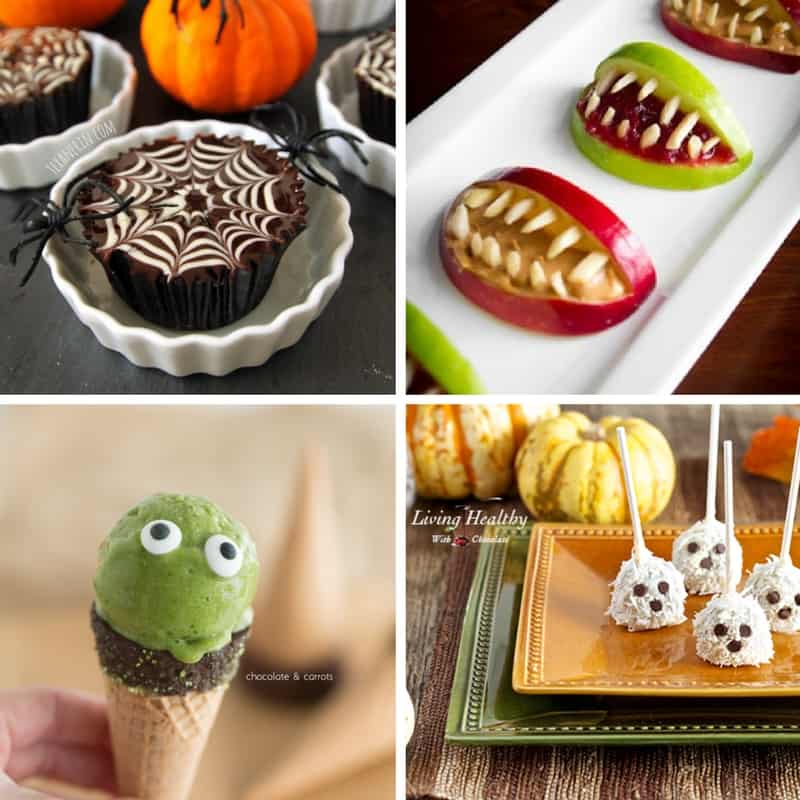 With all of the candy and treats around Halloween time, it's easy to accidentally over-indulge…
That's why I had the girls from Team Betty Rocker help me creep the spiderwebs of the internet to find you the absolute BEST healthy delicious Halloween recipes from some of our favorite bloggers!
No tricks here, just treats 🙂
All of these recipes are made with whole food ingredients and I've included something for everyone, with recipes that run the spectrum of gluten-free, vegan, dairy free and paleo.
This post is kind of like "Trick or Treat Blogging" haha – I hope you find some great new blog sources for recipes with this post, there are so many awesome people out there making great nutritious eats!
Looking forward to hearing which ones you try! Be sure to post pictures for me on Facebook and Instagram @thebettyrocker!
Chocolate Spider Web Cucpcakes
Chocolate Spider Web Cupcakes from Texan Erin 
How fun are these? I  love these cupcakes! Not only are they gluten and dairy free but they are absolutley delicious. With chocolate and peanut butter, you can't go wrong! No ghost or goblin out there will believe you when you say they are healthy.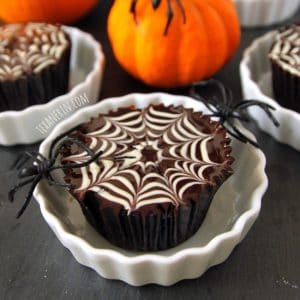 Candy Corn Gummies
Candy Corn Gummies from Plaid and Paleo 
A Halloween staple without all of the artificial ingredients. These Candy Corns are made from whole food ingredients and are paleo, dairy and gluten free. They also contain gelatin which helps aid in digestion and heal the lining of the gut.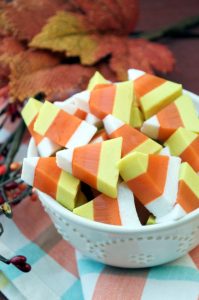 Dark Chocolate Almond Butter Cups
Dark Chocolate Almond Butter Cups from Tasty Yummies 
Stop what you are doing and make these NOW. Almond Butter, Sea Salt and Chocolate make the perfect healthy halloween treat-you won't even miss your Reeses, I promise. These are gluten free, dairy free and have no refined sugar. They also contain chia seeds which pack a powerful nutrient punch. Chia seeds are a good source of protein, fiber, calcium and omega's and are said to be helpful in reducing inflammation, weight loss, thyroid conditions, diabetes, IBS and more.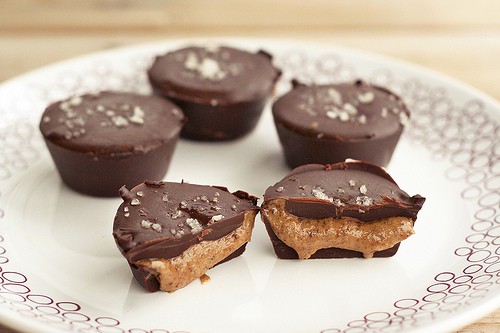 Raw Caramel Apples
Raw Caramel Apples from 40 Aprons
These are another healthy take on a Halloween staple. These are one of my favorite treats and just so happen to be gluten and dairy free. These are so decadent and delicious that you will have a hard time believing they are made from good for you ingredients!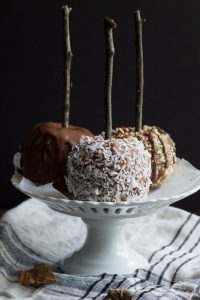 Ginger Wasabi Filled Skulls
Ginger Wasabi Filled Skulls from Spabettie
These five ingredient chocolate skulls are unlike any Halloween candy I have ever tried. They are filled with ginger, maple syrup and wasabi which give you a sweet and spicy flavor that you will love! They are also adorable and the perfect festive treat.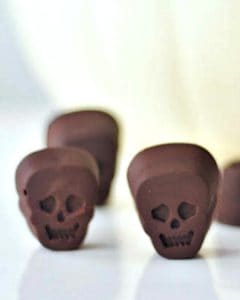 Ghost Truffles
Ghost Truffles from Living Healthy With Chocolate
These truffles are absolutely delicious and adorable. They are gluten free, dairy free, grain free and super easy to make! These are the perfect combination of chocolatey and crunchy. Kids and adults alike will eat them up.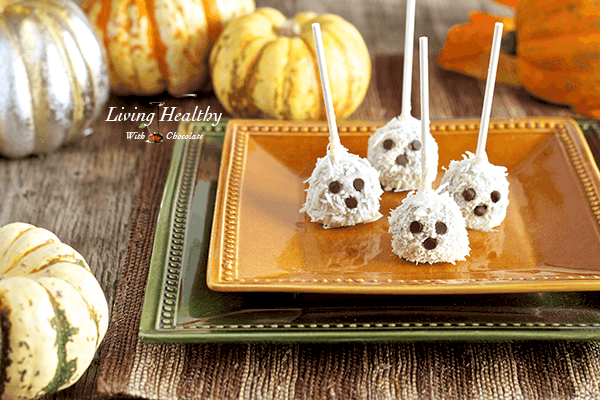 Homemade Peanut Butter M&M's
Homemade Peanut Butter M&M's from Minimalist Baker
These homemade M&M's top any pre-packaged version out there. They are made with whole food ingredients and are gluten free and vegan. Go ahead and indulge, these are a healthy and delicious treat that deserve to be made.
Chocolate Pumpkin Tart
Chocolate Pumpkin Tart from Unconventional Baker
This Halloween themed pumpkin tart is a delicious must make recipe for your holiday gathering. It is gluten free, paleo and vegan so it is suitable for every ghost and goblin out there.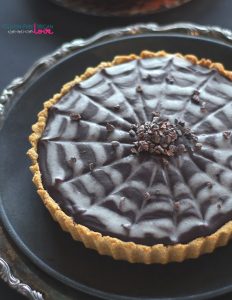 Raw Witches Fingers
Raw Witches Fingers from Fork & Beans
These are so fun and creative! I love not only how simple these are to make but also how good they taste! These are gluten free, dairy free and vegan- made with just nuts, dates and spices! They are the perfect creepy halloween treat and another must make for the holiday.
Almond Joy Candy Bars
Almond Joy Candy Bars from Pastry Affair 
A healthy take on one of the most popular Halloween candies out there, these are absolutley delicious and simple to make! These are an easy no bake treat and take only a few minutes. With coconut, almonds and chocolate as the ingredients, you can't go wrong.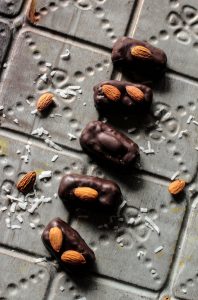 Spinach Monster Ice Cream
Spinach Monster Ice Cream from Chocolate & Carrots
How cute are these?! There is nothing better than monster ice cream on Halloween. This ice cream is packed with spinach to give you an extra nutrient boost but you would never know it! These are delicious and easy to make with only five ingredients. All of your guests will be screaming....with joy 🙂
3-Ingredient Halloween Apple Bites
3-Ingredient Halloween Apple Bites from Oh She Glows 
These 3 ingredient apple bites are so tasty and creative that they are a must make for Halloween. They are super simple to make and consist of whole food ingredients. These are family friendly and a great recipe to make with the kids in your life.
Healthy Twix Bars
Healthy Twix Bars from Chocolate Covered Katie
Another halloween favorite, this healthy take on Twix bars is a must for all of the trick or treaters in your life. These are so yummy and the perfect mix of chocolate and caramel. This gluten free treat will be a hit this year.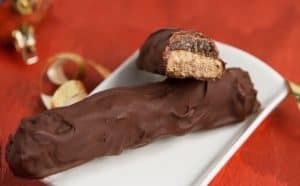 A healthy lifestyle is a balanced lifestyle, that's why all Betty Rocker meal plans teach you how to balance the nutrients your body needs with whole foods so you can have room for healthy treats and special occasions as well! Get your plan: