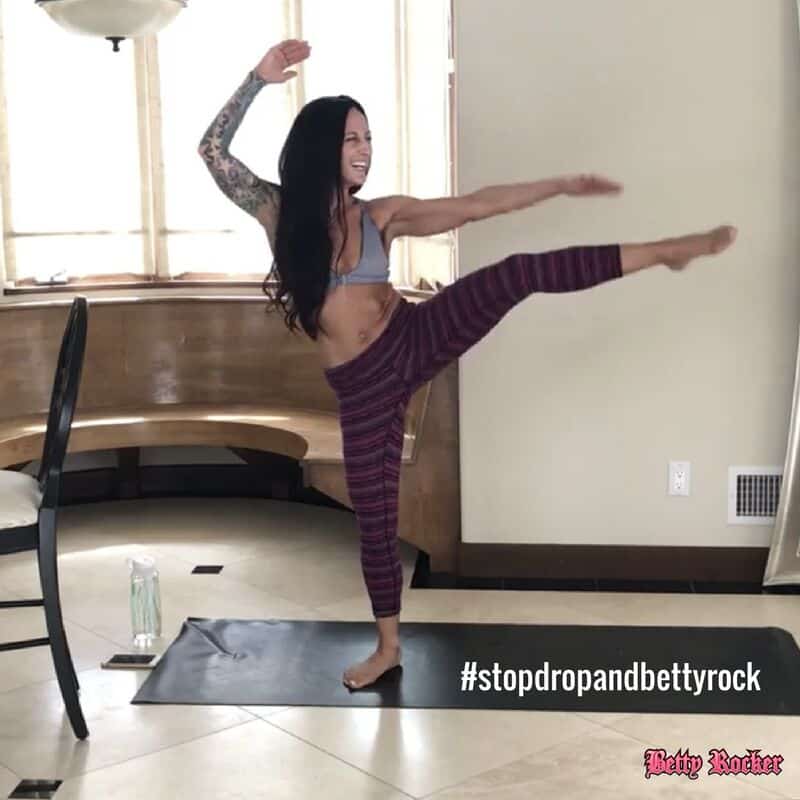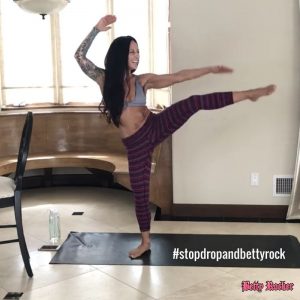 Get ready to #stopdropandbettyrock! I can't wait for you to join me for today's barre-inspired lower body workout.
The holiday season is in full swing, and with less time than usual, travel and all the demands of a busy schedule, this is the perfect workout to add in the mix!
This barre fusion sequence is designed to lift and firm your booty and strengthen and sculpt your legs.
You'll be done in under 15 minutes – but you'll feel the burn for hours! No equipment needed for this one –  just set up with a chair or countertop nearby to help you balance.
I use a chair back, and you could also use your couch, table, wall or doorframe.
You can do this workout anywhere!
Take it on the road, do it at home, or anywhere – and be sure to share it with a friend. Your health and strength is the gift that keeps on giving.
Check in with me below when you finish up, and let me know which workout plan you're following in the New Year!
---
Love Barre Workouts? Check out the Raise the Barre Challenge in Rock Your Life, my online home workout studio and women's fitness community! We offer all kinds of training styles and 30-day challenges so you never get bored, and can stay healthy, fit and strong!
15-Minute Booty Barre Challenge
Click to expand and see all workout moves.
Format: 3 rounds for prescribed amount of time.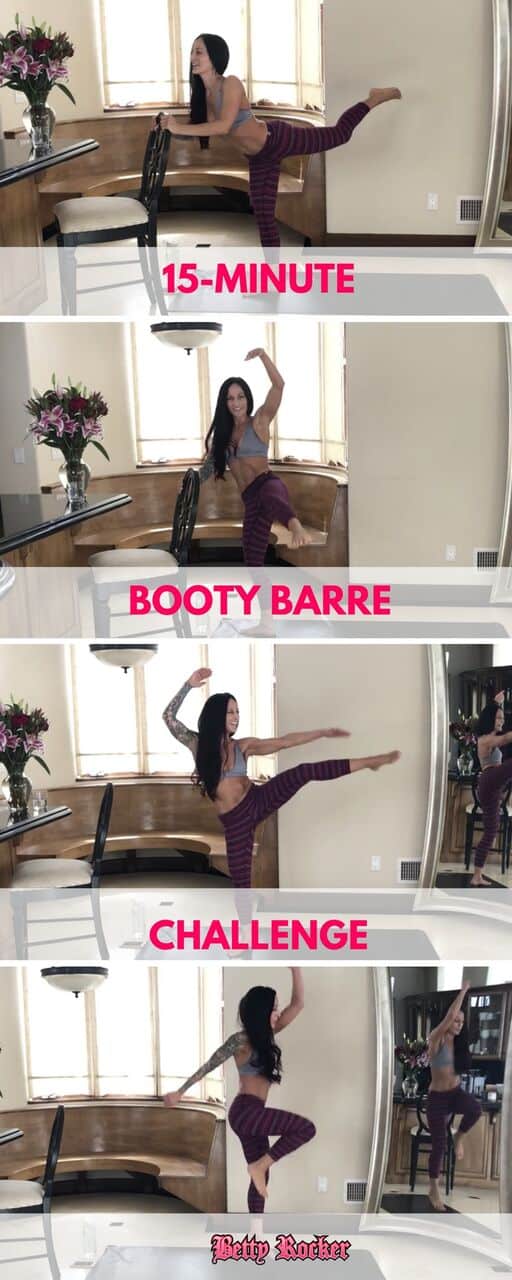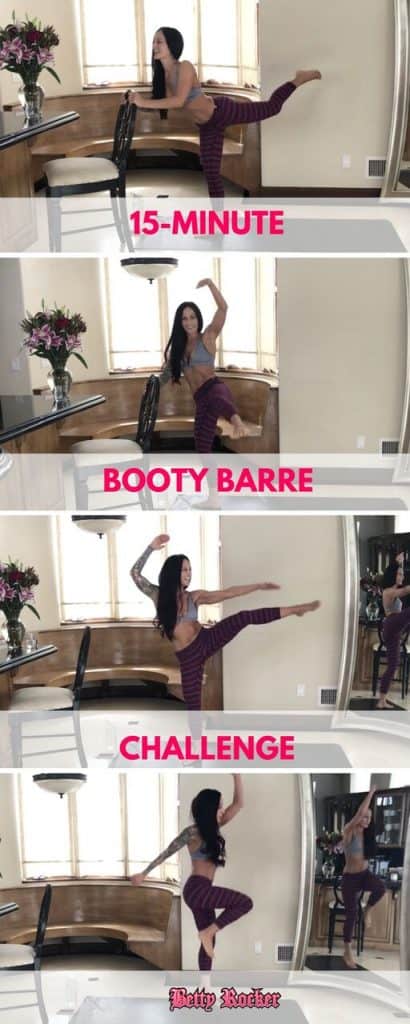 Body Squats (0:30)
Legs at hip-width distance apart, keep your chest up and lifted, core engaged.

Bring your butt back, bending at the hips, making sure your weight is in your heels and keep your knees are tracking in line with your toes.
Knee Releve' Extension (0:45)
Hold on to the back of your chair with both hands or whatever you are using to keep a good balance.

Start out with your feet hip-width distance apart, drive your left knee up to your chest and then sweep it out behind you for a booty extension.

When your knee drives up to your chest come up onto your opposite toe lifting through the heel.

Keep your pelvis stable, chest up, and core engaged.

Repeat on opposite leg.
Boxing Burpees (0:30)
Come down, plant your hands just below your shoulders.

Step or jump your feet back into a plank position

Do a cross body mountain climber, opposite knee to opposite elbow.

Step or jump your feet back to your hands, come to a standing position and do a front kick, back kick and repeat using opposite legs for the kicks.

Mod: Use the side of your chair, ottoman or couch. Elevate your body, step back into a plank position, step your feet back up and come to a standing position – instead of doing the full kick do a low knee and a back knee.
Wide Squat Lift (0:45)
Hold on to the back of your chair with both hands, step out to a wide sumo stance, toes turned out slightly, shoulders back, core engaged.

Drop your hips back, coming into a sumo squat and lower down toward the center of your space.

As you come up sweep your leg up laterally, alternating sides after each squat.
Super Marios (0:45)
Begin standing, and step your left leg behind you coming into a reverse lunge. The knees are aligned with the toes.

As you come forward with the right leg, drive it up toward your chest, propelling yourself off the ground. Your left arm drives up into the air, reaching for Mario's gold coins.

Land softly on the left foot. Repeat on opposite side.

Mod: Step back into a reverse lunge, and as you come up don't jump. Power your knee up to your chest. It's a great idea to hold onto the wall or chair back to aid in balancing.
Leave me a comment below and let me know where you're working out from today! Thanks for being part of the #stopdropandbettyrock movement – YOU are awesome!
---
…so I can support you in ROCKING your body AND your life! Get stronger and healthier with a community of rockstars to support you, home workout challenges for a fit body, and fresh new workout classes each week to keep you motivated!