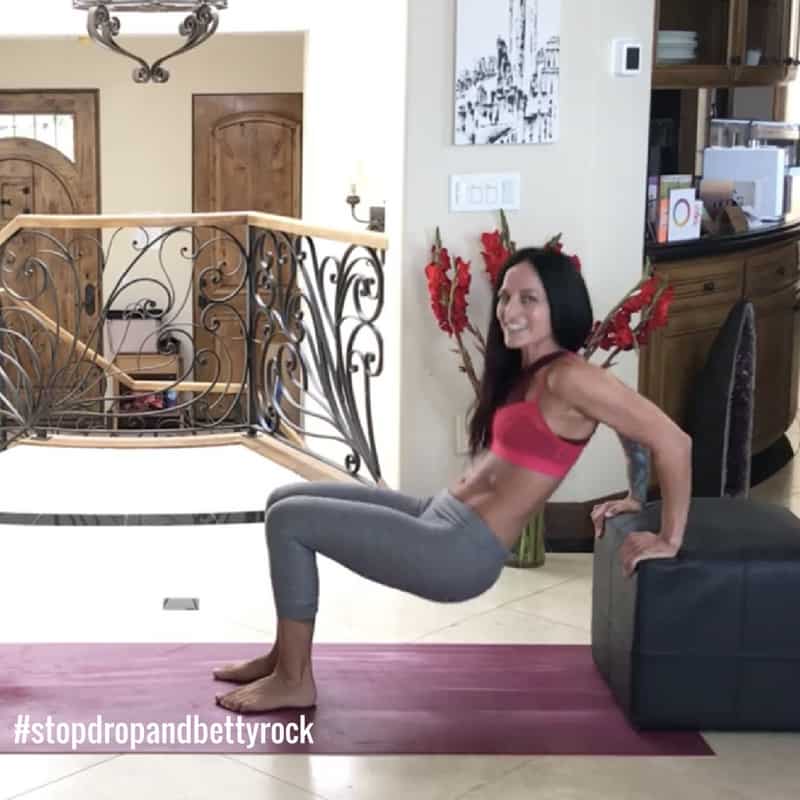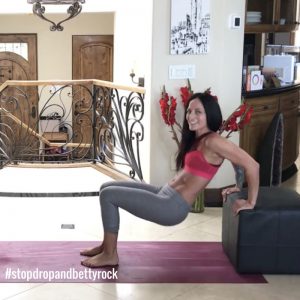 It's time to #stopdropandbettyrock!
Join me for a quick 15-minute total body burn that will get your heart rate up and your muscles working!
No equipment is needed to get the full effect of this awesome circuit that you can do absolutely anywhere, but if you have an elevated surface or weighted objects nearby, they could come in handy.
The most important thing is to make the workout work for YOU – take the moves and make them your own.
Some of you might want to tone down, others of you might want to turn up. I'll show you modifications and ways to increase the intensity as we go!
Listen to your body, know your limits, dare to push them a little bit, and above all – HAVE FUN!
It's you and me, Rockstar! Let's go! 
---
Great job with today's workout! I love one-off workouts, but having a plan to follow is so much more effective. Take a 30-day Challenge in Rock Your Life and have workouts like this formatted into a plan to follow!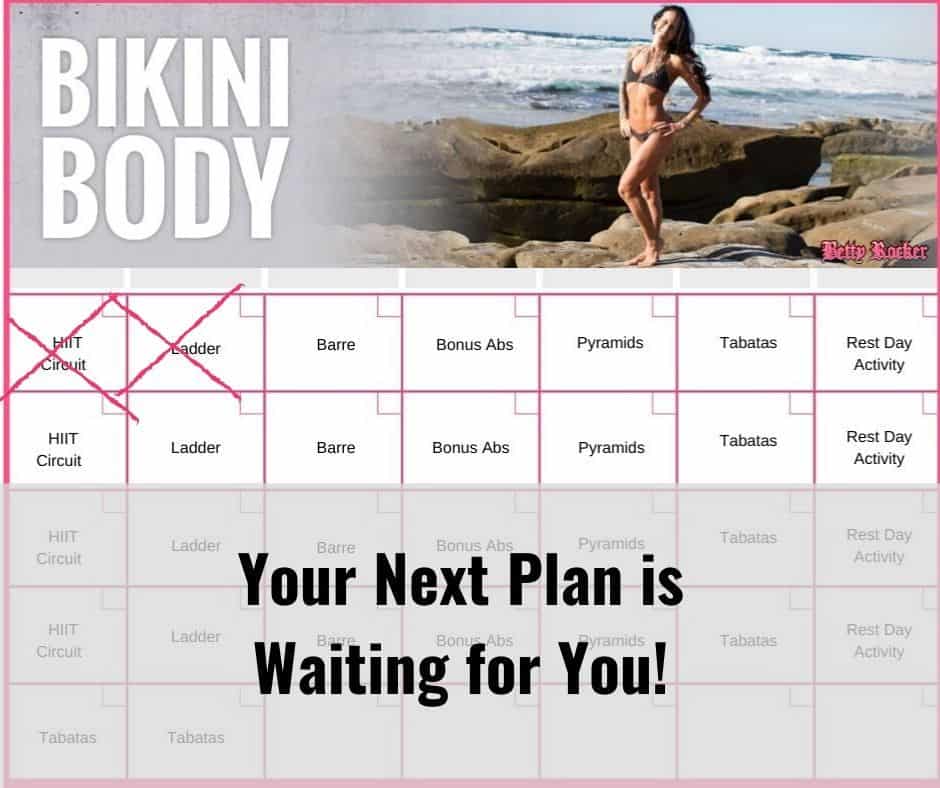 15-minute Full Body HIIT Challenge
Click to expand and see all workout move descriptions.
Format: 3 rounds, for the prescribed time. Rest as needed.
Full Body Extensions (0:30)
Start in a standing position with your feet hip distance apart, then squat down, bringing your hands down near your feet. Pop up to standing, extending your hands up over your head.
Make sure to keep your core tight, and engage your booty at the top as you extend your arms overhead.
Bonus Move –

Add in extra resistance by holding your water bottle or a light weighted object in your hands as you squat down and extend your hands above your head.
Sumo Squat Touchdowns (0:30)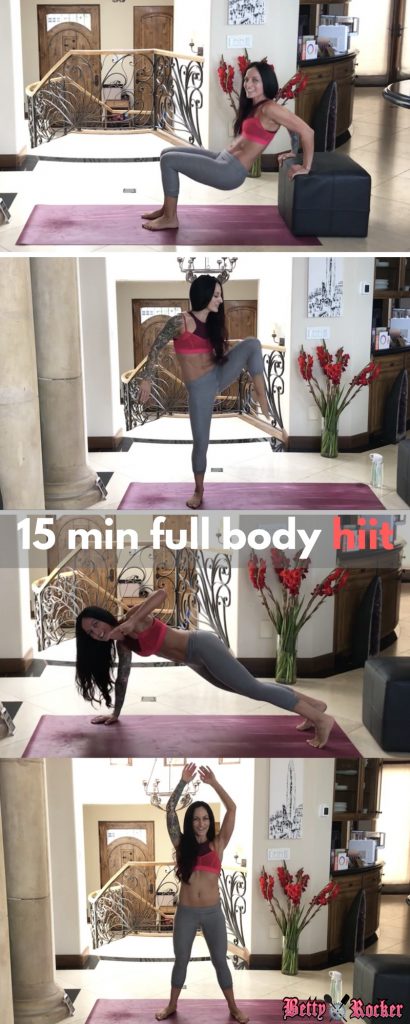 Step out to a wide sumo stance, toes turned out slightly, shoulders back, core engaged.
Drop your hips back, coming into a sumo squat – reach your right hand to touch the ground and lower down toward the center of your space.
Jump your feet in as you come up from your squat, repeat this time reaching down with your left hand.

Mod: Leave out the jump, and do alternating sumo step outs.

Bonus Move –

Upright Row: Hold your weighted object with both hands on the end of each side, as you squat down lower

 the object to the floor and as you come up from squat position shoot your elbows up towards the sky with your weighted object stopping at your chest.
Plank Flyes (0:30)
Come down into a tall plank on your elevated surface, core is engaged, back is flat.
Lift your right elbow up and out to the side really squeezing your rhomboid and then repeat with your left elbow.
Bonus Move –

Add a pushup in between flyes. If you're feeling super ambitious you can perform this move on the floor.
Reverse Curtsy Knee (0:30)
Step your right foot back and behind you, bringing your right knee directly behind your left heel.
Push into your left foot as you stand and drive your right knee up to meet your right elbow; switch sides.
Bonus Move –

Bicep Curls: Hold your weighted object with both hands, as you step back with your right foot into the reverse curtsy raise and lower the weights, bringing your palms to face your shoulders as you lift. Repeat on left side.
Triceps Dips (0:30)
Come into reverse tabletop facing away from your box or raised surface, with your hands behind you on the box.
Keep your chest open and your elbows parallel to each other as you lower down and press up.
Keep your knees bent, and engage between your shoulder blades to help keep your chest open and keep pressure off your shoulders.

Mod: Take a standing or kneeling position holding a water bottle or weight overhead. Lower and lift it toward your back, keeping your elbows in parallel to each other and your chest open. Don't let your back arch.
Skaters (0:30)
This is an explosive cardio move to get your heart rate pumping!
Start in a curtsy lunge position by stepping back with your right leg to just behind or slightly past your left leg.
Jump laterally (sideways) to switch legs and continue until the time runs out.

Mod: Take the hop out and do alternating reverse curtsy lunges.
Looking forward to hearing where you are when you do this workout, rockstar! Let me know in the comments below!
---
…so I can support you in ROCKING your body AND your life! Get stronger and healthier with a community of rockstars to support you, home workout challenges for a fit body, and fresh new workout classes each week to keep you motivated!