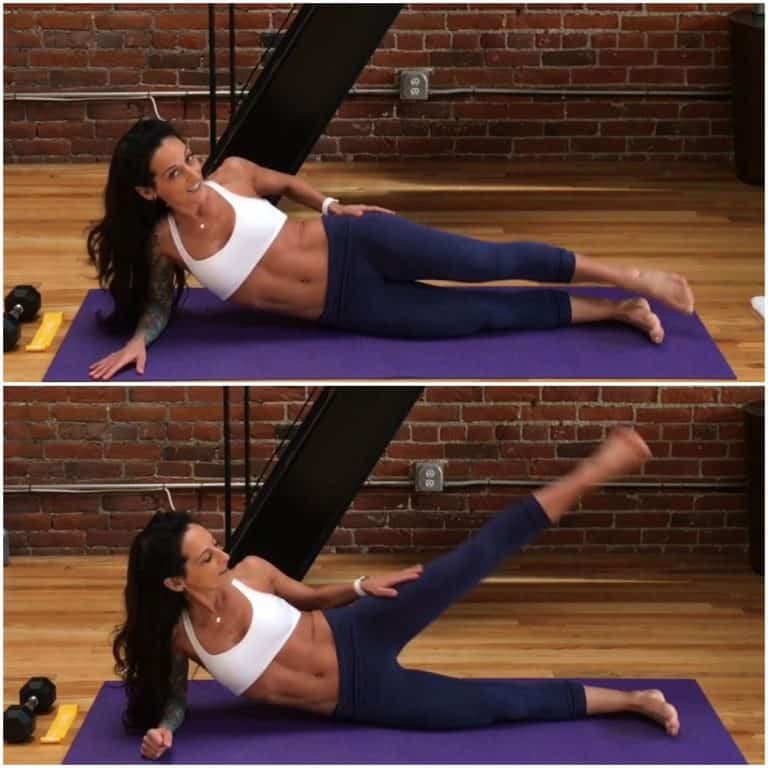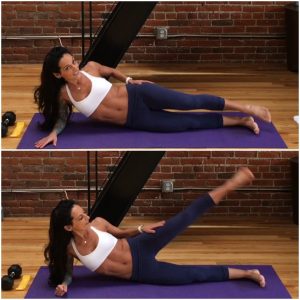 Hey there Rockstar! I've got a super awesome 6-move leg and booty workout for you that combines some strength, sculpting AND fat-burning so you can hit all the most important elements for seeing results!
In today's video, you have the option of adding a few pieces of equipment to increase the resistance. This workout is still super effective without weight, but if you have some dumbbells and a stretchy band, I'm going to show you how to really boost the intensity.
Developing strong legs and glutes really helps with pelvic stability, strength and endurance – as well as looking awesome. 🙂
After you've done today's workout, I recommend grabbing my 30-Day Booty and Abs Workout Plan with full-length follow along workout videos and a plan to follow for the next 4 weeks!
Start at 9:23 to do round 2 and 3!
Leg and Booty Circuit
Format: 3 rounds total; follow the prescribed rep scheme for each move. Rest between sets and briefly between moves.
Move 1: Reverse Lunge to Knee Drive Curl
Stand upright, core engaged, optionally holding 2 dumbbells at your sides. Chest is open shoulders back.
Step back into a reverse lunge. The front knee is in line with the front toe, and chest and torso stay upright. As you step back, curl your arms up to a biceps curl.
As you step back to your starting position, lower the arms to your sides and bring the back knee up to your chest, getting a bonus core crunch.
Move 2: Jack Thrusts
Stand with a neutral spine, core engaged, elbows bent, with soft fists beneath your chin. Optionally you can hold a light dumbbell in front of you.
Jump your feet out to a jack position, driving your hands up overhead. As you jump back to center, bring your hands back to the start position.
Move 3: Sumo Deadlift
Stand with a neutral spine, core engaged, optionally holding 1 or 2 dumbbells.
Feet are wider than hip distance apart, toes turned out slightly in a sumo stance.
Bend your knees and hinge your hips back allowing your weight to come between your shins, keeping it in close to your body. Your core should be engaged as you do this, and shoulders should stay back and open. Don't allow the weight to pull you forward.
Keep your weight back in your heels and drive forward with your hips, engaging your glutes as you come back to standing. Repeat.
Practice this without weight and perform without weight as an excellent option as well.
Move 4: Lying Straight Leg Side Raises 
Lay on your right side, hips square in front of you. If you're using a stretchy band, wrap it around your legs about mid calf. You can also position the band at mid thigh for a variation. Or you can do these lateral raises without any resistance and the weight of your leg will still create an effective workout!
Lift your top leg up straight, then lower it. Repeat, using smooth, controlled lifting motions. Repeat on the other side.
Move 5: Hamstring Runner Slides
Sit down and position your sliders under your feet.
Come into reverse tabletop and begin to slide out one foot, then the other. It's ok to drop your hips down to pull the sliders back in toward you, but keep your core engaged and keep your hips up as much as possible. Keep your hands below your shoulders.
To make this just a little easier if you're just starting you, use a bench or side of your couch to hold yourself up as you slide your feet in and out.
Move 6: Jump Over Squat Thrust Spin
Stand on one end of your mat and jump forward, landing softly.
Bend your knees, plant your hands below your shoulders and jump your feet out straight, coming into a tall plank with your core engaged.
Pause, then jump back to your starting point, loading the weight in your heels. Jump up and spin to face the opposite direction. Repeat!
Alternatively, you can lunge across your space rather than jumping. You can step your feet back, and you can come up in a body squat rather than jumping if you need to lessen the impact.
Be sure to stretch your legs out after today's workout, and if you have a foam roller it's a great time to get on it for a few minutes.
Check in below and let me know when you've done this workout, or if you have any comments or questions! Please share this post with a friend!
How I plan a week: The format I generally use for total body training would include a lower body workout like this with a light ab circuit on Day 1, an upper body workout on Day 2 as well as a fast bodyweight circuit, another leg circuit on Day 3 with a core workout, and a final upper body circuit on Day 4 with a fast bodyweight circuit.
Depending on my energy and time constraints I'd add one additional day of cardio. If I felt more sore, I'd do something like yoga instead.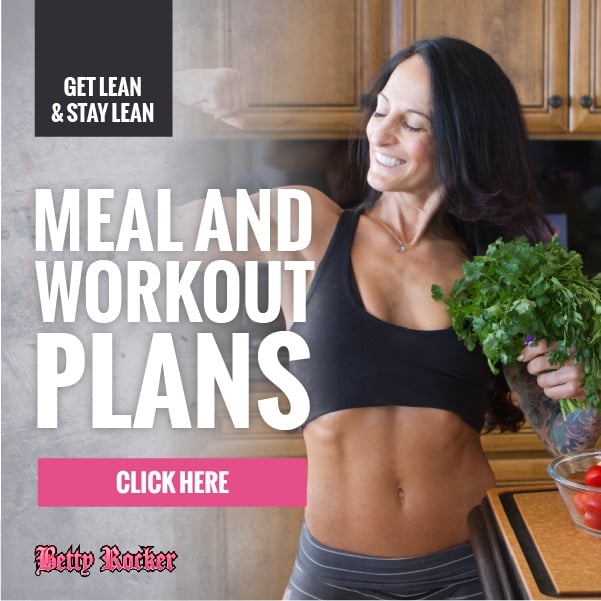 Workout Plan – GYM: A great program that I created that follows this format is the Lioness Program – it does require more gym equipment however.
Workout Plan – Home or Gym: If you prefer to work out at home and have just light dumbbells, bands and a swiss ball at home, the new 30-day Abs and Booty Program is a great place for you to get started.
Workout Plan – HOME: If you prefer to do bodyweight workouts where no equipment is required, I created the 90 Day Bodyweight Challenge Transformation Program. A little something for everyone!