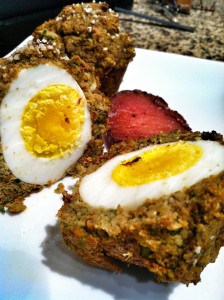 Have you ever heard of "Scotch Eggs?" Also known as an "Egg Devil" (hahah), traditional Scotch Eggs are made up of an egg wrapped in sausage meat, breaded and deep fried. Well that pretty much sounds like a party.
I had never heard of them until my friend and fellow blogger Shareen (who has a lovely food blog with so many wonderful gluten-free recipes) sent me a picture of them and said, "How in the heck would you make that?!"
The wheels in my head started turning anytime there's a challenge – I thought, how could I make a healthier version of a Scotch Egg, that would be a complete breakfast – rich in protein, gluten-free, low-glycemic carbs, and a little healthy fat?
I've been wanting to make a savory breakfast muffin and experiment with adding pesto to the batter. Some of you know my deep and abiding love of pesto – it's one of the healthiest ways to add flavor to a dish without loading it up with something less friendly to your health. In fact, I include 1 pesto recipe a week of my Body Fuel System healthy eating guide and meal plan.
Here's what I came up with for a healthy, fitness-food breakfast – an ode to Scotch Eggs.
Scotch Eggs: Savory Egg-in-a-Basket Muffins
Yield: 4 Muffins
You will need: food processor, large mixing bowl, measuring cups and spoons, knife and cutting board, grater, small pot, muffin tins
1/4 cup cashews
3-4 stalks fresh sage, stems removed
3-4 stalks fresh basil, stems removed
1 garlic clove
2 tsp olive oil
1/4 cup packed sundried tomatoes (about 8), rinsed and patted dry
1/8 lb smoked turkey lunchmeat
2 eggs
2 T water
2 T coconut oil, melted
1/2 tsp salt
3 T coconut flour
1/2 tsp baking soda
2/3 cup grated zucchini
4 eggs
Coarse sea salt
1. Preheat oven to 400.
2. Add 4 eggs to a pot of water and bring to a boil. Allow them to boil for 3 minutes, then immediately transfer to a cold water bath.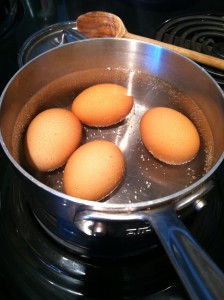 3. Combine cashews, sage, basil, garlic and olive oil in the food processor. Blend to a pesto-like consistency and set aside.
4. Combine sundried tomatoes and smoked turkey in the food processor and blend until sticky.
5. Grate zucchini and set aside.
6. Combine eggs, water, coconut oil and salt. Beat until foamy.
7. In a separate bowl, combine coconut flour and baking soda. Add it to the egg mixture and beat well.
8. Add in grated zucchini, herb and nut mixture, and tomato-turkey mixture. Stir everything together.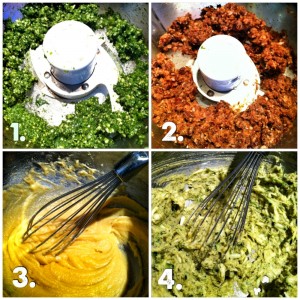 9. Peel eggs.
10. Oil 4 muffin tins with olive oil.
11. Scoop a spoonful of batter into a cup. Make a small indent with your finger and place an egg inside.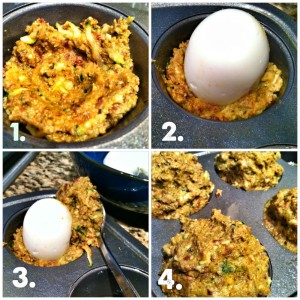 12. Cover the egg with more batter and pat it down to completely surround it. Repeat for the remaining 3 eggs, evenly distributing the batter.
13. Sprinkle with a little coarse sea salt.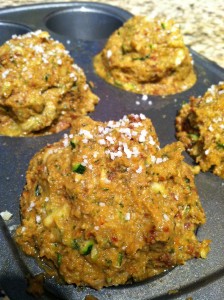 14. Bake at 400 for 20 minutes.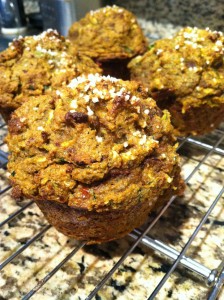 Cool and serve. I had mine with a piece of Canadian bacon. Amazing!
Nutrition Facts
Calories per Serving:

313
---