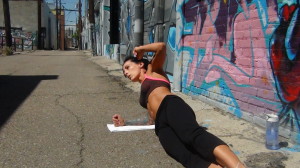 Betty Rocker's Anywhere Workouts: Graffiti Alley (Part 2 of 3)
Welcome back to my bodyweight workout video series that you can do anywhere, no equipment needed.
This week I've got 7 new body weight moves for you that you'll go through in order, then repeat 3-4 times.
Last week I was in gorgeous Cheesman Park, and this week I'm working out in a graffiti painted alley – proving that there are no excuses to getting a good workout!
WORKOUT:
1. 1 minute Reverse Plank Hold
2. 15 Seconds Each Side Plank Hip Dips with Knee Raise
3. 10-15 Broad Jumps
4. 10-15 Each Leg Walking Lunges with High Kicks
5. 15-20 Crunch Ups – Feet Stay on the ground
6. 10-15 Alternating Side Straight Leg Lifts
7. 15-20 each Leg Single Leg Calf Raises
Anywhere Workouts are great because you don't need any weights or equipment, you can do them anywhere you happen to be – if you're on the road you could do them in your hotel room, if you're away from the gym you could do them at home, in a park, the office, any location that you have some room to move around.
One of my favorite things about working out somewhere I've never been is that it challenges me to take advantage of the terrain, and any special features that are present. I've worked out in my mom's basement using a block of firewood as a weight before!
Doing bodyweight workouts will really help you maintain your muscle mass, and help you get more shredded if you're working your way up. Whatever you use them for, they're a compliment of strength, balance and explosive cardio that will have you sweating and building a sexy six-pack and toned muscles anywhere you are.
As always, pay attention to your form, stay hydrated, remember to stretch and push yourself as hard as you can! Always feel free to write me with your questions, suggestions and comments, I love hearing from you.
I'll have part 3 for you coming up next, so be sure to check back!
---
Love working out anywhere, anytime – no equipment needed?
For my most effective bodyweight shred program, check out the 90 Day Challenge!
In 15 minute workout sessions, you will get stronger, leaner and build endurance as you progressively increase your strength!