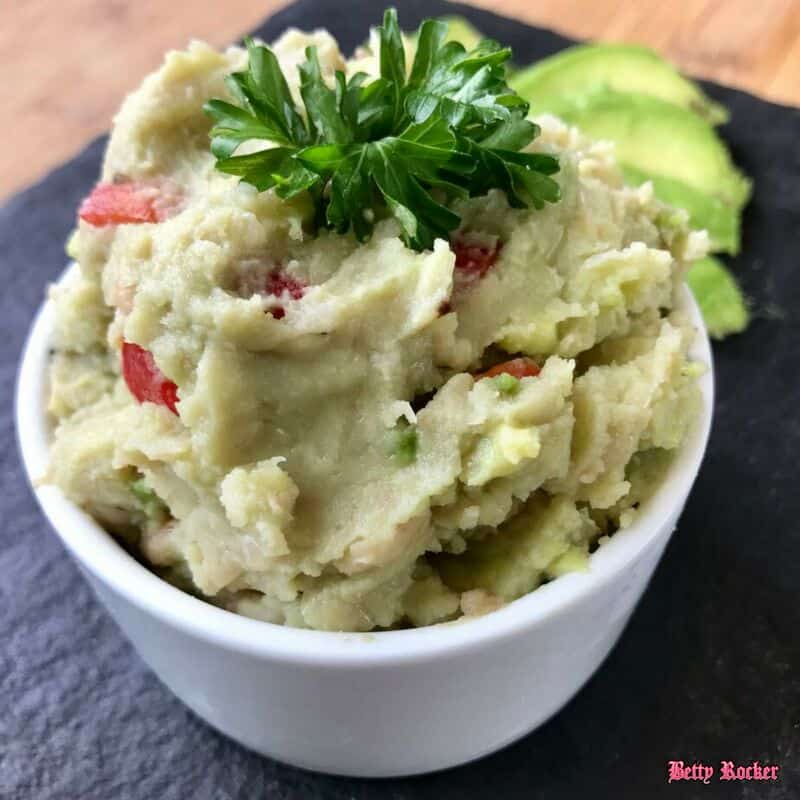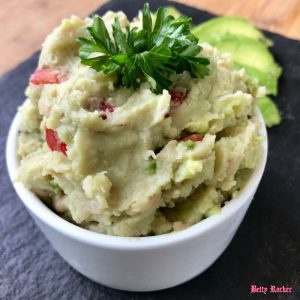 The season of the potluck picnic is officially upon us! If you've been looking for a flavor-packed, people-pleasing dish that's designed to be both delicious AND nutritious while helping to keep you aligned with your goals, you are in luck today.
I've got your solution right here, and it's as easy as ABC – avocados, beans, and cloves of garlic, to be precise. 🙂
Today's Avocado Bean Dip is gluten-free, dairy-free, easy to modify, easy to make, and even easier to eat! Additionally, it packs a nutritional punch you'll want to celebrate all summer long.
Avocados: Because of its unusually high concentration of extremely beneficial fats, avocado is one fatty food that you should never avoid. For example, oleic acid (which makes up about half of avocado's total fat) helps our digestive tract form transport molecules for fat that can increase our absorption of fat-soluble nutrients like carotenoids.
Avocados are also one of the few land plants that carry the fatty acid polyhydroxylated fatty alcohols (PFAs). PFAs are widely found in ocean plants, but rare in land plants. PFAs have excellent anti-inflammatory benefits, making this dip work FOR you. 🙂
Beans: An excellent source of protein, white beans also have a low Glycemic Index rating, which gives them a stabilizing effect on your blood sugar, making them a sustained source of long-lasting energy.
Beans are also a fantastic source of antioxidants, fiber, and magnesium, all of which help your internal systems thrive.
Cloves of Garlic: I've talked about the numerous health benefits of garlic before, but to recap, this immunity-enhancing antioxidant powerhouse is not only rich in Vitamin C, vitamin B6, and manganese, it also directly combats illness, reduces blood pressure, and helps improve cholesterol. Amazing!
Avocado Bean Dip
Yield: 6 servings
You will need: food processor (or blender), mixing bowl
KEY: T=Tablespoon; tsp= teaspoon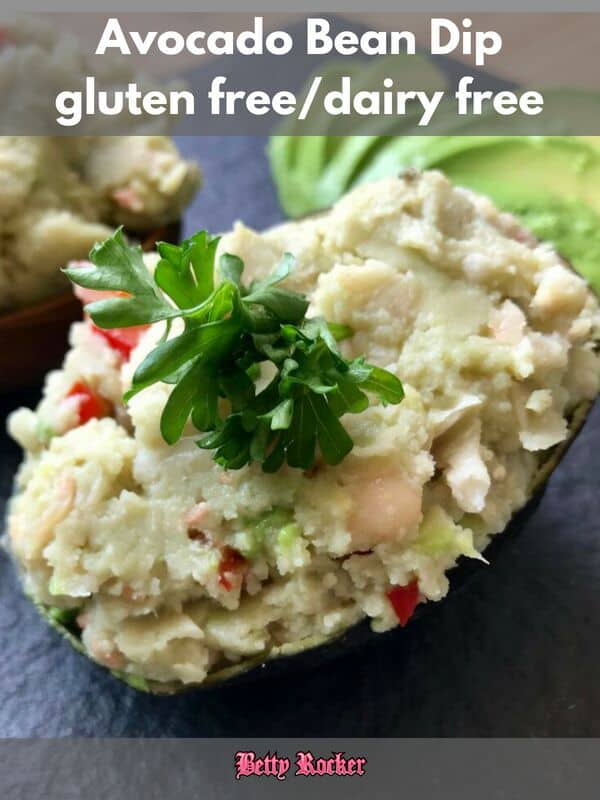 Ingredients:
1 15-oz can white beans, drained
1 avocado
2 cloves garlic, pressed or minced
1/2 tsp sea salt
1/2 lemon, juice of
1/2 cup loosely packed parsley
Instructions:
Add beans and avocado to the food processor and blend until smooth.
Add in pressed garlic, sea salt, and lemon juice and blend to combine.
Rough chop parsley and pulse into the mixture.
Taste. Add additional salt or lemon juice to taste.
Additional ideas/toppings:
-Add 1/4 cup pesto to the dip
-Add basil instead of parsley
-Add diced shallots
-Add chopped sun-dried tomatoes
Nutrition Facts
Calories per Serving:

105
There are SO MANY amazing ways to enjoy this Avocado Bean Dip!
Some of my favorites include dippers like carrots, bell peppers, cucumbers, celery sticks, crackers, spread on pita bread or toast, mix it with scrambled eggs, or even use it as a pizza base!
I'd love to hear YOUR ideas – leave them in a comment below, and ENJOY!
---
The 30 Day Challenge Meal Plan includes all the recipes and grocery lists for breakfasts, smoothies, sides, snacks and entrees for 4 full weeks – with plenty of delicious options and structure to help you eat right for YOUR life!
Save time and make this your own with everything all mapped out so you can shop and prep with ease – with 3 options for how to do your prep – all at once (batch), not much at all (minimal), or a flexible option in the middle called hybrid that lets you do some prep, and also cook on the fly.