Do you remember where you were in your life 2 years ago?
On my way back from my recent trip to Toronto, I was pondering how far I've come in the past two years.
Man, I've come a long way.
Think about it, where were you as a person 2 years ago today? I bet you're in a different place.
And here's the thing about all of our progress –  we didn't get where we are right now ALONE.
I've been getting a whole lot better at LIFE since I stopped trying to do everything myself.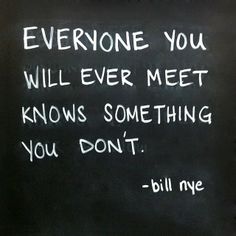 I love this quote by Bill Nye the Science Guy: "Everyone you will ever meet knows something you don't."
That is so true. But I never used to think about it that way. And it really held me back from success on every level.
I thought I could do it all on my own. And hey, we are all pretty awesome on our own!
But we miss out on some pretty great things when we have our blinders on, our judgments, our preconceived ideas, our guard up.
Not only do we miss out on learning new things – we miss out on becoming greater through sharing ourselves.
These days, my attitude has changed – and my success in business and in personal relationships is reaping the rewards of that shift.
Because one of the KEY things I missed when I wasn't open to all the amazing things other people had to offer me was how much I had to offer THEM.
Where are we missing out on key relationships, on growth in ourselves because we're not open?
In your family, do you let your spouse help you? Do you foster that openness with your children?
What about your friends? People you work with, people you meet in line at the coffee shop?
Think about it and ask yourself honestly,
Could you be more open?
Are you missing out on some great opportunities or growth in yourself because your focus is too narrow?
Don't fall into the trap of thinking you can do it all yourself.
You're an amazing person who has so much to offer everyone you encounter. Let those people you meet be amazing too.
I'd love to hear your thoughts on this. Leave a comment below and let me know if you've fallen into this trap before like I used to, or if you've had an experience where being open to other people has enriched your life and happiness. 🙂

---
Come join us and let us support you on your journey of fitness and health – with home workout challenges, workout classes, healthy recipes, and our private support group!