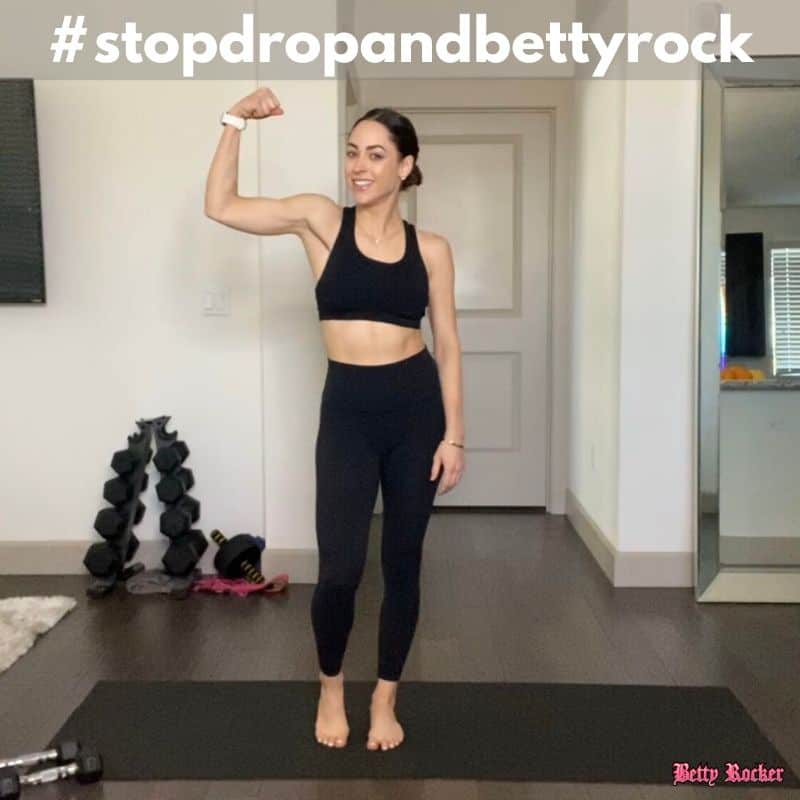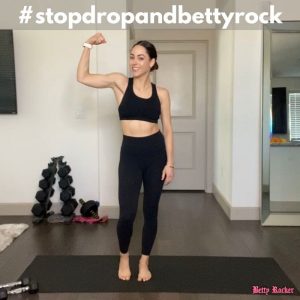 Ready to sculpt and shape your abs, arms, and back in no time at all? This awesome workout will do just that!
For this fun 20-minute workout that you can do from home (or anywhere you are), you'll be working out with Coach Roz, one of the amazing Team Betty Rocker coaches from Rock Your Life. If you've never worked out with her before you're going to love her!
Coach Roz is a NSCA Certified Personal Trainer, Certified IIN Health Coach, PSA rated Figure Skating Coach and a Team Betty Rocker Coach
Keep reading to find out more about the workout Coach Roz has in store for you and why she loves it!
---
Hey Rockstars, Coach Roz here! Upper body training is such an important part of building a strong and balanced physique.
I love this workout because it incorporates both strength and cardio, which really helps tone and sculpt your muscles while blasting body fat. We will be combining some of my favorite isolated movements into complex moves to really get that extra burn!
For today's workout you will need a set of weighted objects – water bottles, dumbbells, or any household items to add in some extra resistance. I hope you enjoy it!
---
Great job with today's workout! Now let's set you up with a plan to put workouts like this together in a complete sequence that will strengthen your entire body!  Take a 30-day Challenge in Rock Your Life and have workouts like this formatted into a plan to follow!
Back, Abs and Arms Sculpt
Click to expand and see all workout move descriptions.
Equipment: Weighted Objects (water bottles, household objects, dumbbells)
Format: Perform each movement for 0:30 each and repeat for 3 rounds.
Move 1: Cross Body Mountain Climbers
Begin in a tall plank position with your core engaged and shoulders stacked over your hands.

Keeping your hips down, run your knees into your chest by driving your knee toward your opposite elbow and back out, one at a time.

MOD: Do this move on an elevated surface by placing your hand on the edge of a couch or table.
Move 2: 3 Bent Over Rows to 3 Triceps Kickback
Hinge forward at the waist to be at 45 degrees, core engaged, gaze neutral, chest up, shoulders rolled back and down, and weights in your hands, hanging beneath your chest.

Pull the weights to your sides while keeping your elbows close to the body, and squeezing your back muscles like you're pinching the base of your shoulder blades together. 

Perform 3 rows and then perform 3 tricep kickbacks by kicking your arms straight back.  

Slowly lower the weights down again to the starting position and repeat.
Move 3: Sit Up Cross Punch
Lie on your back with your knees bent, feet on the ground and lower back pressed gently into the mat.

Use your abdominals to sit yourself up and punch your arms one at a time across your body. 

Lower yourself back down with control until you are back in your starting position and repeat.
Move 4: Plank Walkout 
Begin in a standing position with your core engaged and chest up tall.

Bend your knees slightly and place your hands on the floor in front of you.

Walk your hands out to a tall plank until your hands are stacked just below your shoulders. 

Brace your core and walk your hands back in towards your feet to stand and repeat. 

MOD: Perform this on an elevated surface.

Optional Bonus Move: add in an optional push up from your tall plank position and a jump from your standing position.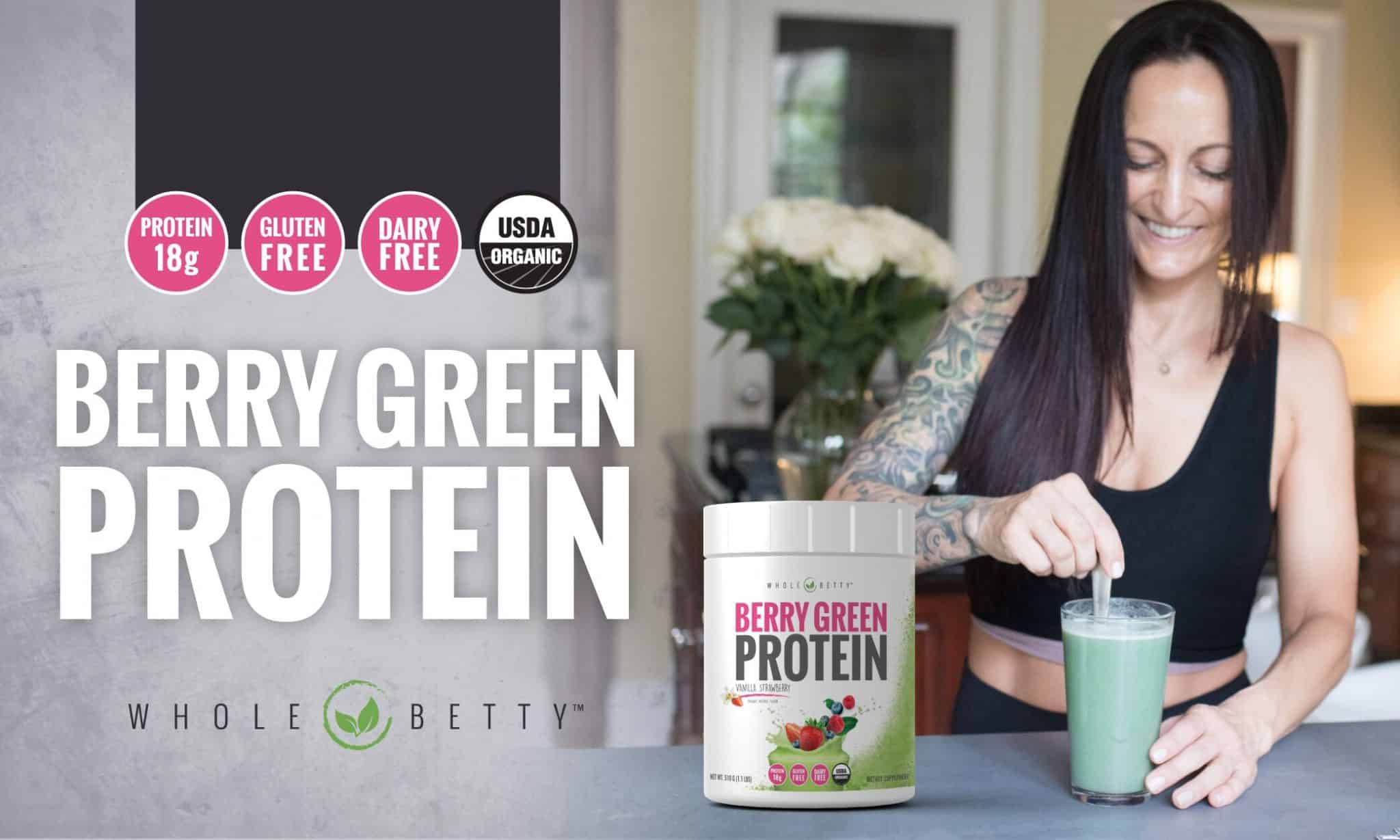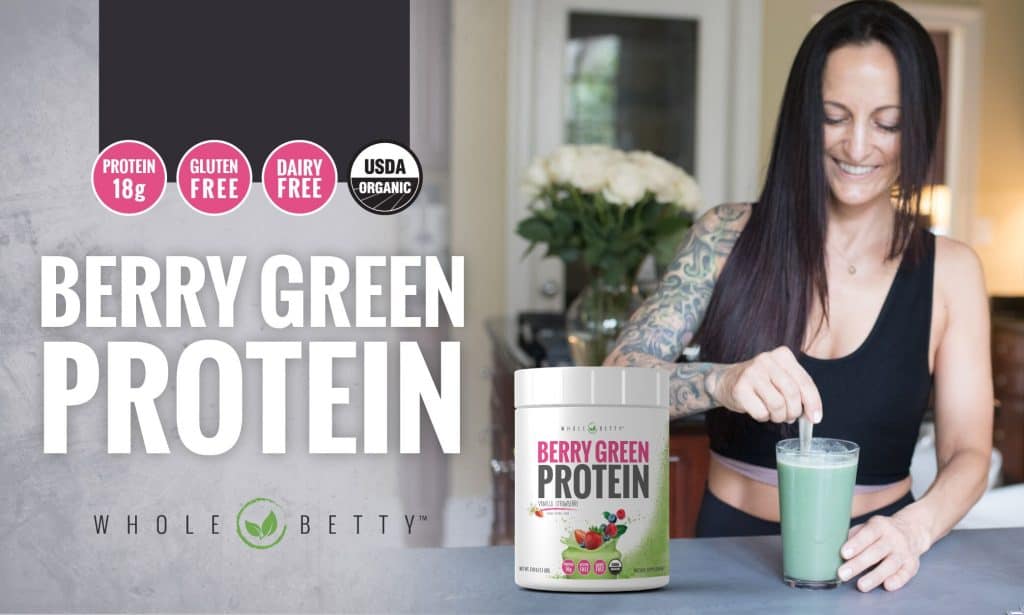 Move 5: Biceps Curl to Reverse Fly
Holding your weighted objects with your palms facing you, pull your shoulder blades back and down with your core engaged. 

Keeping the upper arms stationary, perform a bicep curl with both arms by curling the weight up to your shoulder while contracting your bicep (palm facing you). 

Reverse the movement to return to your starting position. 

Hinge forward at the waist with your shoulder back and down and perform a reverse fly by lifting both arms out to the side, maintaining a slight bend in the elbows and squeezing your shoulder blades together.

Return to the starting position and repeat the biceps curl and fly back and forth.
Move 6: Swimmers 
Lie on your stomach with your core engaged and arms and legs extended.

Lift your right arm and left leg at the same time holding for 1-2 seconds and then alternate with your left arm and right leg. Repeat back and forth.

Keep a slight contraction in your lower back as you "swim" and keep your gaze in front of you so your neck isn't straining or hyperextending up or down.
Amazing job Rockstar! 
Check in below with me and Coach Roz and let us know how you liked the workout and what move was your favorite!
---
Take your fitness to the next level – without having to leave your house!
Grab a 30-day Trial to Rock Your Life and get access to….
5 new home workout classes a week for constant variety and fun! Drop in on your schedule – they're all loaded right into your workout library!
Choose a workout from hundreds of home workout options by body part you want to train, how much time you have and workout style!
Take a 30-day Challenge complete with interactive calendar and daily email push to keep you on track!
Check in with us in your private support community and make new friends, plus get your questions answered by the coaches!