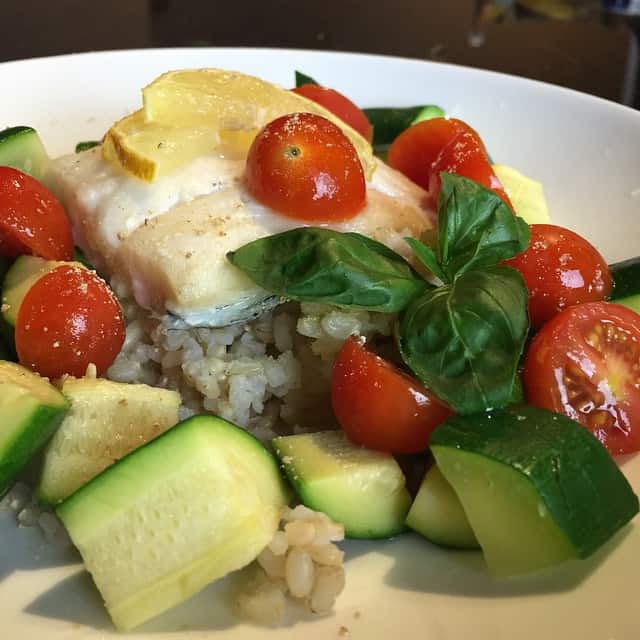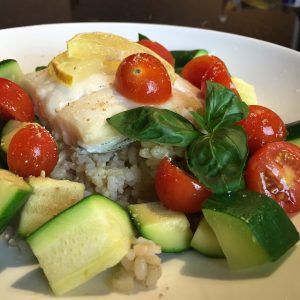 Baked Haddock with Fresh Herb and Vegetable Medley
Tonight's dinner was super simple, fresh, flavorful and filled me up with healthy protein, complex carbs and fiber – really a perfect meal to end my day after my super tough morning workout!
If you're like me and live inland it's sometimes hard to get great quality fish – and when you do, it's not always conveniently packaged for quick and easy prep!
I found this amazing company recently called Vital Choice Seafood that delivers my fish to me, frozen – it's wild-caught – and individually packaged in single servings. I usually leave one or two in the refrigerator in the morning if I'm planning to have it for dinner and it's perfect. Super good quality and I love their variety packs.
I added some fresh basil to my dinner tonight too as you can see –  I love using fresh herbs in my cooking whenever possible – if you have one of my meal plans you're familiar with the delicious weekly pestos!
To make tonight's simple dinner (for 2), you'll need:
2 – 4-6 oz servings of fish
1 cup Cooked brown rice – I have done my food prep already so I've got some germinated brown rice already made
1 zucchini, diced
8-10 cherry tomatoes, halved
fresh lemon
fresh basil
Sea salt and pepper to taste
1. Preheat oven to 350.
2. Line a baking sheet with parchment paper, and place your fish on it. I season mine with a bit of fresh ground pepper and sea salt, and a drizzle of fresh lemon. If you've never tried haddock, it's a protein-rich white fish with a very mild flavor and it takes seasoning well. Pop it in the oven and set the timer for 18 minutes.
3. Prep your zucchini and tomato. Bring a steamer pot to a boil and add zucchini about 5-8 minutes before the fish timer goes off. I don't steam the tomatoes, I like them fresh so just set them aside.
4. Assemble your plates by scooping about 1/2 cup brown rice on the bottom. Top with fish. Add zucchini and then tomatoes on top. Garnish with fresh lemon (I always squeeze a little over everything – it makes the vegetable flavors pop), a little fresh ground pepper and fresh basil.
If you're curious about basil and why I love it so much, it's pretty cool how good it is for our bodies.
Basil is:
rich in flavenoids, which protect our cell structure and chromosomes from radiation and oxygen-based damage
a protector against unwanted bacterial growth thanks to its volatile oils – an anti inflammatory food thanks to a compound called eugenol
extremely good for your heart health – thanks to its rich beta carotene which is converted into super antioxidant Vitamin A – which protects the lining of blood vessel cells and prevents free radicals from oxidizing cholesterol in the bloodstream.
---
To get fresh fish delivered to your home:
---
Need a great meal plan to follow with lots of recipes to keep you lean and support your fitness plan?