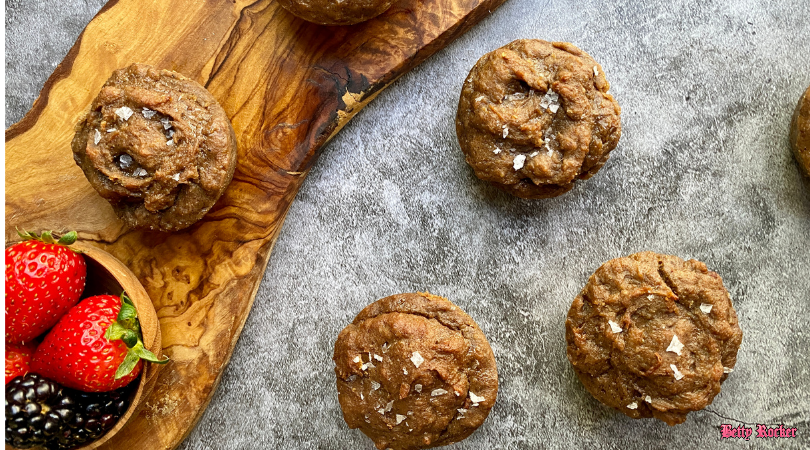 Muffins are one of my favorite easy, nutrient dense mini-meals – easy to make, portable and packed with filling, healthy ingredients.
What makes these Banana Protein Muffins healthy?
Added protein – Muffins are typically loaded with sugar and have little to no protein in them. This recipe has protein powder added, making this recipe a more balanced and satisfying mini-meal. Protein is even more satisfying than fat or carbs, so I like to include it in baked goods to balance their nutrient profile. This is the protein powder I used.
Healthy fats – Instead of using vegetable oil, this recipe uses peanut butter (or your choice of nut butter). Fats like this are very satisfying and will help you keep from overeating. They slow down the absorption rate of sugar into your bloodstream, giving you longer lasting energy and keeping your blood sugar stable.
Digestion-friendly fiber – Bananas contain soluble and insoluble fiber. Soluble fiber dissolves in water and slows digestion, helping to stabilize your blood sugar levels. Insoluble fiber doesn't dissolve in water, and helps keep things moving through your digestive system (1).
Ready to start baking? Let's go!
Banana Protein Muffins
Yield: 6 servings
You will need: measuring cups, measuring spoons, mixing bowl, muffin tin, rubber spatula, whisk
Key: T = Tablespoon; tsp = teaspoon
Ingredients: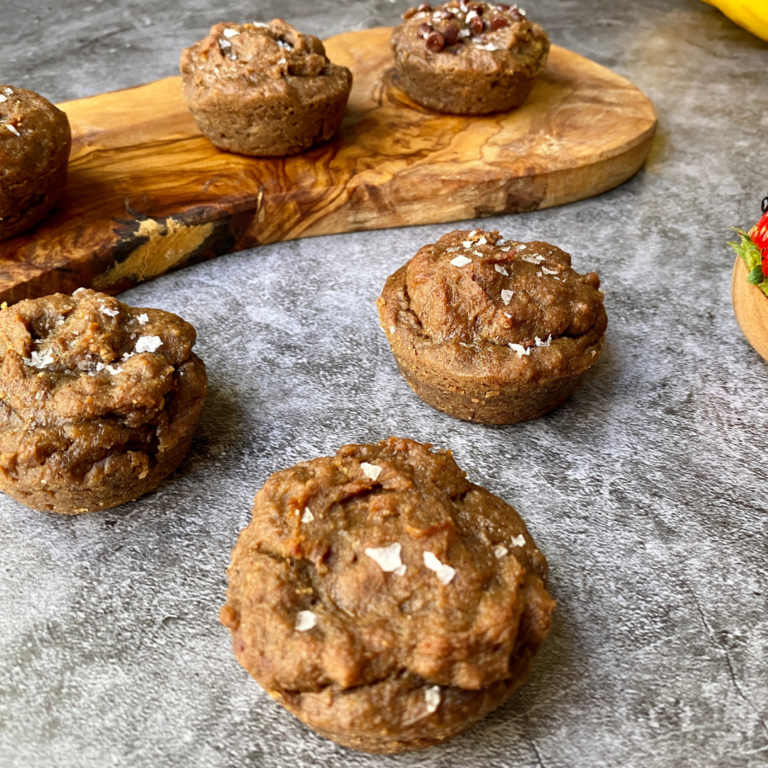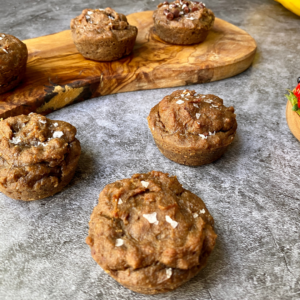 1/3 cup peanut butter (can use a nut butter or sunflower seed butter if you are sensitive to peanuts)
1 large egg
1/2 tsp vanilla extract
3 small extra ripe bananas, mashed very well
1/2 cup almond flour
4 servings (120 grams) I ❤️ Vanilla Protein powder
1 tsp baking soda
1 tsp ground cinnamon
1/2 tsp ground nutmeg
1/4 tsp allspice
1/4 tsp salt
Instructions:
1. Preheat the oven to 350 F.
2. Prep muffin tins with oil, line with cupcake liners, or use a silicone muffin pan.
3. In a large bowl or food processor add nut butter, egg, and vanilla and mix together. Add in banana and combine until smooth.
4. Add in almond flour, protein powder, baking soda, cinnamon, nutmeg, allspice, and salt. Use a large spatula to gently combine until no lumps are present in the batter.
5. Evenly distribute batter into muffin cups about 2/3 of the way full.
6. Bake muffins for 12-18 minutes, or until inserted toothpick comes out clean. Muffins will rise and cracks should appear when done.
Nutrition Facts
Calories per Serving:

266
Can't wait to hear if you make these and what you think!
---
Incorporate delicious recipes like this into your complete healthy eating every week with my recipe guides and meal plans!