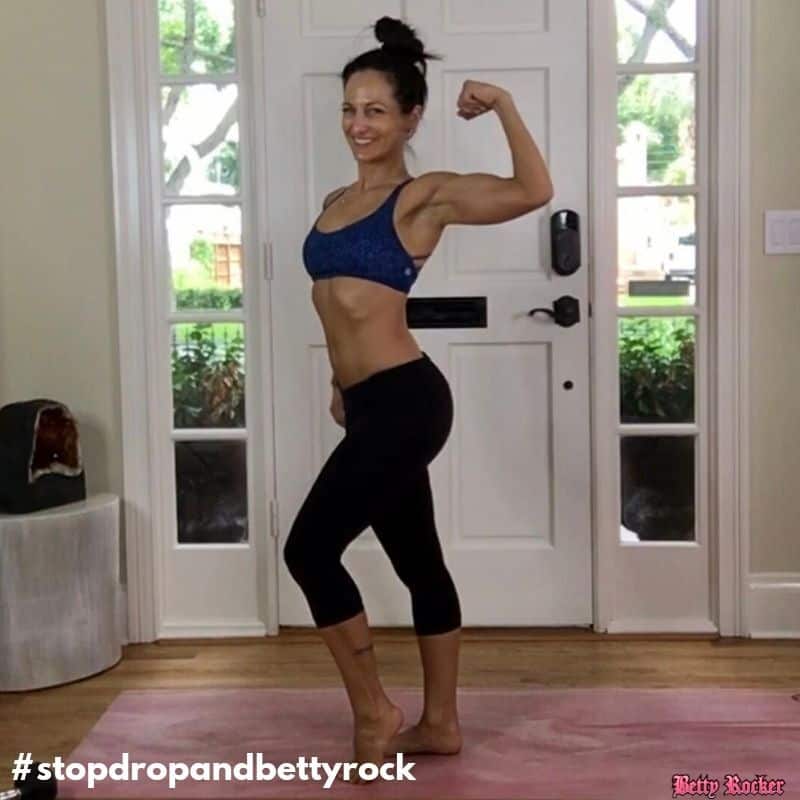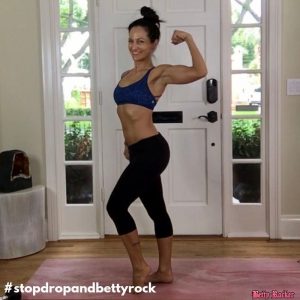 Hey Rockstar! In just 20 minutes, we are going to sculpt and strengthen our chest, biceps back and core together. Upper body training is often neglected but it is such an important aspect to our fitness.
Think about all that you do each day- picking up your kids, doing laundry, carrying grocery bags, opening up a stubborn jar of food – and how much easier these things are with a strong upper body.
Or if you have a job that requires you to sit a lot (like many of us do), strengthening the muscles that we use to keep us upright can help improve our posture (1), build a balanced physique and relieve chronic neck pain (2).
Plus, training your core and upper body helps you develop sleek, sculpted muscle that protect your joints, makes you a more efficient fat burner, and makes you STRONG!
Remember to check in with yourself during the workout and ask yourself, how am I feeling? How is my form? How is this workout serving me?
Because it's not only about how we look, it's about how we feel. And improving our coordination, balance and posture are all essential for helping us feel our best and living a long, healthy life.
Be where you are at today and honor YOUR body. We all have our own strengths, so work with what you've got in this moment and celebrate your beautiful, unique body.
You are powerful.
You are strong.
You are resilient.
Now grab a couple of water bottles or dumbbells to add in that extra element of resistance and let's rock this workout together!

---
Great work with today's workout! Now let's get you a plan to put workouts like this together in a complete sequence that will strengthen your entire body!  Take a 30-day Challenge in Rock Your Life and have workouts like this formatted into a plan to follow!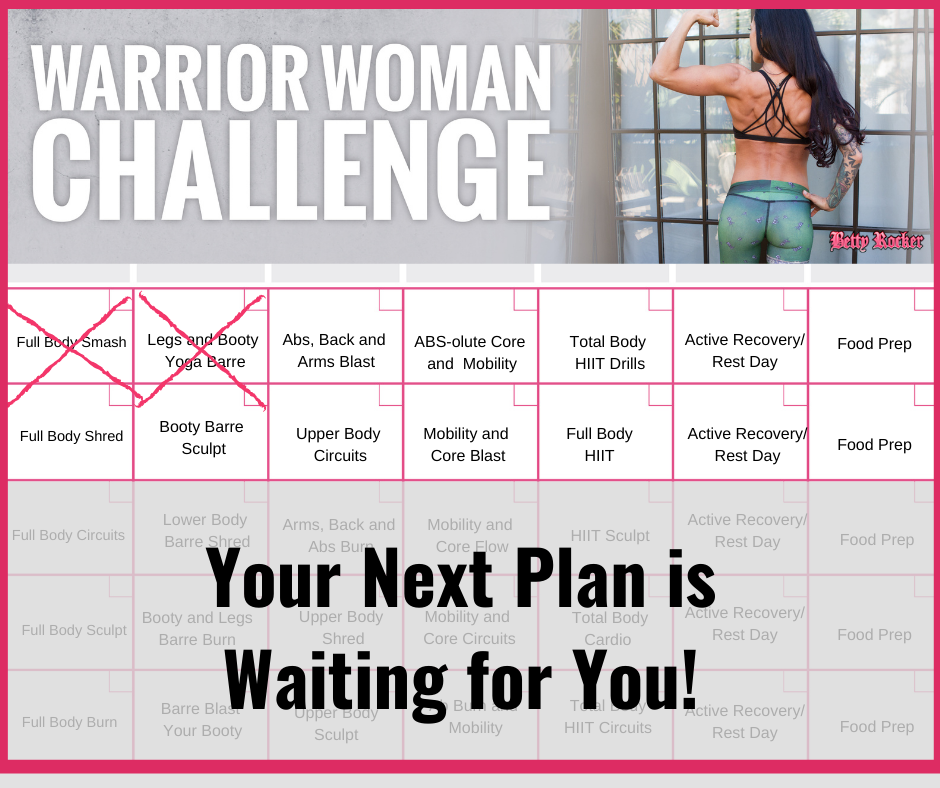 Biceps, Back, Chest and Core Workout
Click to expand and see written workout moves descriptions.
Format: Perform this circuit for 2-3 rounds for the prescribed amount of repetitions. Rest as needed.
Move 1: Walking Planks (10-12)
Begin in a tall plank position with your core engaged and shoulders stacked over your hands
Brace your core and lower yourself down to your forearms, one at a time
Bring your right arm back to a tall plank and then your left arm (alternate which arm leads)

MOD: On hands and knees or on an inclined surface
Move 2: Single Leg V-Ups (8-12 each leg)
Lay flat on your back with your arms and legs extended, core engaged
Keeping your chest up use your abs to sit up while bringing your left leg to meet your torso, ending in a V-sit position.
Slowly bring yourself back to a lying position and repeat with your right leg.

MOD: Keep your knees bent
Move 3: Slow Burpees Cross Cross Punch (8)
Stand tall with your feet slightly wider than hip distance apart, core engaged.
Bend your knees into a squat, plant your hands on the floor inside your feet and step your feet back into a tall plank position (hands stacked directly below shoulders).
Perform a pushup and return to a tall plank position.
Step your feet back up, as you come back to standing position drive your right knee across your body to your left elbow and then repeat on the opposite side.

MOD: Drop to your knees in the pushup or do on an incline surface like a bed or chair
Move 4: Wall Hold Ups (8-10)
Sit in a wall sit position, knees tracking toes and pressing your low back into the wall.
Bring your arms to an upright 90 degree angle position, pressing your shoulders and elbows into the wall.
Slide your arms as far upward as you can while maintaining elbow and shoulder contact with the wall.
Slowly slide back down to 90 degrees and repeat

MOD: You can also do this move laying down on the ground, it is very simple but VERY effective and can really help you achieve more balance between your chest and back.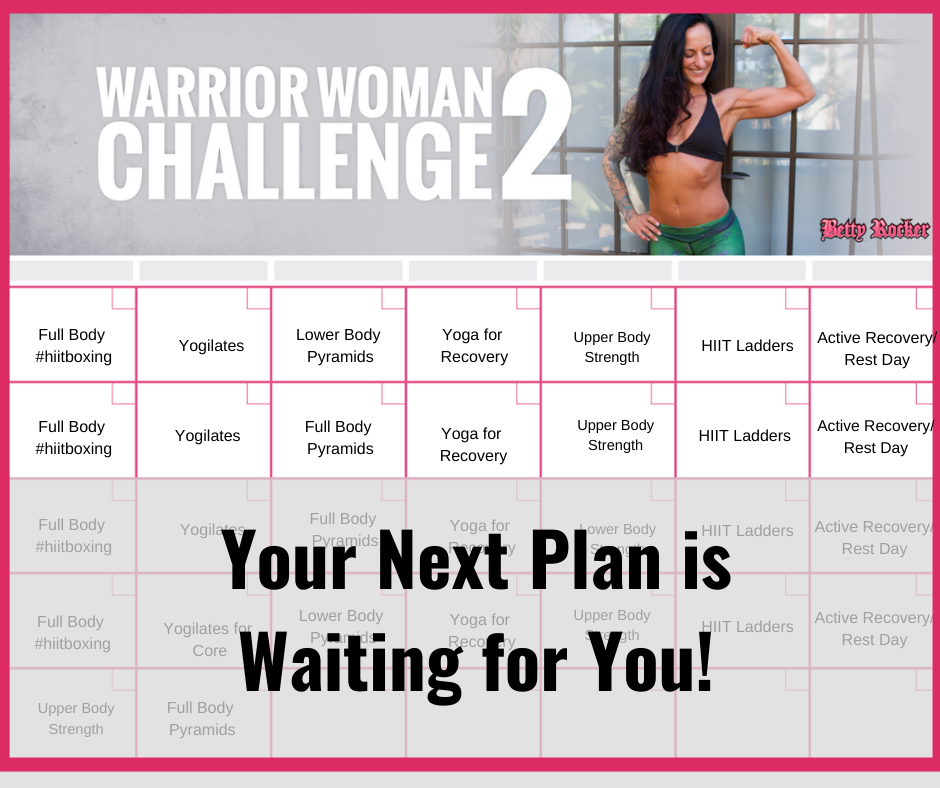 Move 5: Wall Sit Bicep Curl (15-18)
Holding your weighted objects, position yourself in a squat against the wall – knees behind and in line with your toes, powering through your heels and pressing your low back into the wall.
Squeeze your shoulder blades together with an upright chest.
Perform a double bicep curl by curling your palms to your shoulders and returning to your sides.
Move 6: Cross Cross Squat (8-12)
Stand with feet slightly wider than hip distance apart, engage your core and shoot your booty back behind you as though you were going to sit on a chair – keeping the weight in your heels and chest up.
Power through your heels to a standing position.
Drive your right knee up and across your midline, rotating your torso as you bring your left elbow to meet your knee; repeat on the other leg and then back to the squat and repeat. Reminder: Only squat as deeply as you can comfortably go without bending forward at the waist.

MOD: Squat down to a chair
Move 7: Superwoman Lifts
Position yourself on your stomach on the mat.
Extend your arms and legs out.
Lift your arms and legs off of the mat simultaneously.
Pro tip! The wider your legs are, the easier the move will be. As you get stronger, bring your feet closer together.
Great job, Rockstar!  Comment below and let me know how you enjoyed the workout and what makes you feel powerful. I love hearing from you!
---
…so I can support you in ROCKING your body AND your life! Get stronger and healthier with a community of rockstars to support you, home workout challenges for a fit body, and fresh new workout classes each week to keep you motivated!