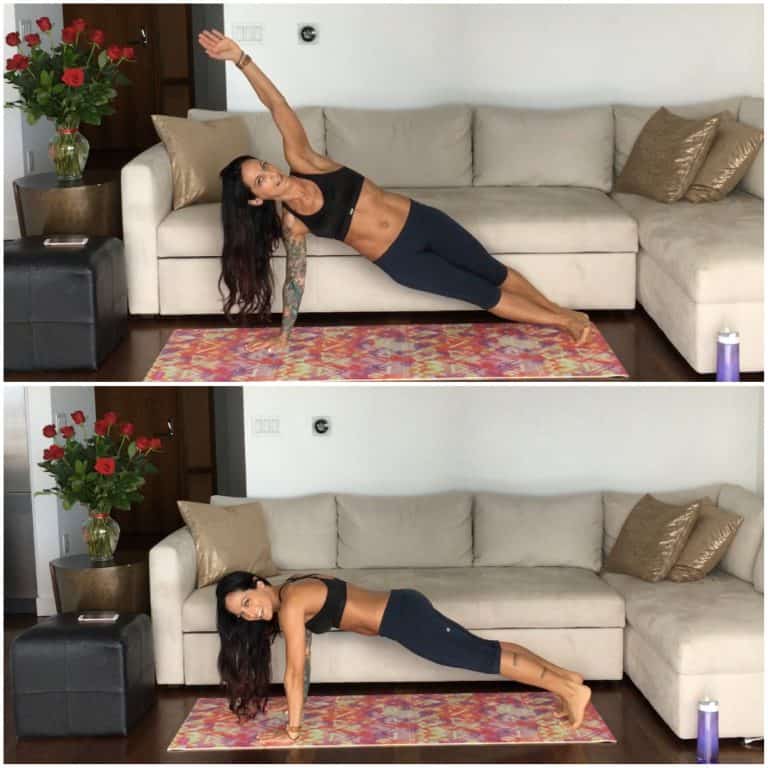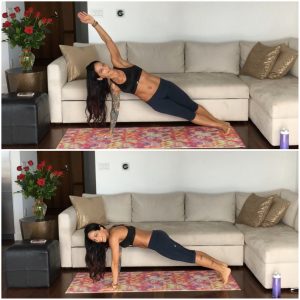 I decided the best way to kick off summer was with a 4-part Bikini Tabata Series!
Welcome to Week 1!
Why do I LOVE Tabatas?
For one, they're super fast. You can get an awesome workout done in 4 minutes. I personally like stacking 2-3 tabatas together (we call them "endurance tabatas in Rock Your Life) and being done for the day in less than 15 minutes total.
Second, they're wicked effective. This style of short-duration exercise has the added benefit of decreasing impact on our joints while still delivering massive results.
In an 8-week tabata style treadmill study, researchers found that their participants improved overall flexibility and anaerobic power while decreasing musculoskeletal impact on their ligaments, joints, and tendons.
Leave me a comment below today's workout and check in! Let me know how you're doing!
---
Bikini Tabata Series 1: Full Body
Click to expand and see all workout move descriptions.
TABATA ONE
Move 1: Skater Lunges
Stand tall, and skip to your right, allowing your left leg to come behind you, dropping down into a curtsy lunge with your left knee lined up with your right heel.
Reach across your body with your left hand for your right foot.
Straighten and skip to the left, coming into a curtsy lunge on the opposite side.
Move through this rapidly with good form, being mindful not to pitch your weight forward.

Mod: Perform alternating reverse curtsy lunges. You can hold onto a chair back for balance and support.
Move 2: Rotating Plank
Begin in a tall plank position, hands stacked below your shoulders, belly button in and up – no arching back – legs straight.
Hold briefly, then rotate to your left, raising your right arm. You can stack or scissor your feet. Keep your hips lifting.
Return to center and rotate to the right, coming into a side plank on the right. Continue to rotate back and forth, maintaining a strong plank hold throughout.

Modification: Begin in kneeling plank, core engaged, hands stacked below shoulders. You can make soft fists with your hands to align your wrists or hold dumbbells to help keep your wrists aligned.

Pivot to the right, coming into a side plank with your right hand and right knee down. Hold. Return to center, and repeat on the left.
TABATA TWO
Move 1: Box Jumps
Position yourself behind a box, bench, step or any elevated surface. It doesn't have to be super high.
Spring forward and up, using your arms to propel you and land lightly on the box.
Fully extend your hips and then step or jump down.

Mod: Step onto the box, pressing through your heels. Keep your chest up and core engaged. Alternate the leading leg you step up with.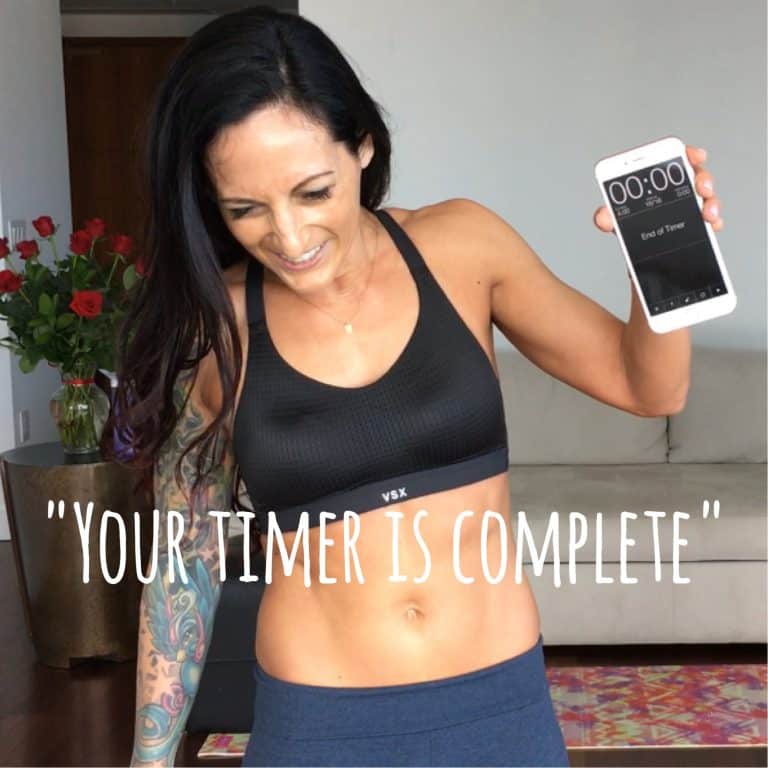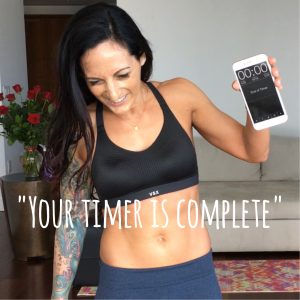 Move 2: Triceps Dips
Come into reverse tabletop facing away from your box or raised surface, with your hands behind you on the box.
Keep your chest open and your elbows parallel to each other as you lower down and press up.
Keep your knees bent, and engage between your shoulders to help keep your chest open and not put too much pressure on your shoulders.

Mod: Take a standing or kneeling position holding a water bottle or weight overhead. Lower and lift it toward your back, keeping your elbows in parallel to each other and your chest open. Don't let your back arch.
Awesome work!! Do you feel the burn? Check in below and let me know how you do today!
---
Great job on today's workout! Now let's get you a workout PLAN so you can keep progressing and get support along the way!
Rock Your Life has access to dozens of home workout challenges, a huge class library with hundreds of workouts of all types so you can choose from a huge variety of one-off workouts if you're not following a plan, and has a private women's fitness support community to make sure you always have the resources you need!