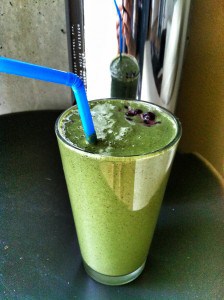 Try out this delicious green smoothie recipe I just made, featuring the amazing antioxidant power of blueberries!
Blueberry-Banana Green Smoothie
Yield: 1 serving
You will need: blender, knife, cutting board, measuring cups and spoons
4-5 stalks kale (and if you don't have a high-speed blender, definitely de-stem the kale)
1 stalk celery
1/4 cucumber
1/4 cup fresh parsley
Fresh mint
Chunk of fresh ginger
3 T hemp seeds (xtra protein)
1/2 cup blueberries (I had frozen)
1 banana
1/2 tsp cinnamon
1/4 tsp nutmeg
1/2 cup each: almond milk and water
I feature several blueberry blends in my Fuel System book (because blueberries are amazing) and I will keep coming up with great recipe for you!
This shake is great post-workout, and as a light meal replacement or snack.
There is new evidence that damage to muscles following overly taxing exercise can be reduced through consumption of blueberries.

There is also evidence that protection of the nervous system from oxidative stress can be accomplished by regular consumption of blueberries.

These antioxidant-based protective effects have been shown in older adults at risk of neurodegenerative diseases, as well as in younger healthy adults and middle-aged obese adults.

Antioxidant protection of the blood sugar regulatory system has also been demonstrated in blueberry intake studies, as has antioxidant protection of the digestive tract (especially with respect to the colon and its risk of cancer).

It's this whole body antioxidant support that helps blueberries stand out as an amazing antioxidant fruit.
–WH Foods
What could drinking a Green Smoothie daily do for YOUR body?