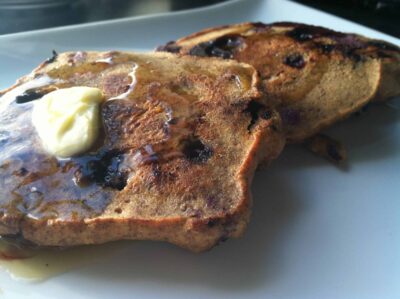 Blueberries are in season! Did you know that blueberries are a fruit that's actually native to North America?
They're very low sugar, high in antioxidants, and have the ability to improve your memory. I've been eating them a lot this summer – putting them in green smoothies and on my breakfast salads.
I had an especially tough spin and kettlebell workout this morning, and when I got home I wanted something a little more substantial than a shake. I got inspired to play around with this protein pancake recipe I've been working on – and it came out so well, I had to share it with you.
I may update it down the road as I play around with the ingredients (*updated 5/25), but these came out great and were delicious. Gluten and dairy free – and meet the standards of all my paleo friends too. You could use frozen blueberries if you didn't have fresh, and they'd be delicious with other types of fruit too.
Blueberry Protein Pancakes
Yield: 5-6 pancakes
You will need: medium size mixing bowl, whisk or fork, measuring cups and spoons, saute pan, spatula, cooking oil spray
1/4 cup flaxseed meal
1/4 cup almond meal flour
1 serving (30 grams)  I ❤️ Vanilla protein powder 
1/2 tsp cinnamon
1/4 tsp nutmeg
1/2 tsp baking soda
1 tsp vanilla extract
1/2 cup egg whites (or 1 egg white + 1 egg, or 2 whole eggs)
2 T coconut oil, melted (or avocado oil, or olive oil)
2 T almond milk or water (if your batter needs thinning)
1/2 cup blueberries
1. Mix the flaxseed meal, protein powder, almond flour, cinnamon, nutmeg and baking soda together in a bowl.
2. Add in the egg whites and vanilla.
3. Melt coconut oil and add it to the mixture; stir everything together. If the mixture is very thick, add a couple tablespoons of water or almond milk to thin it.
4. Add blueberries.
5. Heat a saute pan or skillet to medium heat and spray with cooking oil.
6. Ladle batter onto heated skillet and cook evenly on both sides until done.
Nutrition Facts
Calories per Serving:

422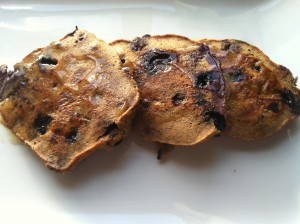 *notes: this is a thicker pancake batter. Keep the bowl with your pancake batter warm, or near the stove so the coconut oil doesn't harden up. I use the ladle to flatten the batter out a bit once I've got it in the pan. Be sure to cook them all the way through – I keep the heat medium so they don't burn on the outside.
Top with your choice of butter, honey, maple syrup, peanut butter, almond butter, walnuts or coconut flakes – or enjoy them hot out of the pan just as they are.
---
Like this recipe? Check out the Body Fuel System for more delicious and healthy recipes to fuel your entire day – including breakfasts, healthy smoothies, delicious dinner entrees and a complete system for plugging them into your life that will get you insanely healthy and naturally burn fat!