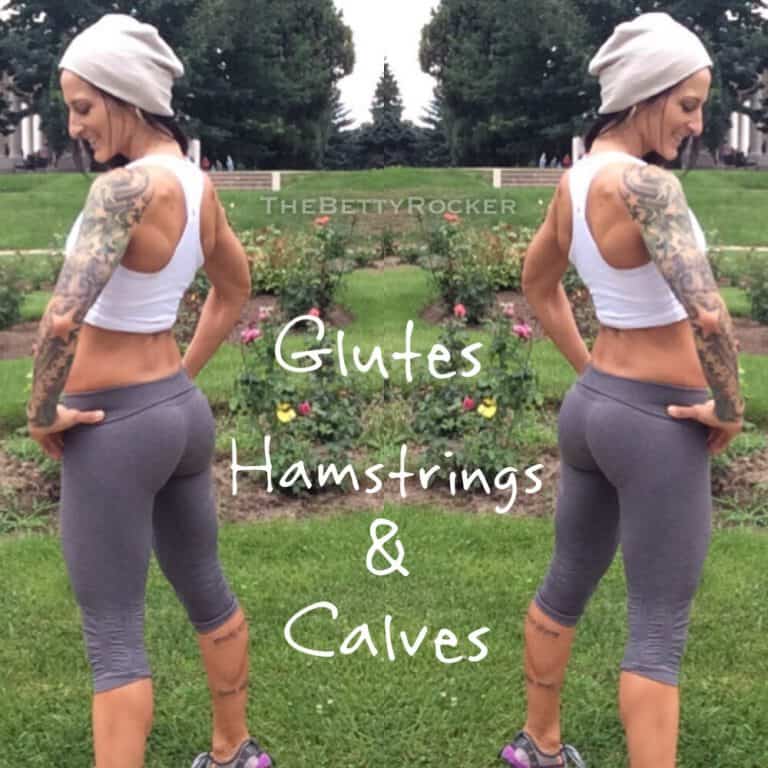 Ready for a fast, fun circuit that targets the entire back of your legs?
GREAT! Today we're working the calves, hamstrings and glutes with 5 targeted bodyweight moves, sequenced to maximize your fat burn and build strength.
This is a great way to target the backside of the body with NO EQUIPMENT needed!
You can sequence this for time if it's limited by doing each move for 0:30 and running through it 3 times for a 7-8 minute burn, or extending it to 1:00 each move and going for 3 rounds for a 15 minute bonus shred.
Here's your workout demo! Repeat for 3 rounds, and let me know if you have any questions! Post a comment to let me know if you do it!
Bodyweight Shred for Calves, Hamstring and Glutes
Click to expand and see all workout move descriptions.
Format: 3 rounds, each move for 0:30, 0:45 or 1:00. Move through the circuit as quickly as you can with good form.
1: Mountain Climbers – calves, core and chest
Warm up your legs and fire up your entire body! Begin in a strong plank position, wrists stacked below elbows and engage your core. Don't let your lower back arch.
Run your feet to your chest, staying light on your toes. Don't let your butt lift up, try to stay nice and low in a solid plank position.

If your wrists are bothering you, hold light dumbbells to align them. Or you can come up off the ground and do high knees in place as fast as you can.
2: Hamstring Double Leg Lifts 
Press your pelvis into the ground and use the same slight tuck you use to hold strong core alignment in the plank position to help you isolate your hamstrings and not over use your lower back.
Bend your knees and lift your feet, pressing your heels toward the sky. Keep your knees close together.

If you're having any pain or trouble with this, try lifting one foot at a time to really isolate the movement. Keep your pelvis pressing down throughout nice and evenly.
3A&B: Reverse Lunge to Curl- glutes and hamstrings
You can do this for a full interval on each leg to really fire those hamstrings and glutes. Step back into a reverse lunge, coming down to 90 degrees at the knees. Your feet should be in line with your knees, and you want to press through the front heel, staying light in the toes.
Use your arms for momentum and balance, so that each time you step back up from your lunge you bend the knee up toward your butt with your toe pointed.

Use the wall for balance and take your time – no need to rush them. Only go as deep in the lunge as you can. 
Move 4: Air Jump Rope with Double Unders – serious calf action!
Stay light on your toes as you jump an imaginary rope.  Or use one if you have one. Keep your chest and head up, and stay loose in your wrists. Once you get going, do some high, tuck jumps as if you were trying to get the rope under your feet twice before landing.
Be sure you're on a springy surface for this.

Slow down or skip the double-unders as you start to get tired. 
5. Tabletops – single or double leg – total hamstring and glute burn
Begin seated with your legs straight out and hands by your hips. Press your heels into the ground and lift your hips, coming up into reverse tabletop. Engage your core as you come up, squeeze through your glutes and keep your back nice and straight.
Be sure your wrists are below your shoulders in a nice straight line. Keep your chest up and your head neutral.
If this feels good, try alternating lifting one leg and then the other to challenge yourself and activate each hamstring even more.

If the full lift is difficult, you can activate the same muscles with bridge lifts, keeping your shoulders on the ground. Press through your heels as you lift and squeeze the glutes the same way.
---
Looking for the best workout program for YOU?