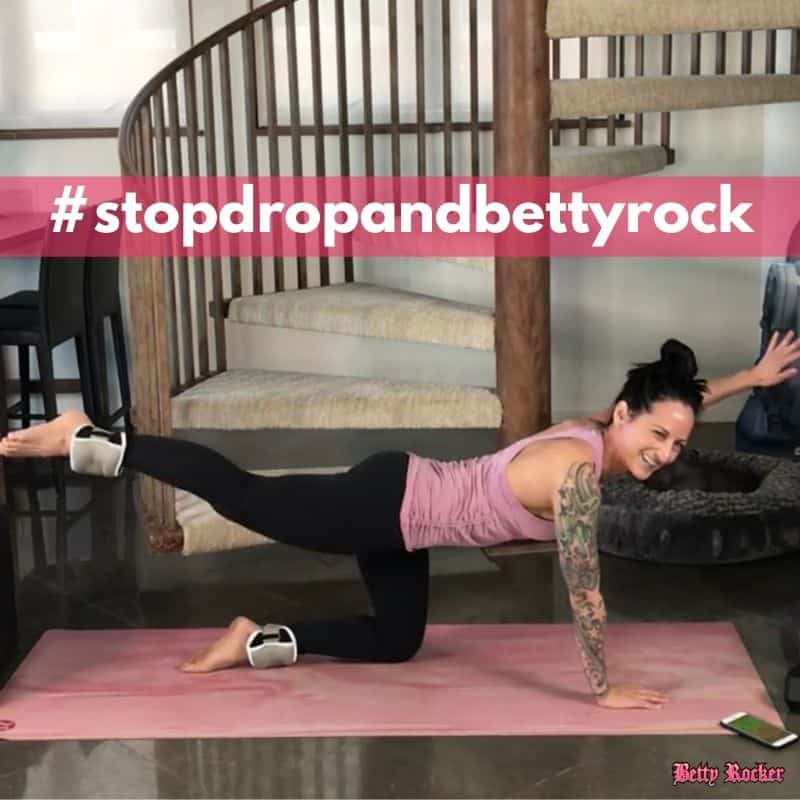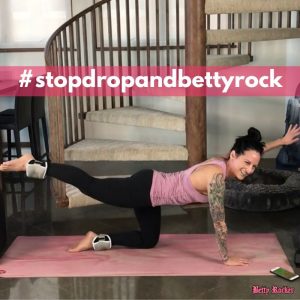 Today I have an awesome Booty and Abs Super Circuit for you that can be done anywhere you are in just 20 minutes!
Integrating your core engagement (abs) with posterior chain (back, butt and legs) training is a powerful way to balance and strengthen your body for both a beautiful aesthetic and strong form that supports all your daily activities.
As you become more and more comfortable with the form cues (aka you hear my voice in your head every time you squat down lol), you'll bring that awareness into simple tasks like walking up and down the stairs, picking up the laundry basket, carrying heavy grocery bags, and picking up your kids.
It's essential to be mindful of your core, your shoulders, knees and hips not only on the mat, but in daily life as well so you can enjoy living in a strong, healthy, balanced body.
This workout is challenging, but can still be made low impact without losing any of its power to work your body – in case you have neighbors downstairs, or just want to keep it at that pace.
Optional props for today's workout include ankle weights if you have them and for a little added resistance, grab a pair of weighted objects – water bottles, dumbbells, or any household items. 
Find more workout variety, motivation and challenge plans inside Rock Your Life, my online home workout studio!
---
One-off workouts are great, but having a plan to follow is even better! Take a 30-day Challenge in Rock Your Life and have workouts like this formatted into a plan to follow!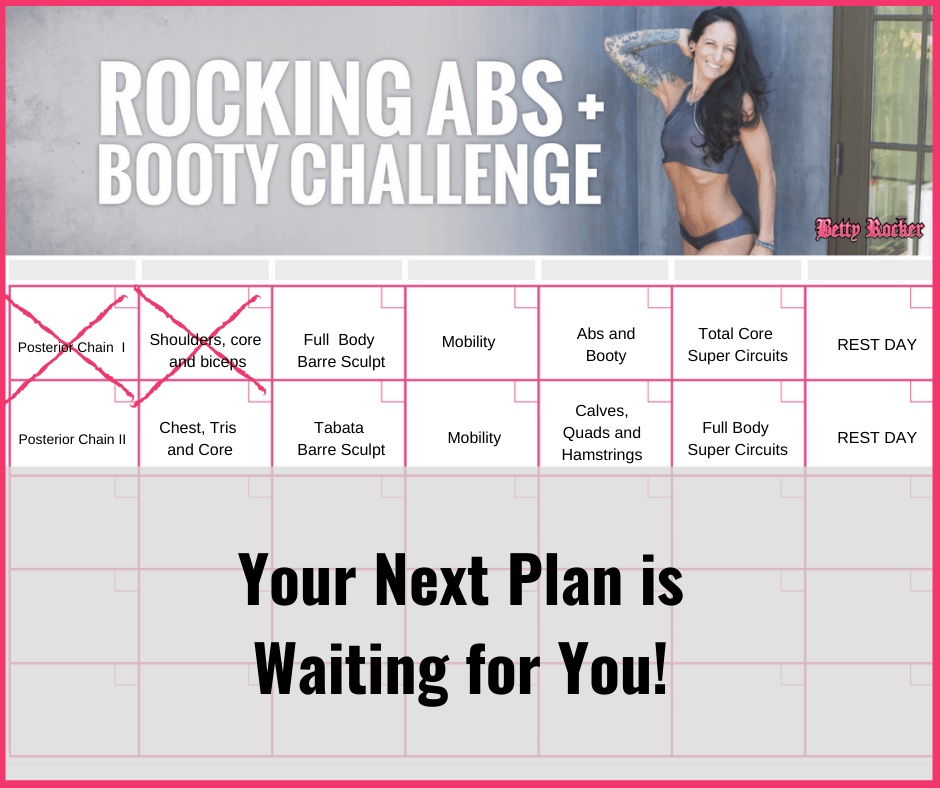 Booty and Abs Super Circuit
Click to expand and see all workout move descriptions.
Optional Equipment: Elevated surface, weighted objects and/or ankle weights
Format: Perform each movement for the prescribed time/repetitions and repeat for 3 rounds. 
Move 1: Bird Dog Crunch (0:30 each side)
Begin in a kneeling tabletop position with your shoulders stacked over your hands and your core engaged. 

Extend your right arm and left leg, keeping your core engaged and not allowing your hips to rotate.

Bring your right elbow to meet your left knee below your body, coming into a crunch. 

Do all reps on one side and then switch sides and repeat on the other side. 

MOD: keeping both hands on the mat, extend just your leg behind you and crunch it in below your body.
Move 2: Mountain Climber Sumo Squat Thrust (1:00)
Begin in a tall plank position with your shoulders stacked over your hands and core engaged. 

Keeping your hips down, alternate running your knees to your chest and back out

4 times (mountain climbers), and then step or jump your feet towards your hands, load your weight in your heels and come back to standing either by body squatting up (low impact) or jump squatting up (high impact).

MOD: Start this move with your hands on an elevated surface, and choose to either step in and out or jump, and to either body squat or jump squat.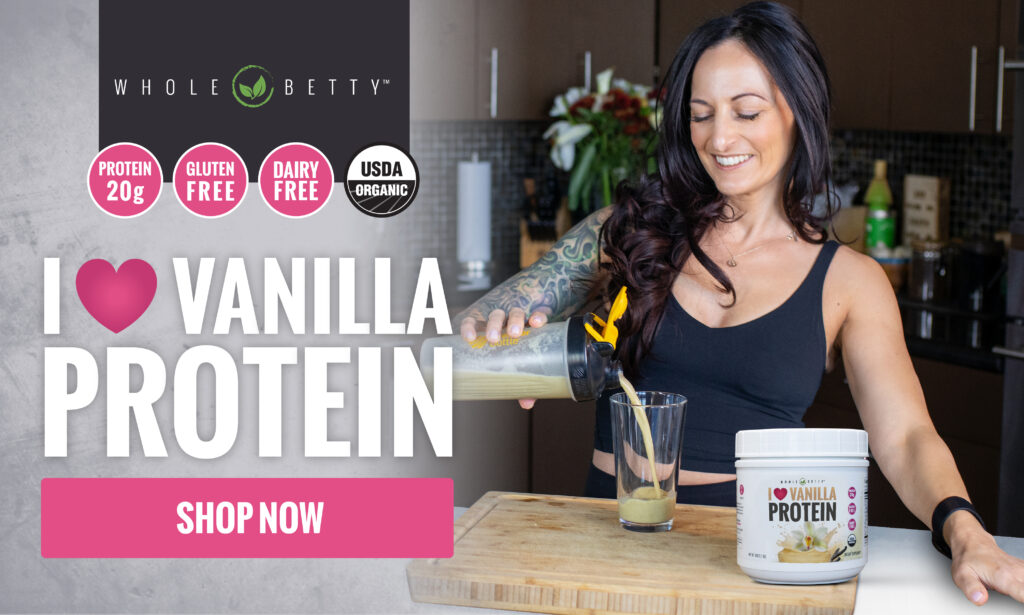 Move 3: Single Leg Split Squats (0:45 each side)
Begin with your left foot elevated behind you, torso upright and core engaged. Your right foot should be positioned at a distance away from your left foot so that as you lower into a squat, your knee bends to 90 degrees.

Squatting on your right side to a 90 degree bend, keep your head and chest upright, core engaged. You may hold weighted objects – either on your shoulders or at your sides, just keep your shoulders engaged so the weighted objects do not pull you forward.
Press through your right heel as you come back to standing. Repeat, then move on to the other side.

MOD: In the absence of an elevated surface, you can do this in a forward lunge position with your back foot on the floor.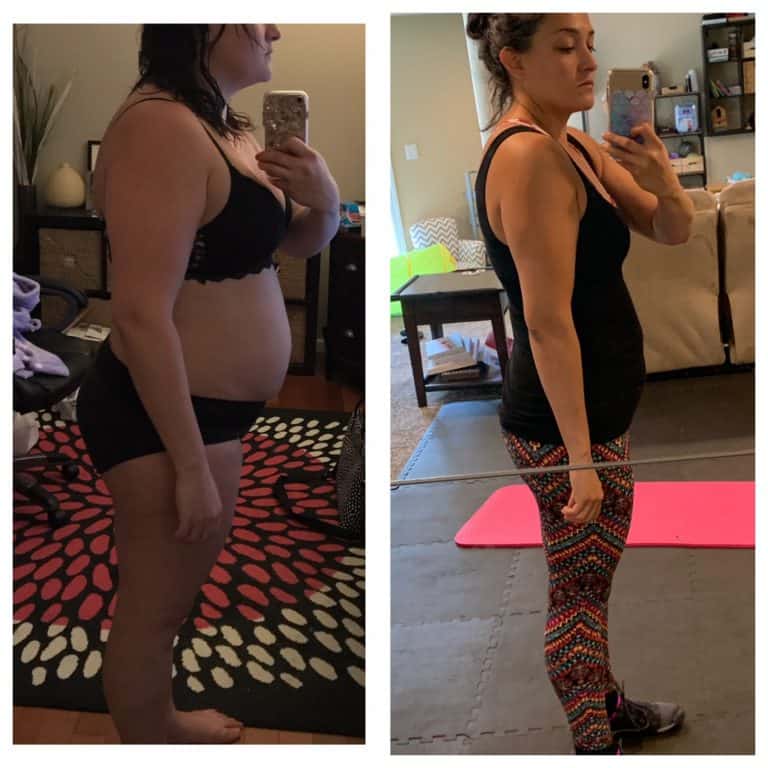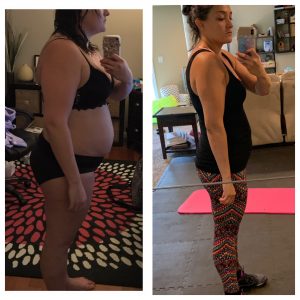 Move 4: Superwoman Lifts to Trap Activators (0:45)
Lie on your stomach with your arms and legs extended.

Lift your legs and arms off the mat together, using your lower back and glute strength.

As you lift your body off the mat, draw your elbows back towards your ribcage, focusing on the squeeze between your shoulder blades.

Re-extend your arms, and lower both arms and legs back to the starting position.

MOD: Begin by isolating your upper body only, leaving your legs on the mat for stability. Perform several upper body isolated lifts. Then perform several lower body isolated lifts. Work on isolated upper and lower body lifts until you feel comfortable putting them together.
Move 5: Alternating Reverse Curtsy Lunges (1:15)
Begin in a standing position with your core engaged and chest upright.

Step your right foot back behind you and over to the left as your left knee bends. Your right knee will line up behind your left heel.

In your squat position, ensure that your chest remains upright, and your left knee does not rotate or press out over your left foot to maintain stability.
Return to start and repeat on the opposite side.
In this workout, I'll build on this move, adding in squats, as well as optional side knee raises. In your squats, keep your knees tracking in line with your toes, send your hips straight back while maintaining an upright chest, and engage your core as you squat down.

MOD: Hold on to a chair or wall to help stabilize yourself or perform reverse lunges, where rather than your knee coming behind your front heel at an angle, you step straight back.
How was that for you? I'd love to hear how you did! Feel free to share this workout with someone who might enjoy it!
---
How about new workouts to do daily, from anywhere?
…in my epic home gym that has new classes every week, 30-day Challenges to keep you on track with a program, your own personal workout library, over 300 healthy recipes, an exclusive support group, access to the Team Betty Rocker coaches, and so much more!