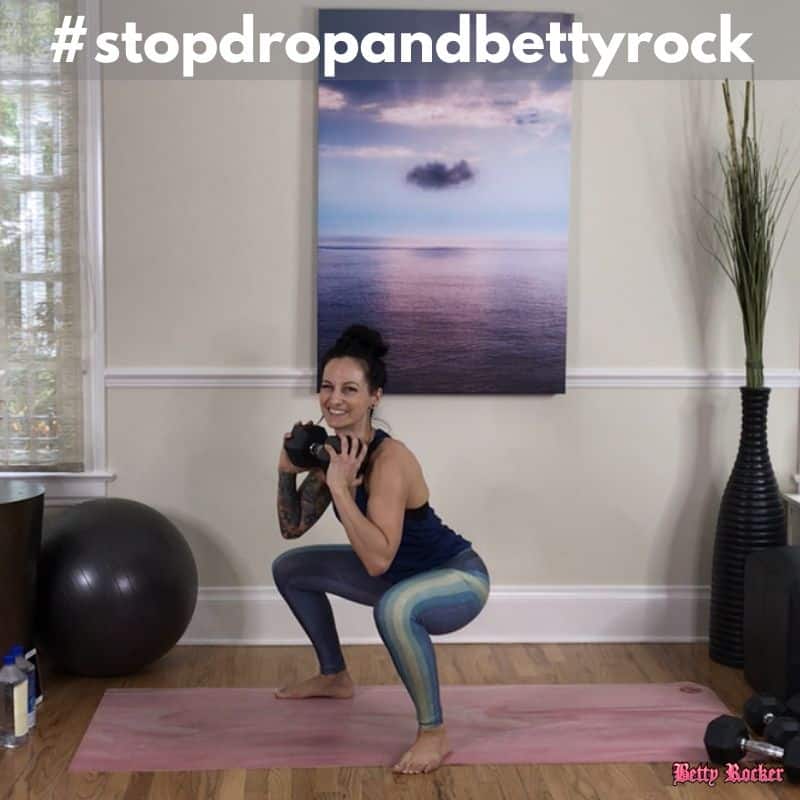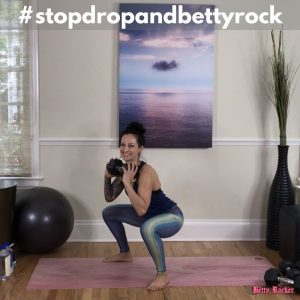 I have an awesome Booty and Legs Sculpting Circuit for you today!
This is actually one of the workouts from my 30-day Booty and Abs Challenge. And if you haven't done that program yet, I thought it would be fun to show you what one of the workouts looks like- who doesn't love a sneak peak?
The 30 Day Booty and Abs Program gives you a full body workout plan but it has a special emphasis on sculpting and toning your butt, legs, and abs!
After all, a strong core and lower body is so important when it comes to moving more efficiently in your everyday life, reducing back pain (1), improving your posture, staying injury free and having a stable and functional base to move from (2)!
Today's leg and booty workout combines strength, sculpting AND fat-burning moves so you can hit the most important elements for seeing results all at once.
So let's get started and rock this workout together!
All you need is a pair of dumbbells or weighted objects. And as always, I'll talk you through form tips and modifications. Working within our limits is how we get stronger safely, so be sure to listen to your body and do you!
---
Great job Rockstar! Now let's get you a plan! Check out the 30-Day Abs and Booty Challenge for a home workout program that will sculpt and define your abs, legs and glutes (plus give you a great full body shred), uses minimal equipment and will get you on track to feeling and looking your best!

Booty and Legs Super Sculpt
Click to expand and see all workout move descriptions.
Perform each movement for the prescribed amount of reps and repeat the circuit for 3 rounds. 
1. Sumo Squats (10-12)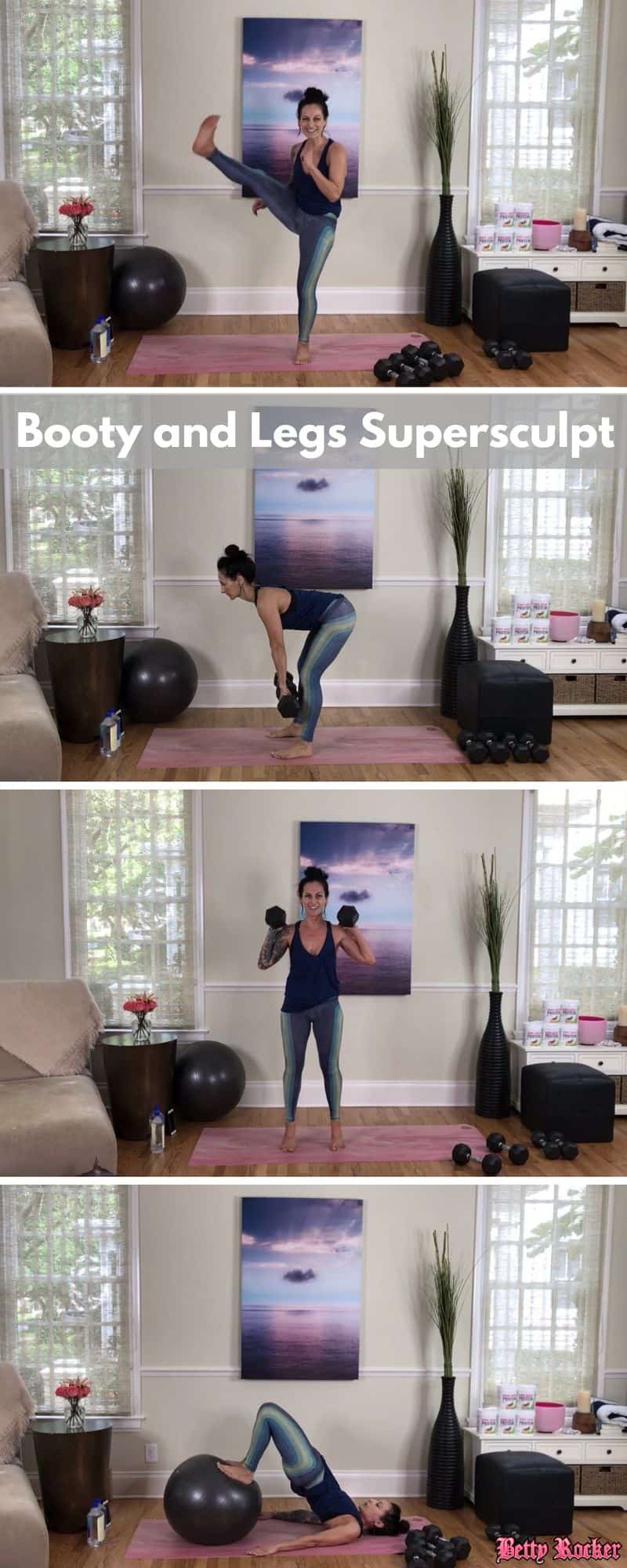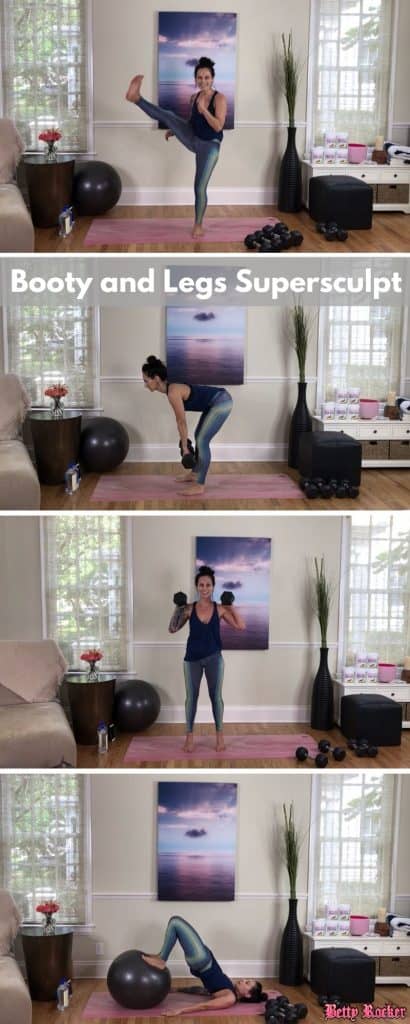 Begin with your feet wide and toes pointed out slightly. Keep your core engaged and torso lifted.

Be careful not to bend forward at the hips – instead, shoot your booty back like you are going to sit down in a chair. Only go as deep as you can go without losing good form.

Knees should be tracking in line with your toes as you keep your weight back in your heels. As you come up, squeeze your glutes and engage your core. Imagine you're pressing the earth away from your as you come up.

If you're using a dumbbell, hold it on each end at your collar bone and keep your elbows in. If you want to use 2 dumbbells, hold one in each hand and keep them at your shoulders.

If you are using a kettle bell, hold it up at your collar bone with both hands, or drop it down between your thighs.
2. Curtsy Lunge to Kick (15 each leg)
A curtsy lunge is a slight variation of a reverse lunge. Hold a wall or chair for balance as needed.

Begin with feet hip distance apart. Step your right leg back so that your right toes are behind and in line with your left heel. Squat down into a lunge.

Make sure your front knee stays in line with your front toe, keep your torso upright and really engage your glutes.

As you come up out of the lunge, kick the back leg up in front of you. Repeat all of your reps on one side and then switch.

For an added challenge, grab a couple of light dumbbells.

Be nice and controlled with this movement because you will be on one leg while you kick.
3. Hamstring Curls (12)
Grab a swiss ball if you have one. Lie down on your mat and place your heels on the swiss ball with legs straight. Lift your hips up off of the mat.

Dig your heels into the ball and drive the ball in towards your booty and then back out. Keep your core tight to keep your hips stable.

If you don't have a swiss ball, you can use sliders/paper plates/towels to do this move.

Place your heels onto your slider and lie back onto your mat with leg straight. Lift your hips up and drive your heels in towards your booty and back out.

MOD: If this is too challenging, lower your hips to the ground and do the same movement.
4. Surfer Pop-Ups (10)
Find a tall plank position, hands stacked below your shoulders core engaged, back neutral and legs strong.

Pop your feet over to the right side, landing in a deep squat with feet turned out. Pop up and do a jump squat. Plant your hands again and jump back into a tall plank.

On the next rep, jump to the left side and repeat.

MOD: If this is too challenging or you start to get winded, step your feet to the side and stand up in a body squat instead of jumping.
5. Stiff-Legged Deadlifts (10-12)
Begin standing with feet slightly wider than hip distance. Place your hands on your hips and feel your hip bones. Make sure your hip bones are square as you hinge at the hips and fold forward.

There should be a soft bend in your knees as you shoot your booty back. Make sure your shoulders don't come down further than your hips. Keep your core engaged.

To come up, squeeze your glutes and thrust your hips forward with power.

When you're ready to add weight, grab a couple of dumbbells or a barbell. Make sure your shoulders stay down and back. As you hinge forward, keep the weight close to your shins to protect your lower back.

When you do this properly, you'll really feel the hamstrings activate.
6. Calf Raises (15- 20)
Grab a fairly heavy set of dumbbells and stand with feet hip distance apart.

Lift up onto your toes and come back down.

Two other variations are toes pointed out and toes pointed in. You can use any variation you like, or do all 1 variation per set.

If you don't have weights, you can use a staircase to drop your heels down for a great range of motion. 
You are POWERFUL! Be sure to check in with me and let me know how you liked the workout and tell me why you like to train!
---
Sculpt and Tone your entire body with a special emphasis on the Booty, Legs, and Abs!