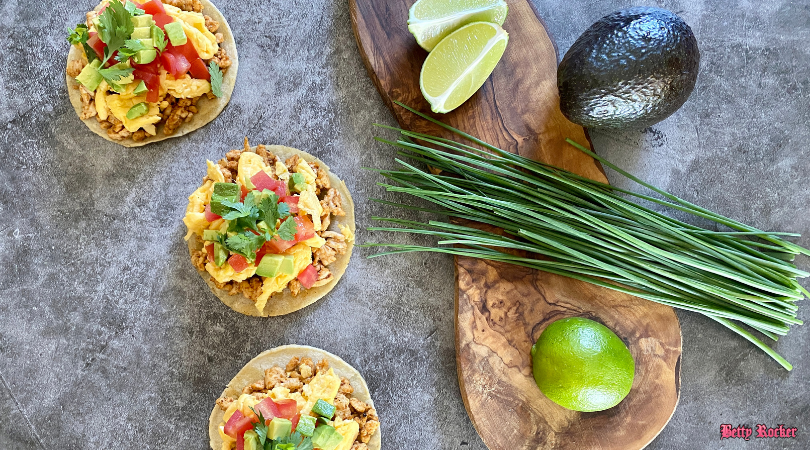 Looking for a new way to spice up your breakfast routine? Try these healthy and delicious breakfast tacos!  This easy recipe can be made with a variety of fresh herbs, vegetables and protein sources to power up your day.
Eggs are a complete protein source (the 9 essential amino acids your body can't make on its own) and are highly bioavailable – meaning the protein is efficiently metabolized, absorbed and used by your body.  The egg yolk contains ALL the vitamins, with the exception of Vitamin C – so that's vitamins A, D, E, K, B1, B2, B5, B6, B9, and B12, and the egg white contains high amounts of vitamins B2, B3, and B5 and also significant amounts of vitamins B1, B6, B8, B9, and B12. (1). What a powerhouse!
For the taco shell, I used, Siete brand tortilla, which are gluten free, dairy free and grain free. You could also use corn tortillas, lettuce leaves, or sprouted grain tortillas.
This recipe is super easy to customize and vary, and even make Vegetarian (leave out the turkey). I'd love to hear any swaps or additions you make, so be sure to leave me a comment below!
Enjoy!
Breakfast Tacos
Yield: 2 servings
You will need: large skillet, spatula, measuring spoons, wooden spoon, cutting board and knife
Key: T = Tablespoon; tsp = teaspoon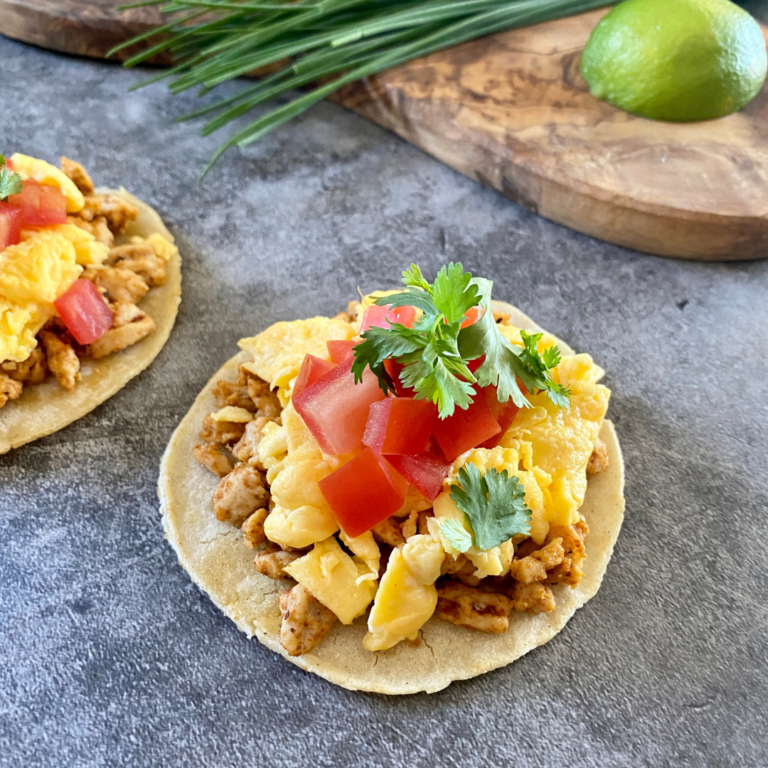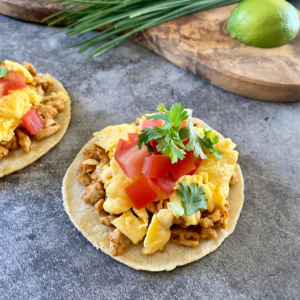 Ingredients
1/2 lb lean ground turkey
1/4 tsp cumin
1/4 tsp garlic powder
1/4 tsp paprika
1/4 tsp salt
1/8 tsp black pepper
4 eggs, beaten
1 small tomato, cored and diced
1/2 avocado, diced
2 T fresh cilantro, chopped
4 tortillas
Directions:
Heat a large skillet over medium-high heat and spray it with oil.
Add the turkey and all of the seasonings to the pan. Brown the turkey, breaking it up with a wooden spoon while cooking, until cooked through. Remove the turkey from the pan and set aside.
Reduce the heat to medium and add the eggs, stirring with a spatula until cooked through.
Assemble the tacos by evenly distributing the ground turkey and scrambled eggs to each tortilla.
Serve topped with diced tomato, avocado and fresh cilantro.
Nutrition Facts
Calories per Serving:

485
Let me know if you make this recipe and how you liked it – I love hearing from you!
---
Looking for some help making healthy eating easy?