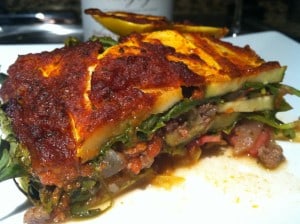 While this is a recipe that requires a little prep, it's actually very simple in that it all goes in one dish to bake.
I substituted yellow and green zucchini for traditional noodles, added some turkey bacon to the ground buffalo to add even more flavor to the medley of fresh herbs, onions and garlic and mixed some pesto into my marinara sauce.
One of the best dishes I've made to date! Everyone who tried it couldn't wait to make their own version.
Once it's done it keeps very well and is delicious cold or re-heated, making it a convenient lunch for the week. It's easy to adapt or make small changes, if you wanted to use different herbs or a different kind of meat. I think it would be great with ground turkey, and you could certainly leave the bacon out. Do leave a comment below and let me know how you adapt this dish, I love hearing from you!
You could easily make this dish vegetarian by substituting crumbled tempeh for the bison. I like variety and I enjoy experimenting.
Buffalo and Bacon Lasagna
Yield: 8 servings
You will need: 9×13″ baking dish, cooking oil spray, knives, large saute pan, tongs, wooden spoon, spatula
3-4 yellow and green zucchini
3-4 cups greens: assortment of any – arugula, kale, spinach
2 cups Marinara or Pasta Sauce – get a flavor that compliments your choice of herbs
4 slices turkey (or regular) bacon
1 lb ground buffalo or grass-fed beef
2-3 medium yellow onions
5-6 garlic cloves
3-4 T assorted fresh herbs – rosemary, sage, parsley
2 T balsamic vinegar
2 T olive oil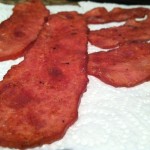 1. Cook bacon about 3/4 of the way through. Drain on paper towels and set aside.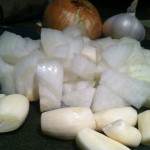 2. Chop onions.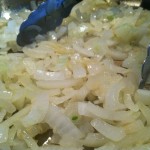 3. Sautee the onions over medium heat in olive oil. Press or mince the garlic and add it after the onions have cooked for a few minutes on their own.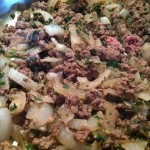 4. When the onions are translucent, add the ground buffalo and stir to break it up evenly. Cook til evenly browned.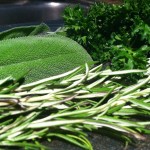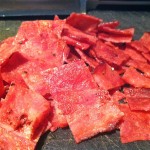 5. Chop bacon and fresh herbs and add both to the meat mixture. Add balsamic and stir everything together. Cook for just 1-2 minutes and remove from heat.
6. Preheat oven to 400.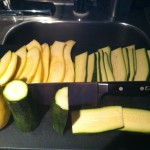 7. Slice zucchini in thin, even strips. You can also just cut it in discs.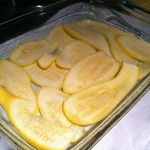 8. Spray the baking dish with cooking oil spray. Begin by layering zucchini into the bottom.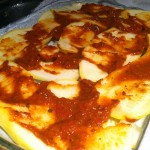 9. Next, add a third of the sauce. For best results, sprinkle sauce around the zucchini then use a spatula to spread it evenly.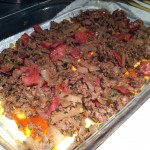 10. Top with half of the meat mixture.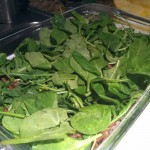 11. Layer half the greens.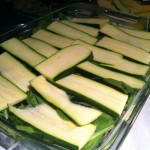 12. Cover the greens with a second layer of zucchini.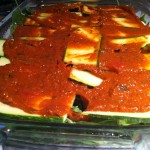 13. Top with a third of the sauce.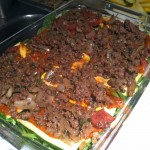 14. Layer the rest of the meat mixture.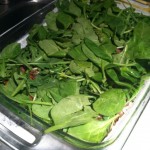 15. Top with remaining greens.
16. Top greens with the rest of the zucchini and spread with remaining sauce.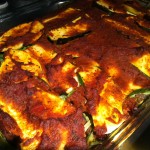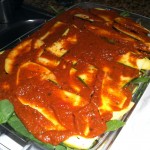 17. Bake for 40 minutes.
18. Slice and Serve!
Nutrition Facts
Calories per Serving:

190
---

The Body Fuel System uses my simple, proven Eating Types to make it easy to stay on track. It also gives you healthy, fat-burning recipes and foods you can eat to look and feel your BEST every day!
Recipes like….
This is my signature eating system and it contains 6 weeks of done-for-you meal planning and recipe guides! You will not only learn the strategies that have given me long-term success, but also enjoy the time-saving benefits of having it all planned out for you!