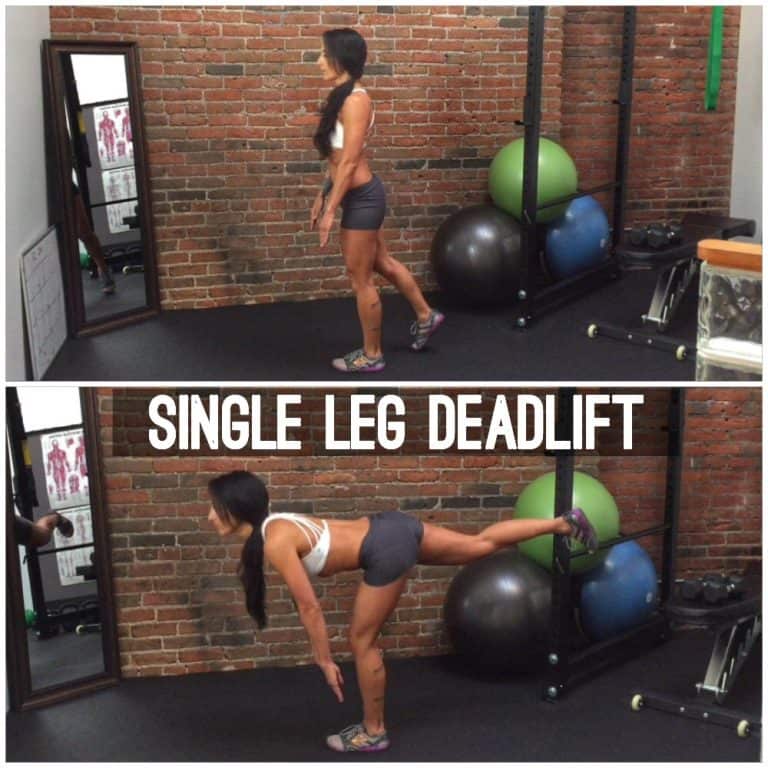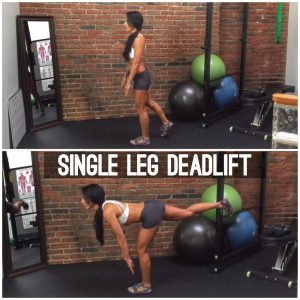 In today's post, I'm going to be focusing on one of my favorite booty-sculpting movements: the single leg deadlift.
Not only is this movement phenomenal for lifting and shaping the glutes, it's a super important lift that integrates the muscles of the posterior chain and helps strengthen and align the postural stabilizers of your body – incorporating the core, pelvis, lower back hamstrings and glutes.
It is effective when done with or without weight; the only way it is IN-effective (and dangerous) is when it is done with improper form.
In today's tutorial, I'll be going over how to do this move with proper form and a little bonus combo bodyweight sequence I use all the time to challenge myself.
Further on in this post, you can find a sample workout that incorporates the single leg deadlift.
For my full weight training program (that includes meal plans and workouts to do with weights), check out the Lioness Strength Training Program.
Single Leg Deadlift Tutorial (with Bonus Combo Move)
Betty Rocker's home gym created by Rep Fitness 
Single Leg Deadlift Tutorial
Click to expand and see all workout move descriptions.
1. Stomp your right foot, becoming aware of the toes, heel and sides of your foot.
I wear very minimal shoes or sometimes just socks when I'm lifting so I can feel my feet.
2. Firmly plant your right foot on the floor and lift your left foot, finding your balance.
Engage your core, and draw your shoulderblades back together slightly, opening your chest.
3. Hinge forward at the hips, not allowing your pelvis to rotate.
It can be helpful to place your hands on your hips the first few times to feel the stability you want to create. Keep a soft bend in your right knee.
The left leg remains fairly straight as it extends behind you.
The farthest forward you should fold is where your shoulders become parallel with the hips and your body makes a 90 degree angle. Do not go past this point.
Try some with your hands out to the sides if it helps you balance.
Once you add weight, you'll want to keep your hands in close to your shins to isolate the lift in the hamstrings and glutes and not strain your lower back, which can happen if your center of gravity goes out too far – such as when the weights are too far in front of you.

Keep your head neutral, not looking up or down
4. Press through your standing foot, keeping good grounding contact with the heel and fire the glutes and hamstrings to return back to standing.
You may touch your left foot down to find your balance point again, or keep it lifted and repeat.
Breathe in on the way down, drawing your belly button in and up, engaging the transverse abdominal muscles. Breathe out on the way up.
As you come up, draw the shoulders back and together gently, helping to maintain an upright torso.
BONUS Betty Rocker Favorite Move: Single Leg Deadlift to Single Leg Squat
Begin by holding onto a wall or chair back to help with balance if you're trying either or both of these moves for the first time.
Choose which leg you're going to start with, and make sure your entire foot is making contact with the floor. Lift your other leg and hinge forward into a SL Deadlift, using the form tips above.
Engage your core and leg to bring yourself back to the starting position. Bring your back leg in front of you slightly, and balance back in your heel.
Sit back, leading with your glutes and maintaining an upright torso as if you were about to sit down on a bench. Don't let your knee wobble in or out, and keep the hips square.
The knee should track in line with the toes. As you press back up to standing, imagine you are pushing the earth down and away from you to get the most out of this.
Go only as deep as you can go while maintaining good form and not pitching your body forward.
Repeat 5-10 times per leg.
If you have any questions or comments, please post them below! Use the following example circuit to incorporate this awesome lift into your workout routine!
BONUS CIRCUIT
Format: Do each move for the prescribed reps, repeat for 3 rounds
15 Jump Squats
10 each leg Single Leg Deadlift
10 Push-Ups
15 each leg Skater Lunges
10 Swiss Ball Sit Ups (perform on the floor as toe reaches if you don't have a swiss ball – legs at 90 degrees, reach for your toes)