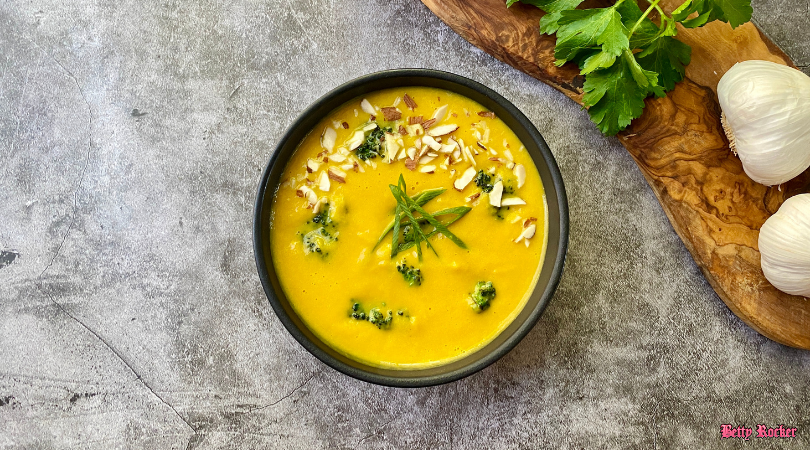 This past weekend was cold and snowy which had me craving something warm and nourishing. I thought I'd take advantage of being inside and experiment in the kitchen with a new recipe – perfect for cozy days.
I'm excited for you to try this delicious and easy "cheesy" broccoli soup! It's gluten free, dairy free and can be made vegetarian or vegan with just a small adjustment to the recipe.
The "cheese" in this recipe comes from nutritional yeast which is a kind of yeast known as saccharomyces cerevisiae (1). It's similar to the yeast that you would use for baking but it undergoes a different process, making it inactive.
Nutritional yeast is dairy-free and usually gluten-free but always be sure to check the labels. It's also a good source of protein and fiber and contains selenium, chromium and B-complex vitamins (2) which are all important for a healthy digestive and immune system. As a result, nutritional yeast is a popular supplement for people with food allergies, sensitivities or who follow vegan and vegetarian diets.
It also makes a great addition to a variety of dishes, including soups, vegetables, and salads. Some ways to use nutritional yeast include:
sprinkling it on popcorn instead of butter or salt
mixing it into dishes that call for cheese
adding it to a salad for a cheesy flavor
stirring it into creamy soups for added nutrients (such as this recipe)
adding it to scrambled eggs
Have you ever tried nutritional yeast? This recipe is a great way to experiment with it if you're new to it. Be sure to check in with me and let me know if you make this soup and how you like it!
Cheesy Broccoli Soup
Yield: 2 servings
You will need: cutting board, knife, blender, measuring spoons and cups, sauce pot, spatula 
Key: T = Tablespoon; tsp = teaspoon
Ingredients:
2 cups butternut squash, cut into 1/4 inch cubes
2-3 heads broccoli (chopped florets)
1/2 onion, chopped
3-4 cloves garlic, chopped
2 1/2 cups chicken stock (or vegetable stock)
1/4 cup nutritional yeast (more if desired)
1/4 tsp mustard powder
1/4 tsp turmeric powder
2 tsp olive oil
Salt to taste
Instructions:
Heat a heavy-bottomed sauce pot on medium heat. Add 1 tsp olive oil, then the onion, and butternut squash.
Cook in oil until the squash is soft, lowering the heat to avoid scorching. Add garlic, mustard, turmeric, and nutritional yeast, season with salt.
Add stock and simmer till the butternut squash is fully cooked and is easily smashed by a fork.
Transfer to a blender and blend on medium-high speed till smooth.
Meanwhile, rinse the pot and return to stove to a medium heat. Add the remaining olive oil to the pot.
Sauté the broccoli controlling the heat to avoid burning or browning. Once it begins to soften, add the blended soup base.
Bring to a simmer, cooking just till the broccoli is tender. Adjust seasoning with salt and nutritional yeast (for more cheesy flavor).
Serve immediately.
Nutrition Facts
Calories per Serving:

245
Happy cooking! Let me know how your soup turns out in a comment below – I love hearing from you.
---

The Body Fuel System uses my simple, proven Eating Types to make it easy to stay on track. It also gives you healthy, fat-burning recipes and foods you can eat to look and feel your BEST every day!
Recipes like….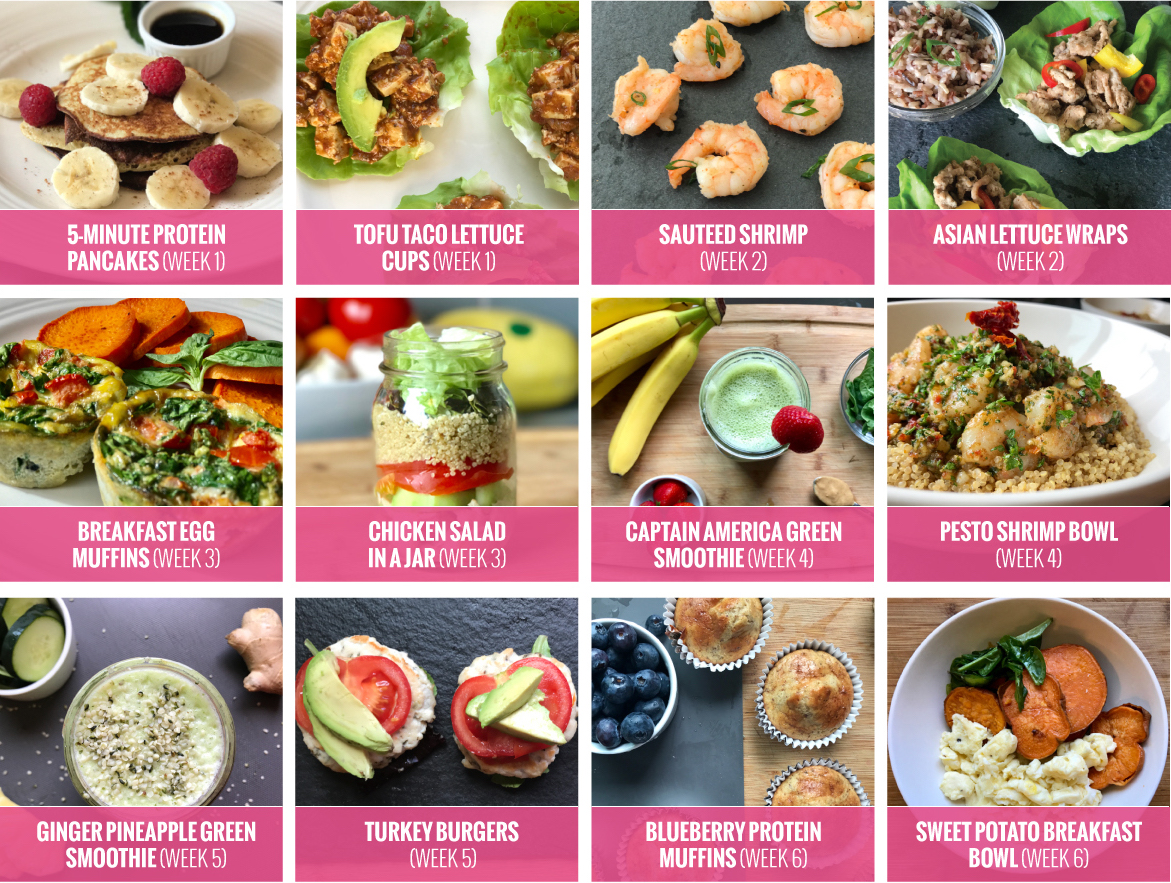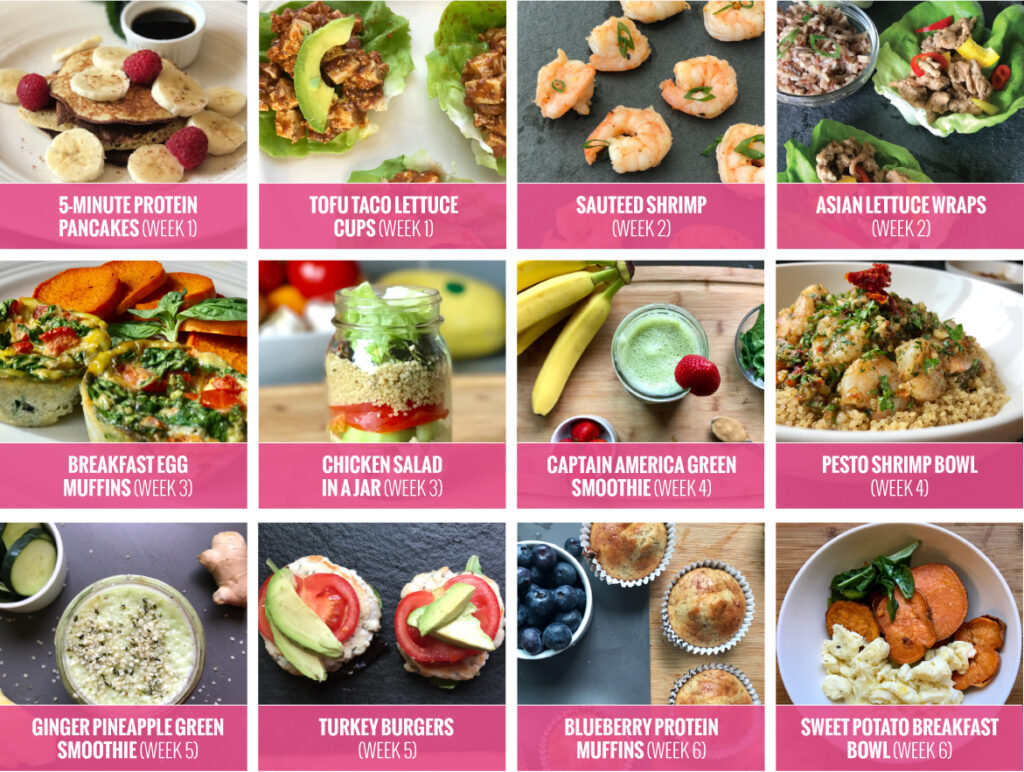 This is my signature eating system and it contains 6 weeks of done-for-you meal planning and recipe guides! You will not only learn the strategies that have given me long-term success, but also enjoy the time-saving benefits of having it all planned out for you!
---