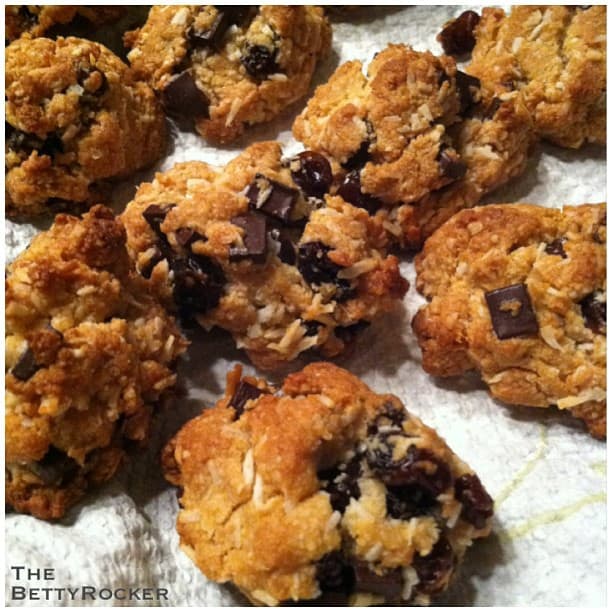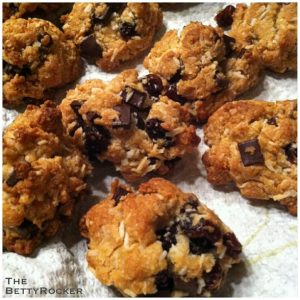 Chocolate Chip Coconut Raisin Cookies…good for the soul!
To make the best-tasting, chewiest most delicious cookies using wholesome ingredients that won't make your body work harder than it should to filter out processed foods, try my recipe:
Yield: 24 cookies
You will need: measuring cups and spoons, mixing bowl, wooden spoon, baking sheet
2 1/2 cups almond flour
1/2 tsp sea salt
1 tsp baking soda
1/3 cup avocado oil (or olive oil, grapeseed oil or melted coconut oil)
1 Tablespoon vanilla extract
1/3 cup honey (+ 2 tsp grade B maple syrup optional) – and add a little at a time as this recipe will be affected by altitude, humidity etc. You want a sticky batter.
1 cup dark chocolate chips (I use 70% dark or more – for vegan cookies use vegan chocolate pieces)
1/2 cup unsweetened coconut flakes
1/2 cup raisins
1.Combine dry ingredients in a large bowl.
2. Add in the vanilla,  grapeseed oil and honey and stir into the dry ingredients. Your dough should hold together and not be runny at all.
3.Form 1/2- 1-inch balls and press onto a parchment paper lined baking sheet
4.Bake at 350° for 7-10 minutes
5.Cool and serve
Updated 3/17/13 for notes about liquid quantities.