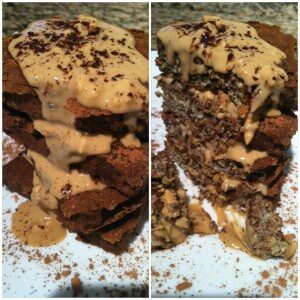 I've been playing around with making healthy french toast this week. I woke up craving chocolate and peanut butter. It happens.
Instead of straight eating the peanut butter out of the jar with a side of dark chocolate chips out of the bag I made this Chocolate Peanut Butter Protein French Toast.
Friendly for plant based eaters and gluten free, dairy free eaters, this is a great way to get a hearty serving of protein with your carbs, plus satisfy that chocolate peanut butter flavor craving.
You can use any gluten-free bread you like (mine is a recipe of Ninja Nut Bread that's  in the Body Fuel System recipes guide) I just recommend making sure it's not made with added sugar, and has a small amount of fiber-rich less processed ingredients.
---
French Toast
Yield: 2 servings
You will need: blender, shallow baking dish, measuring cups and spoons, skillet, spatula
1 serving protein powder (I'm using organic, plant-based I ❤️Vanilla Protein)
2-4 tsp cacao powder
3/4 cup almond milk (or other milk)
2 T ground flaxseed
1/4 tsp vanilla
2 T water (optional – see how your batter is first)
4 slices GF Bread
1. Mix all ingredients in your blender (except water) and blend until evenly mixed.
2. Add extra water to thin if it appears too thick to absorb into the bread. I've made this a few times and it varies. It's baking…stay open 🙂
3. Soak the bread on both sides, and cook on a heated skillet until done.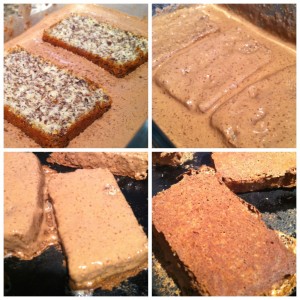 4. Serve with: Peanut Butter Topping
Peanut Butter Topping
2 T peanut butter
1 tsp coconut oil
Melt on the stovetop and stir together (you can microwave it if you use a microwave). Make more as needed. Garnish with cacao powder.
Nutrition Facts
Calories per Serving:

369
---
Looking to up your nutrition game and eat healthy meals that support your active lifestyle?