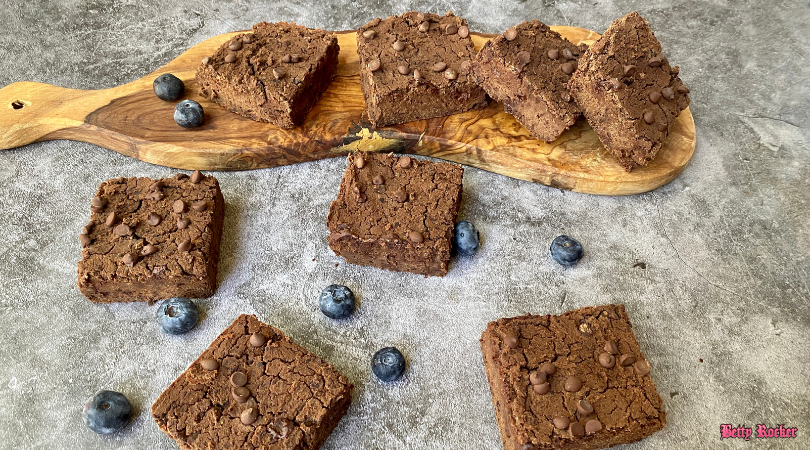 What makes these Chocolate Brownie Bars healthy?
I used Cacao powder, the raw, unrefined cacao bean in powdered form, to give these their chocolatey flavor. Cacao is a rich source of antioxidants, magnesium, and fiber and moderate amounts of caffeine (1).  Be sure to read the food labels when you're looking for cacao, the point is to find it raw and organic to reap the benefit of all of the plants nutrients; so look for things like "cold pressed" and "milled at low temperatures," as well as the USDA Organic label.
I also added protein since brownies are typically high in sugar and have little to no protein in them. This recipe has protein powder and egg whites, making it more balanced and satisfying. Protein is even more satisfying than fat or carbs, so I like to include it in baked goods to balance their nutrient profile. This is the protein powder I used.
Instead of using vegetable oil for this recipe, I used coconut oil which is a healthier source of fat. Fat is very satisfying and will help you keep from overeating. It slows down the absorption rate of sugar into your bloodstream, giving you longer lasting energy and keeping your blood sugar stable.
What are you waiting for? Let's get baking!
Chocolate Protein Brownie Bars
Yield: 9 servings
You will need:  measuring cups and spoons, 8×8" square pan, spatula, food processor or blender
Key: T=Tablespoon; tsp=teaspoon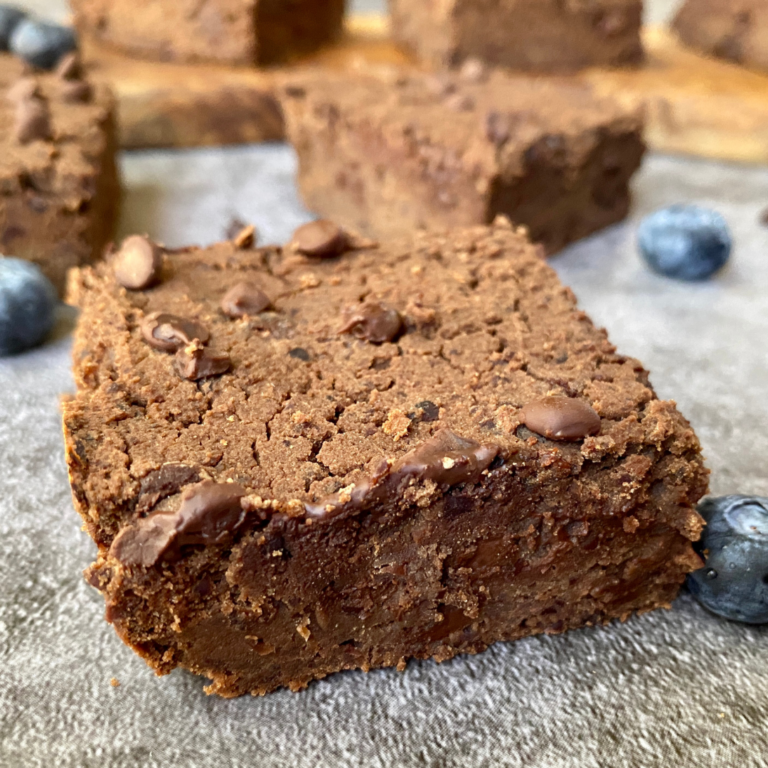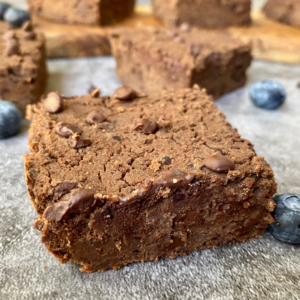 Ingredients:
1 (15 oz) can of black beans, drained and rinsed
1/4 cup cacao powder
4 servings (136 grams) I ❤️ Chocolate Protein powder or (120 g) I ❤️ Vanilla Protein powder
1/2 cup unsweetened almond milk
1/4 cup egg whites
1/4 cup maple syrup
2 T coconut oil, melted
1 T vanilla extract
1/2 tsp baking powder
1/4 tsp sea salt
1/3 cup enjoy life mini chocolate chips, plus 1 T for topping (optional)
Directions: 
Preheat the oven to 350 F.
Combine beans, cacao powder, protein powder, salt, egg whites, maple syrup, coconut oil, vanilla extract and baking powder in a food processor, and blend until smooth.
Stir in the chocolate chips.
Transfer batter onto a greased 8×8" square pan. Sprinkle the optional extra chocolate chips on top before baking.
Bake for 15-20 minutes.
Cool and refrigerate overnight for firm bars. Store in refrigerator.
Nutrition Facts
Calories per Serving:

216
Can't wait to hear if you make these and what you think!
---
Love dessert as much as I do?
You'll for sure want to check out my 30-Day Challenge Meal Plan! Not only is it chock full of time-saving eating secrets, it comes with FOUR FREE BONUS COOKBOOKS, including one dedicated entirely to healthy, nutritious, delicious desserts just like this one!