Chocolate Protein Waffles
Now that I'm all moved into my new home in San Francisco, I want to invite you into my kitchen so I can share some of my best recipes with you!
I thought I'd start with these delicious chocolate protein waffle recipe – it's one I've been wanting to play with for a while – but if you happen to remember the last time I tried to make this they turned into pancakes – because I set the kitchen on fire using an outdoor waffle iron inside of my Austin apartment (yikes!!).
Needless to say, today's adventure was a WIN and I've got it all in the video for you.
This recipe took me no time at all to throw together and totally satisfied my appetite!
Do you know how some protein pancake or waffle recipes desperately need some kind of sweet topping to be tasty?
Well, because I used banana in the batter today, these waffles are naturally sweet and delicious, leaving you a lot of options for toppings.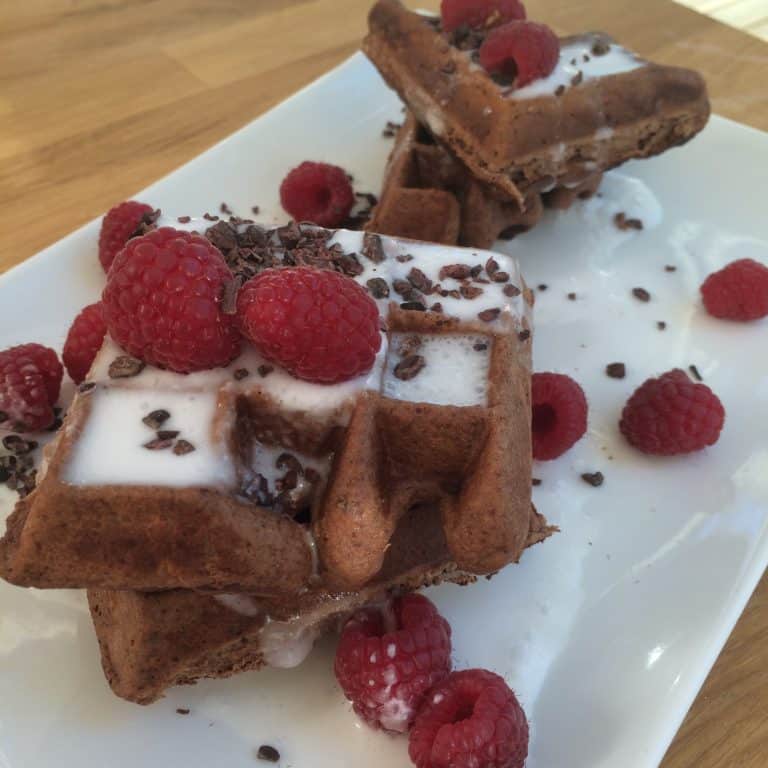 I went with some raw probiotic coconut milk (got it at the Farmer's Market here in Marin) – you could also use regular full-fat coconut milk – some fresh red raspberries, and a sprinkle of raw cacao nibs for a little chocolate crunch.
Here's the Recipe
Yield: 1 serving
You will need: measuring cups and spoons, mixing bowls, whisk, waffle iron, cooking oil spray
1 T + 1 tsp coconut flour
1 scoop Vanilla Egg White Protein Powder (this is equal to about 1/4 cup scoop – you can try this with a different protein powder! I think it would turn out great. Egg white PP really adds to the texture of recipes like this, that's why I use it)
2 T cacao powder (cocoa powder is okay too, but look for the raw cacao next time!)
1/4 tsp baking powder
1 tsp pure vanilla extract
1 egg
1 banana, mashed (or 1/2 cup unsweetened applesauce)
1. In a medium sized bowl, combine coconut flour, protein powder, cacao powder and baking powder and mix together.
2. In a separate bowl, mash banana. Add egg and vanilla extract and mix well.
3. Combine the wet and dry ingredients and stir.
4. Heat and oil your waffle iron as per its instructions.
5. Cook for 3-5 minutes, or until crispy.
6. Remove from waffle iron and serve with desired toppings.
Nutrition Facts
Calories per Serving:

403
As always, I invite you to try this recipe, change things up and experiment with the ingredients you have.
I always love hearing from you, so be sure to leave a comment below about how you made this, and what you put on top!
Sharing is caring….share this recipe with a friend who loves chocolate and eating healthy!
Body Fuel System Users: swap this recipe out for any of the protein pancake recipes!
Create your own healthy lifestyle of awesome with recipes like this. Check out the Body Fuel System today!