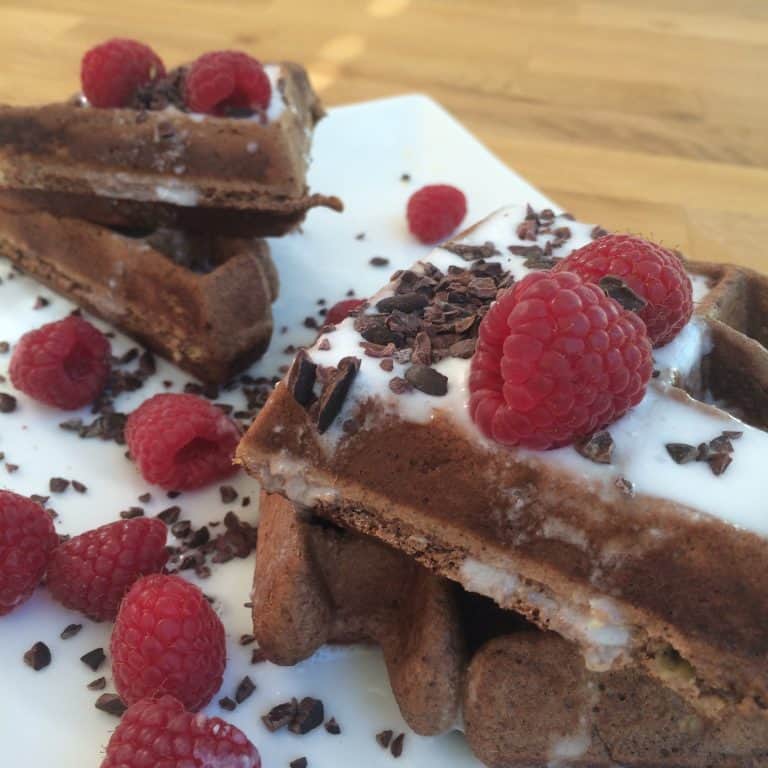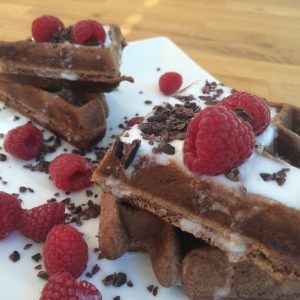 I've been wanting to play around with this idea  for a while – and today I think I nailed it.
I used banana in the batter, and these waffles are naturally sweet and delicious, leaving you a lot of options for toppings.
I topped mine with some raspberries, cacao nibs, and raw probiotic coconut milk (got it at the Farmer's Market locally) – you could also use regular full-fat coconut milk or coconut yogurt – or regular yogurt.
I've played around with making my own "probiotic coconut yogurt" using a yogurt maker, some full fat coconut milk and probiotics – it's pretty good, but not as thick as I like, so I'm going to keep experimenting.
This recipe took me no time at all to throw together and totally satisfied my appetite – so no matter what you're using for a topping you're sure to enjoy these tasty waffles.
---
Chocolate Protein Waffles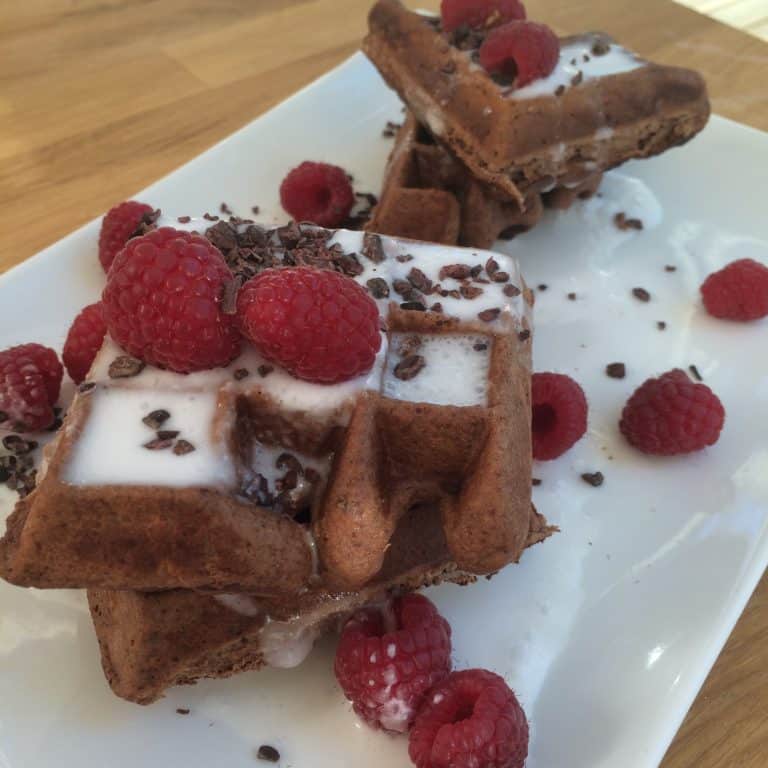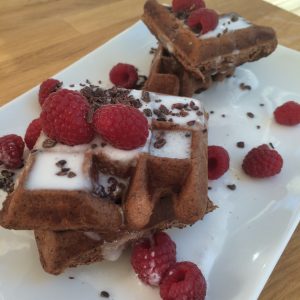 Yield: 1 serving
You will need: measuring cups and spoons, mixing bowls, whisk, waffle iron, cooking oil spray
1 T + 1 tsp coconut flour
1 serving (33g) Vanilla Egg White Protein Powder (I use egg white protein powder in some of these waffle/pancake recipes because I like the texture, but I think something like I ❤️ Chocolate Protein would work great too!)
2 T cacao powder (cocoa powder is okay too, but look for the raw cacao next time!)
1/4 tsp baking powder
1 tsp pure vanilla extract
1 egg
1 banana, mashed (or 1/2 cup unsweetened applesauce)
1. In a medium sized bowl, combine coconut flour, protein powder, cacao powder and baking powder and mix together.
2. In a separate bowl, mash banana. Add egg and vanilla extract and mix well.
3. Combine the wet and dry ingredients and stir.
4. Heat and oil your waffle iron as per its instructions.
5. Cook for 3-5 minutes, or until crispy.
6. Remove from waffle iron and serve with desired toppings.
Nutrition Facts
Calories per Serving:

403
---