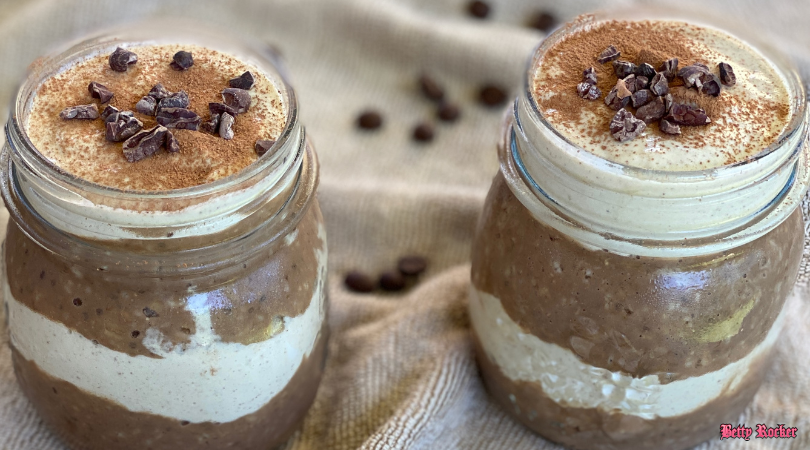 Oatmeal is one of my favorite breakfast staples and this chocolate tiramisu protein oats recipe is a decadent tasting twist on classic oatmeal with an added boost of protein to start your day off right.
I get asked regularly "How can I get more protein in my breakfast?" One of my favorite hacks is to include a high quality protein powder (like mine) in my baked goods, smoothies and even oatmeal! This recipe has 28 grams of protein per serving, and makes 4 servings so you can be prepped for the days ahead (or share it with the ones you love!).
Oats are a versatile whole food source of carbohydrates that digest slowly, keeping blood sugar levels stable (1), and are an excellent long-lasting energy source. Whole oats are high in antioxidants that are known to protect the body from damaging free radicals and play an important role in prevention of diseases (2) and are also high in soluble fiber which helps with satiety and gut health (1).
This recipe combines the oats with protein and healthy fats to cover your nutrient bases and set you up with the energy you need to power your day. I like to make "overnight oats" by soaking oat groats overnight, then draining, rinsing and cooking them the next day, which is incorporated into the recipe instructions. If you have a different preference, please feel free to sub in your oats and just add the extra ingredients while cooking them.
All of these ingredients come together to create a truly amazing quick and easy breakfast that's the perfect way to start your day! Enjoy!
Recipe
Tiramisu Protein Oats
Yield: 4 servings
You will need: measuring cups and spoons, serving glasses, saucepan, strainer, cooking spoon
Key: T=Tablespoon; tsp=teaspoon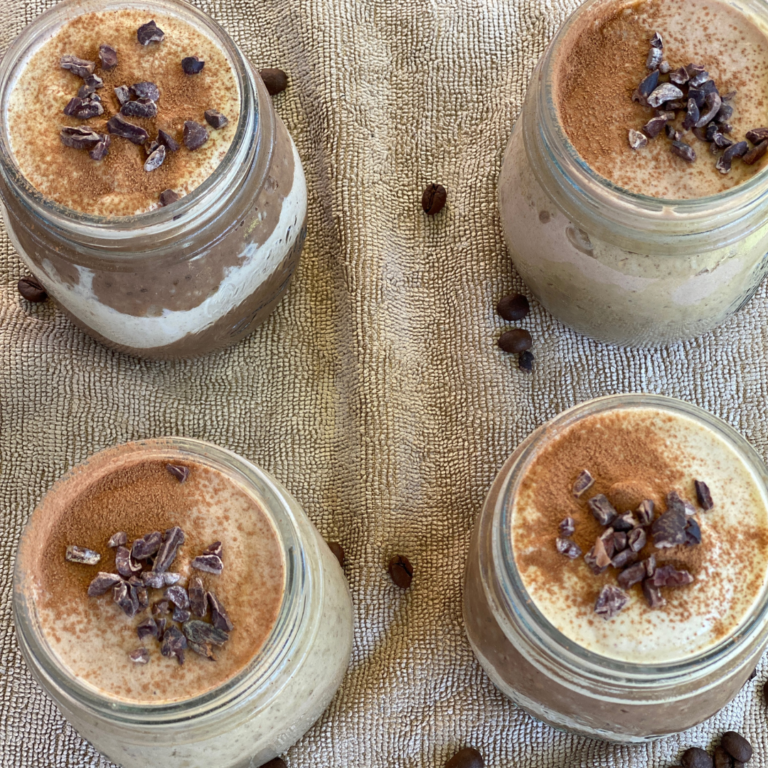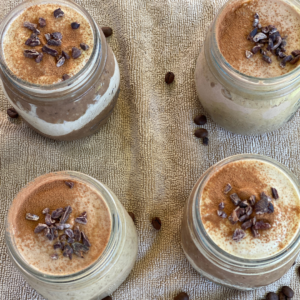 Ingredients:
The night before:
1 cup steel cut oats or rolled oats
1 1/4 cup filtered water
2 T acidic medium (any of these: yogurt, apple cider vinegar, lemon juice, etc.)
Additional ingredients:
1 1/4 cups nut milk (or milk of choice)
2 shot espresso or 1 tsp coffee powder
2 tsp maple syrup
2 T chia seeds
3 servings (102 grams) of my Chocolate protein (or protein powder of choice), divided
1 tsp vanilla extract
1  cup thick natural yogurt of your choice (you can use more than 1 cup depending on your desired thickness for this layer)
Pre-Steps:
Place oats in a large bowl and cover with water, and add in your acidic medium.
Cover and leave on the counter (not the fridge) for at least 7 hours, but no longer than 24 hours.
After soaking, rinse and strain off any excess liquid and set the oats aside.
Directions:
Combine soaked (and drained) oats with 1 cup fresh, filtered water on the stove top. Allow to simmer, stirring occasionally.
While oats are simmering, mix the yogurt with 1 serving (34 grams) of protein powder and vanilla extract.
Continue cooking the oats until the water has evaporated and add in 2 servings (68 grams) of protein powder, nut milk, espresso and maple syrup. Stir until well combined.
Remove from heat and stir in the chia seeds. Allow to sit for 10 minutes as this will thicken the mixture.
Now the fun part! Spoon in a (1/4 cup) layer of oats into four glasses, and then a (1/4 cup) layer of yogurt, repeat with another (1/4 cup) layer of oats and (1/4 cup) yogurt and then garnish with a sprinkle of cacao powder. You can also garnish with cacao nibs or mini chocolate chips, crushed coffee beans, sliced fruit, shredded coconut or anything you like!
Nutrition Facts
Calories per Serving:

368
Let me know if you make this recipe and how you liked it – I love hearing from you!
---
I ❤️ Chocolate Protein is a 100% ORGANIC, high protein (21g per serving), nutrient-dense whole food protein powder combining 4 plant-based protein sources into a delicious chocolate shake to support an active lifestyle!
If you are following a healthy lifestyle, you'll love the energy and vitality you get each time you shake it, bake it, or blend it up with I ❤️ Chocolate Protein so you can easily boost your total daily protein intake!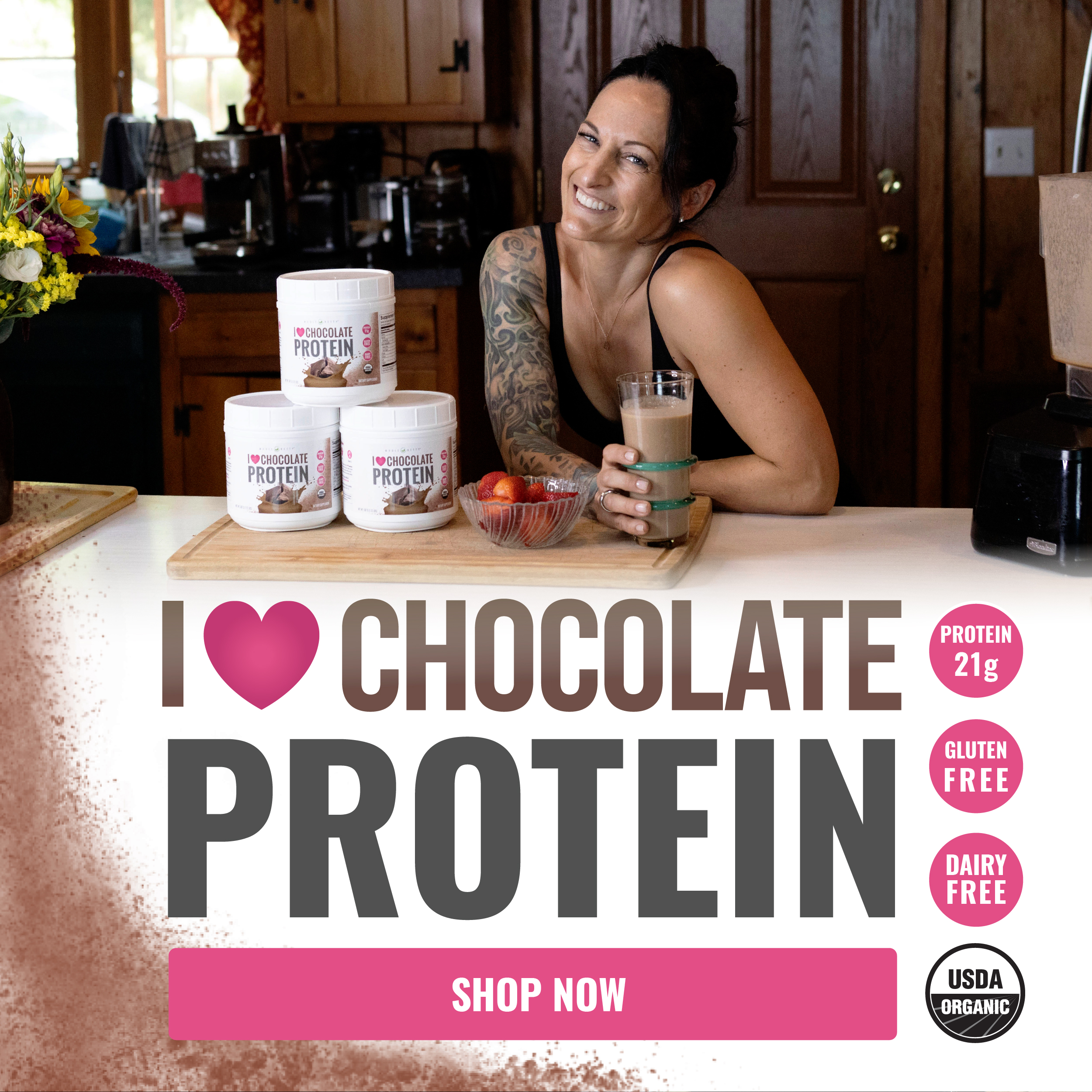 References:
Hou, Qingtao et al. "The Metabolic Effects of Oats Intake in Patients with Type 2 Diabetes: A Systematic Review and Meta-Analysis." Nutrients vol. 7,12 10369-87. 10 Dec. 2015, doi:10.3390/nu7125536. Web. https://www.ncbi.nlm.nih.gov/pmc/articles/PMC4690088/
Rasane, Prasad et al. "Nutritional advantages of oats and opportunities for its processing as value added foods – a review." Journal of food science and technology vol. 52,2 (2015): 662-75. doi:10.1007/s13197-013-1072-1. Web. https://www.ncbi.nlm.nih.gov/pmc/articles/PMC4325078/