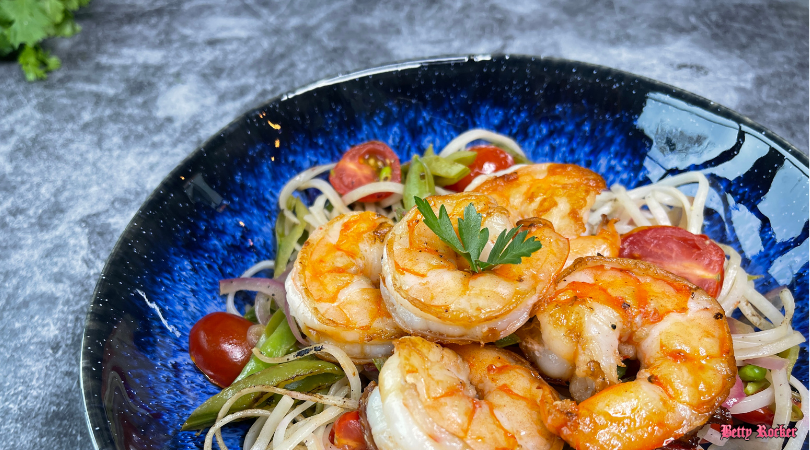 I love experimenting with new recipes in the kitchen and this one was so good I really wanted to share it with you!
This healthy and delicious cilantro shrimp and rice noodle bowl is the perfect quick and easy lunch or dinner recipe! I've also included a Vegetarian option in case you prefer not to eat meat or have vegetarians in your life who you know would enjoy this as well.
The nutrients in your foods: protein, carbohydrates and fat, as well as the micronutrients like vitamins and minerals from fruits and vegetables should all be part of the makeup of your meals. Getting familiar with these nutrients and what you're putting in your meals is a great practice.
If you've ever used one of my meal plans you learn exactly which nutrients are featured in each meal, and get used to building a plate that supports your energy needs.
This recipe combines all the elements of balanced nutrition, making it not just good, but good for you too!
Shrimp is a great source of lean protein, vitamins and minerals. It's also a good source of healthy fats including omega 3 fatty acids, whose benefits include greater cardiovascular health and improved cognitive function (1).
Shrimp also is high in astaxanthin, an antioxidant derived from its diet of marine algae which has been shown to help with liver and kidney function (2) and to be beneficial for skin health (3).
Rice Noodles are a good source of carbohydrates for the energy needed for your workouts and everything else you do, and make an excellent gluten-free noodle option. Feel free to use whole grain rice or zucchini noodles instead if you prefer.
Tomatoes, Snap Peas, Cilantro, and Green Onions round out this meal adding phytonutrients vitamins and minerals and provide you with an excellent source of fiber to support a healthy gut and regular digestive function.
All of these healthy ingredients come together to create a truly amazing quick and easy meal that's perfect for lunch or dinner! Enjoy!
---
Cilantro Shrimp with Rice Noodles
Yield: 2 servings
You will need: knife, cutting board, measuring cups and spoons, serving dishes, medium pot, strainer, tongs, large skillet
Key: T = Tablespoon; tsp = teaspoon
Ingredients: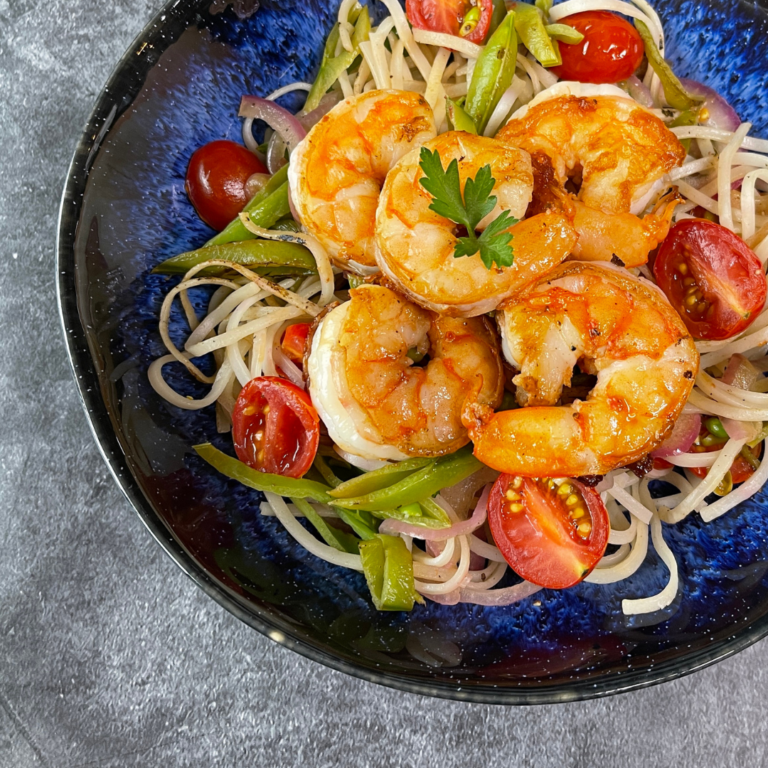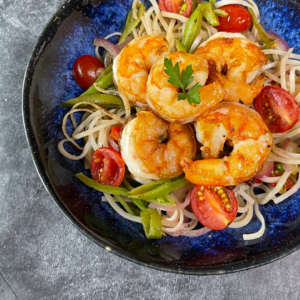 3/4 lb. peeled deveined shrimp (or 14 oz tofu for a vegetarian version)
2 cloves garlic, minced
1 lime, juiced
1/4 cup cherry tomatoes, halved
1/2 cup snap peas, thinly sliced lengthwise
1/4 cup red onion, thinly sliced
2 scallions, sliced
4 oz rice stick noodles
1 tsp sesame oil, divided
1/2 tsp sea salt
1/4 tsp black pepper
4 sprigs cilantro, chopped
Directions: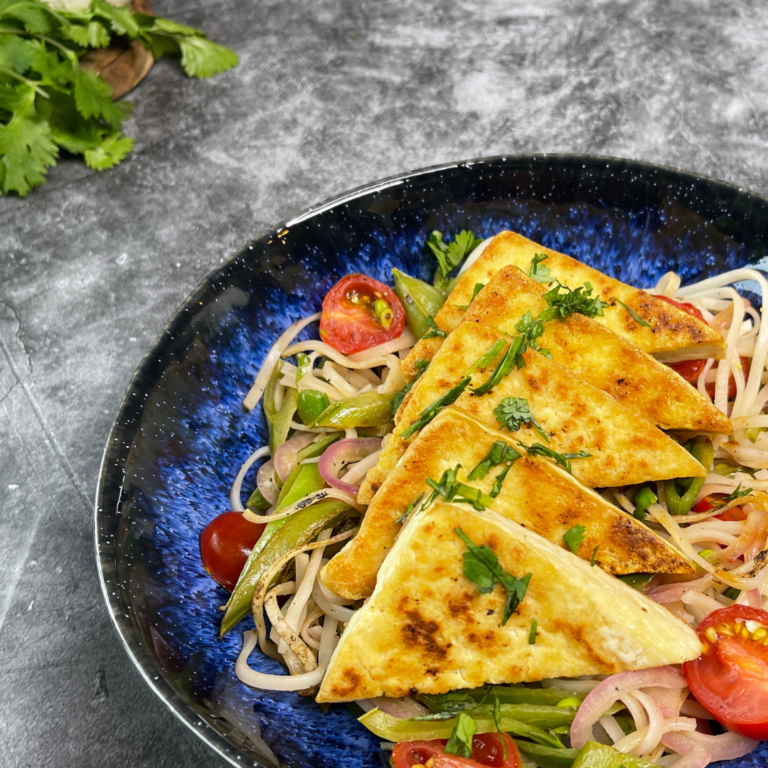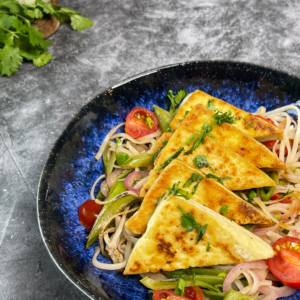 Bring a medium sized pot of water to a rolling boil and add the noodles. Once they are completely submerged, give them a quick stir, cover, and remove from the heat.
Let them soak for 8 minutes, then strain off the water and transfer them to a mixing bowl. Drizzle on half of the sesame oil and season with salt and pepper. Toss until well combined and set aside.
In a large skillet heated over medium heat, add the other half of the oil and shrimp. Sear 1-2 minutes on each side until fully cooked and flesh has turned white. (If using tofu, sear for 1-2 minutes on each side or until they are browned.)
Remove from pan and set aside.
In the same skillet cook the red onion, garlic and snap peas over medium high heat. Brown the snap peas, stirring frequently. Add tomatoes, scallions, precooked rice noodles, and lime juice and bring to a simmer. Add Shrimp or Tofu and stir together.
Divide into two bowls and top with chopped cilantro.
Nutrition Facts
Calories per Serving:

359
Let me know if you make this recipe and how you liked it – I love hearing from you!
---
Need some help with healthy eating? When planning for the week, I think about:
2-3 breakfast options I like
A few entrees that could double as dinner or lunch
A couple smoothie ideas that have complimentary ingredients to give you variety with your greens
A snack option like homemade protein muffins or an easy to make trail mix for days you're just hungrier and want a little more to eat.
Round out your plan with a couple of staple sides that you would like to have on hand daily like a big mixed greens salad and some rice, quinoa or easy to grab sweet potato chunks………and then make your grocery list around that.
Or, you can let me make the whole plan for you, with so many delicious, easy and healthy recipes!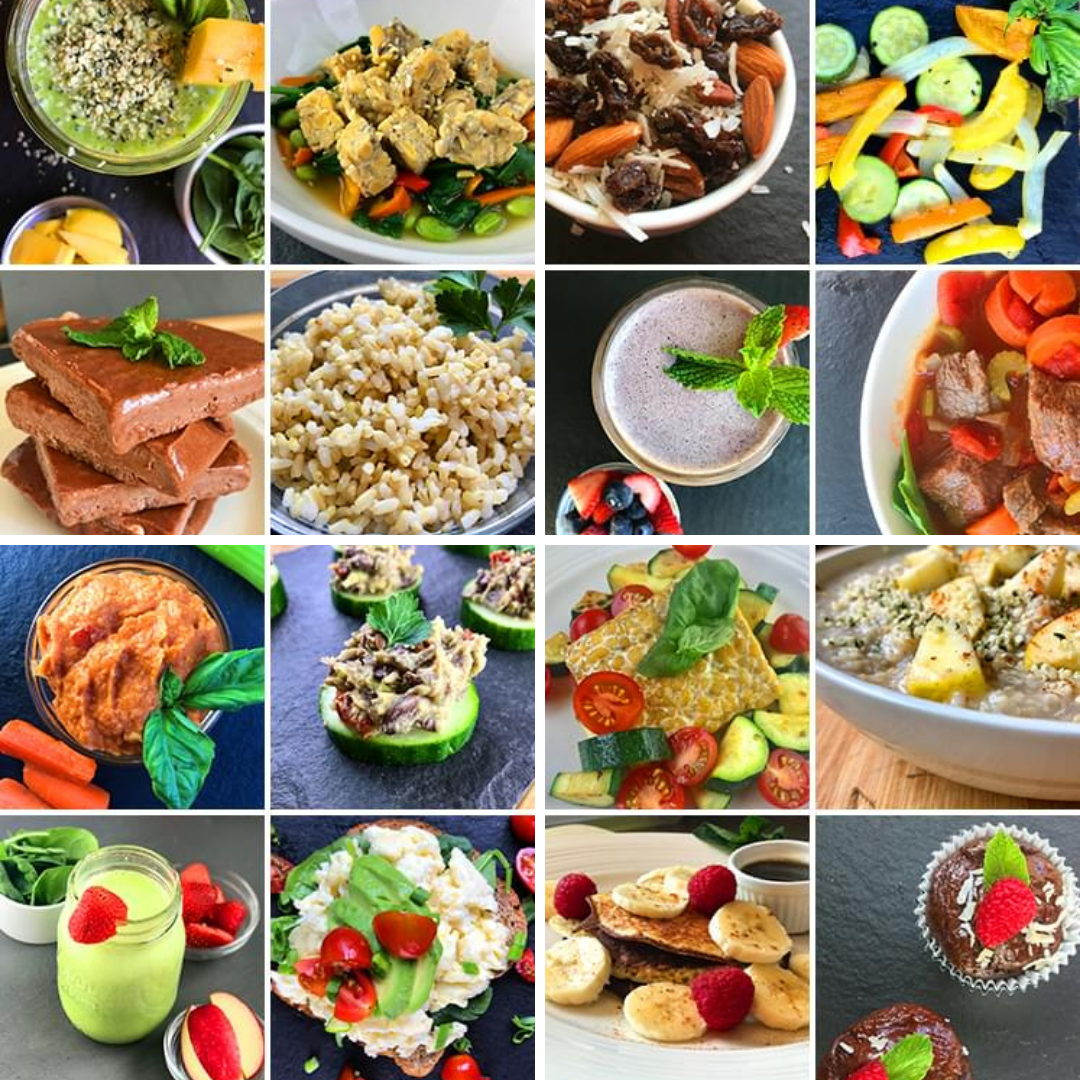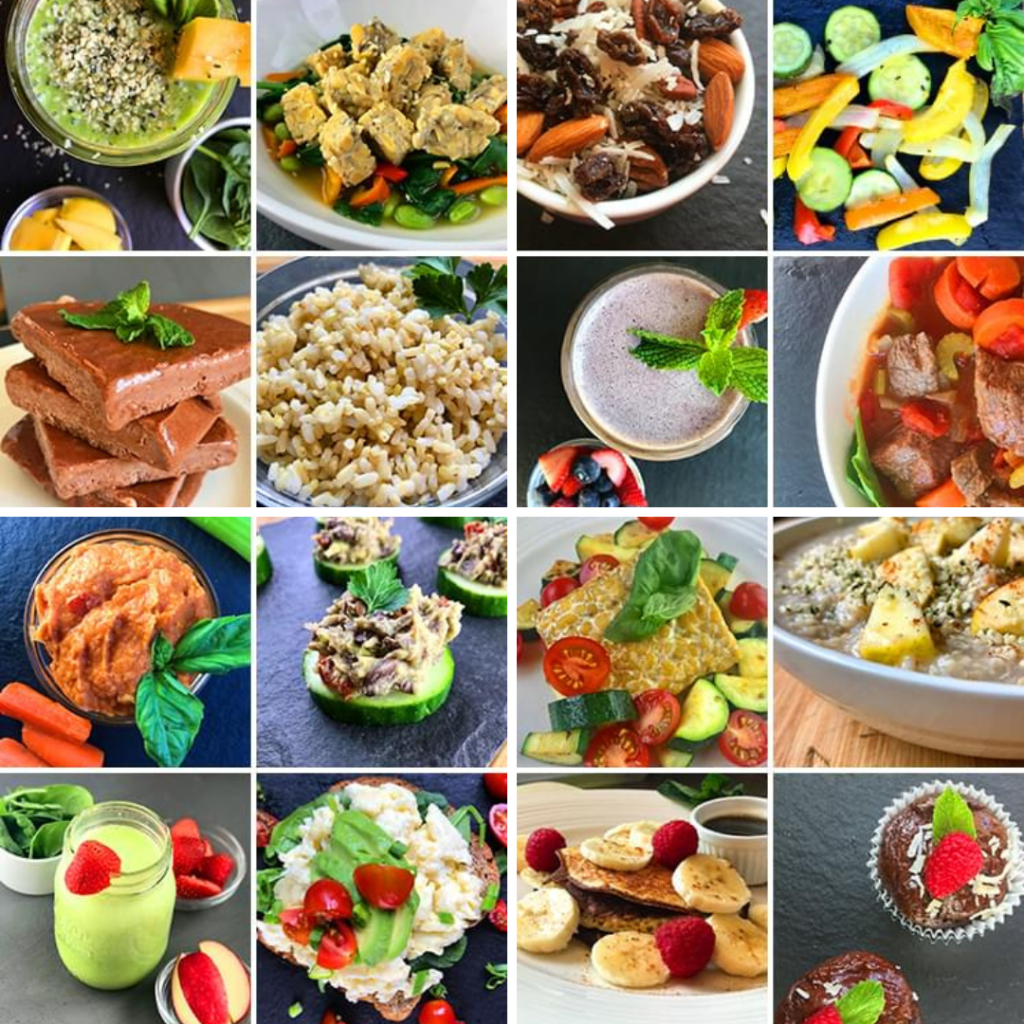 The 30 Day Challenge Meal Plan includes all the recipes and grocery lists for breakfasts, smoothies, sides, snacks and entrees for 4 full weeks – with plenty of delicious options and structure to help you eat right for YOUR life!