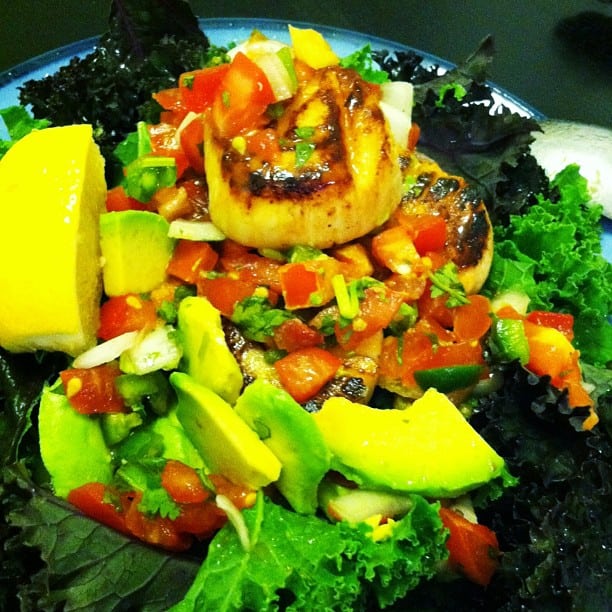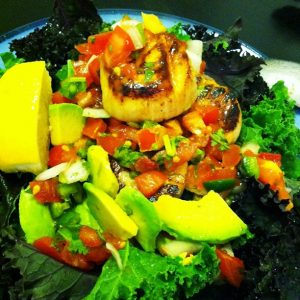 It was awesome being in the tropical island paradise where I spent last week (Cook Islands, New Zealand) but can I just say I cannot live without KALE?!
This was awesome.
I have a one-day stopover in LA on my way back to Denver, just enough time to hit Whole Foods off Santa Monica Boulevard and cook up something awesome.
So funny, I spotted B.J. Novak (The Office) while I was looking for protein powder.
Coconut-Seared Sea Scallops with Raw Kale, Avocado and Salsa
Yield: 2 servings
You'll need: cutting board, knife, sautee pan, tongs or spatula
5-10 stalks kale, washed, de-stemmed and shredded
1 avocado, sliced in half, then sliced thin
4-8 U-10 sea scallops
coconut oil
1/2 fresh lemon
1/4 cup fresh salsa:
1 small tomato
1/4 white onion
1 T cilantro
1/4 fresh lime
Dice tomato and onion. Combine in a small bowl with finely chopped cilantro. Squeeze lime over top and mix together. Add a little fresh ground pepper and sea salt if desired.
1. Heat skillet to medium heat and add coconut oil.
2. Evenly sear scallops on both sides.
3. Prep kale and use it as the base of your plates.
4. Divide avocado on each plate.
5. Place scallops over greens and top with salsa.
6. Squeeze a quarter of a lemon over the greens and serve.