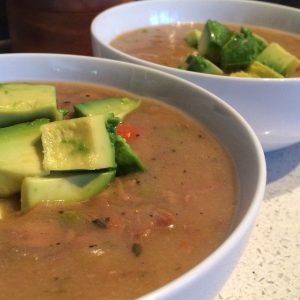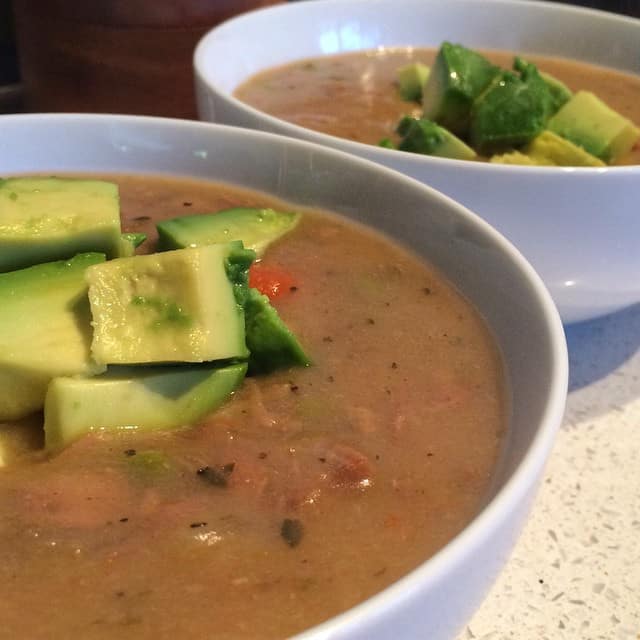 Are you a fan of delicious, creamy soup?
This is one of my favorite recipes, and as Fall is finally upon us, I wanted to share it with you!
It's a real time-saver to have a nourishing soup that includes multiple nutrients your body needs – and it lasts really well for several days!
You'll get quality protein from the chicken, healthy fat from the avocado, and lots of vitamins and micronutrients, as well as some healthy carbs from the vegetables.
This recipe is super easy to make.
You have some minimal prep, chunking up zucchini and cauliflower, but once you cook them in your saucepan, the rest is as easy as putting everything in the blender (or food processor)!
You can add a scoop of rice, quinoa or a serving of potatoes to it if you want a more filling version with more carbs.
I just had some for lunch and I feel so satisfied!
---
Here's what you'll need:
Creamy Chicken Vegetable Soup
Yield: 4-6 servings (approximately)
You Will Need: knife and cutting board, sauce pan, blender or food processor, measuring cups and spoons
Ingredients:
1 quart Chicken Broth
2 cups Zucchini, peeled and chopped
2 cups Cauliflower, broken into florets
1 cup Onion, chopped
2 cloves of Garlic, pressed or chopped
1 cup Carrots, peeled and chopped
1 cup Shredded Chicken (pre-cooked)
2 tsp fresh parsley
1 tsp Celery seed
1 tsp dried rosemary
Salt + pepper to taste
Avocado for Garnish
In a medium pot, combine broth, zucchini, cauliflower, onion & garlic.
Simmer for 20 minutes or until the veggies are very soft. Transfer to your blender or food processor (use a ladel or a measuring cup for this – I've tried pouring it out of the saucepan before and made a big mess haha) and add spices.
Blend your soup until completely smooth.
Return your blended soup to the pot along with shredded chicken and carrots.
Simmer for 10 minutes or until the carrots are done to your liking.
Serve each bowl and add a generous garnish of diced avocado.
Nutrition Facts
Calories per Serving:

129
---