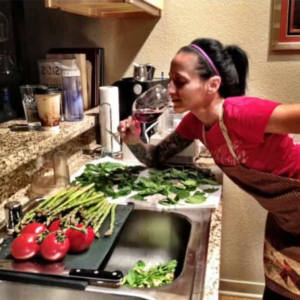 I love pesto, but often hesitate to make it because it has cheese in it (which doesn't always agree with my stomach).
My good friend Catherine came over last week to cook dinner with me, and we created an amazing dairy-free pesto that you have to try!
We tossed it in some steamed shrimp, and served it on top of fresh tomatoes that we sprinkled with pink sea salt.
Served it up with fresh steamed asparagus on the side (drizzled with lemon) and a fantastic glass of organic Pinot Noir (I get my wine from Dry Farm Wines).
Definitely try this meal out for a simple, fresh and delicious dining experience with all the healthy immune-boosting benefits of fresh herbs and garlic!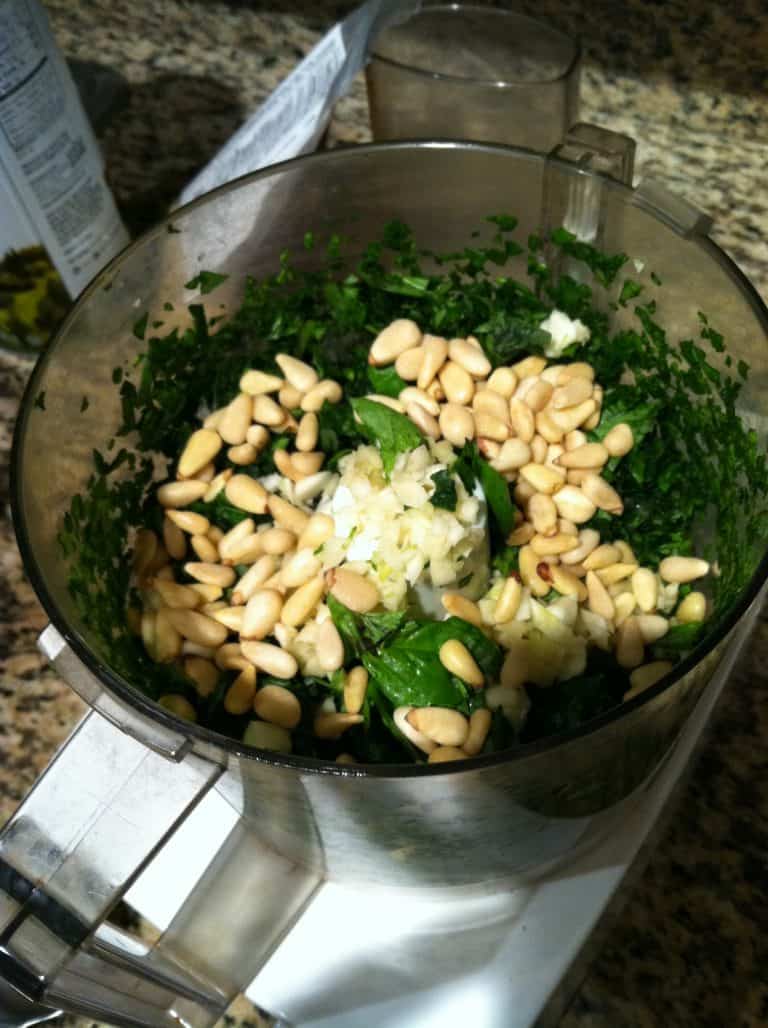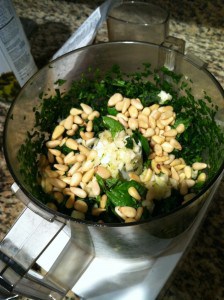 Pesto
Yield: 1/2 cup pesto (4 servings)
You will need: food processor or blender, measuring cups and spoons, mixing bowl, rubber spatula
3/4 cup fresh basil
1/2 cup fresh spinach
3-5 massive garlic cloves
2 T pine nuts
2 T walnuts
1 cup plus or minus extra virgin cold-pressed olive oil
salt and pepper
1-2 T fresh lemon juice, and rind for zesting
1. Get out your food processor, and rinse and dry your basil and spinach.
2. Peel the garlic and mash it gently with the flat of a large knife.
3. When the greens are dry, put them in the blender and blend them in multiple quick, short pulses. The trick is to not completely break them down but to get an even consistency.
4. Next, add the garlic and nuts and pulse again, scraping down the sides every few pulses to get the perfect mix.
5. Pour the mixture into a bowl and begin adding olive oil, stirring it all together gently with a spatula. Squeeze about 1-2 tablespoons of fresh lemon juice into the mixture.
6. Grate or zest some lemon rind – about 1/4 tsp. Taste it to see how much you like. You may add a little salt and pepper to taste at this stage also.
---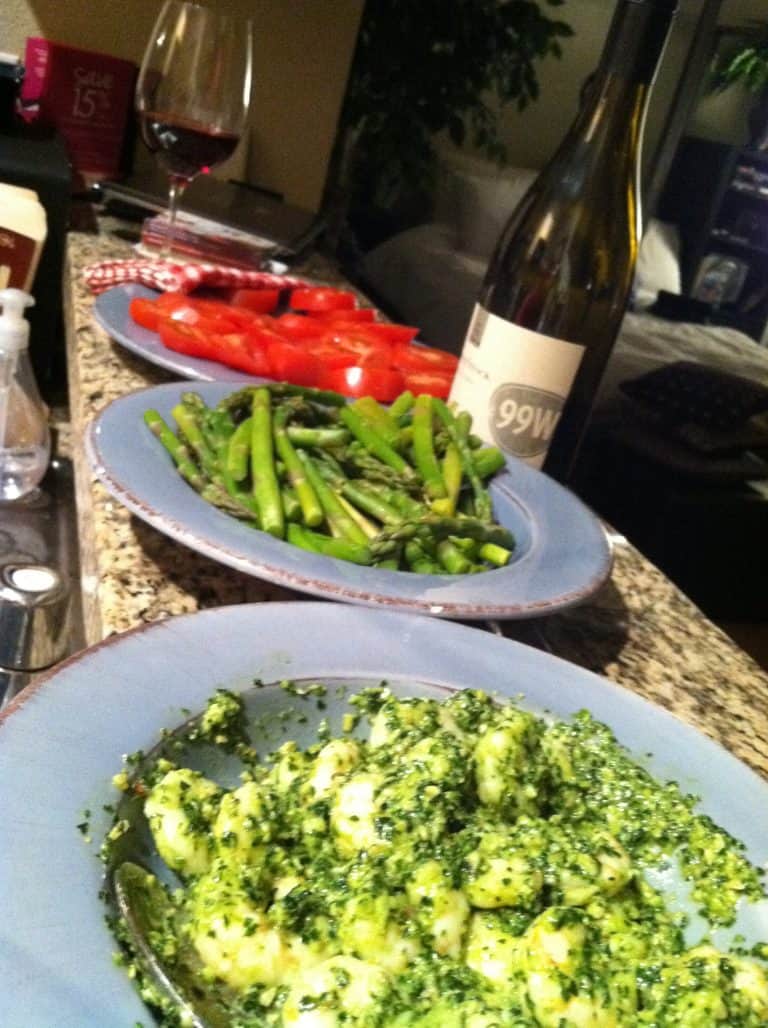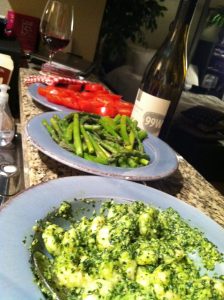 The rest of dinner:
1 bunch of asparagus
24 peeled shrimp
4-5 large vine-ripened tomatoes
Pink sea salt or other sea salt
1. Steam the shrimp – I buy mine frozen fresh pre-peeled. Whole Foods (you know I love them) in the frozen area by the fish counter has bags from their Whole Catch line for $9.99. I like to boil a pot of water and toss in about half the bag (for 2 people) and let it simmer for about 5-7 minutes.
2. I steamed some fresh asparagus at this point, and drizzled the juice of the lemon we used for zesting the pesto over the top when it was finished.
3. Cut up 4-5 fresh, vine-ripened tomatoes and lay them out on a plate. Sprinkle pink or other sea salt over them. Toss the shrimp in some of the pesto (you may not need it all).
---
Looking for some healthy, easy recipes and a plan to make your life easier week by week?
Check out my meal plans for done-for-you planning that includes grocery lists, daily eating guides, options for prep and healthy cookbooks!