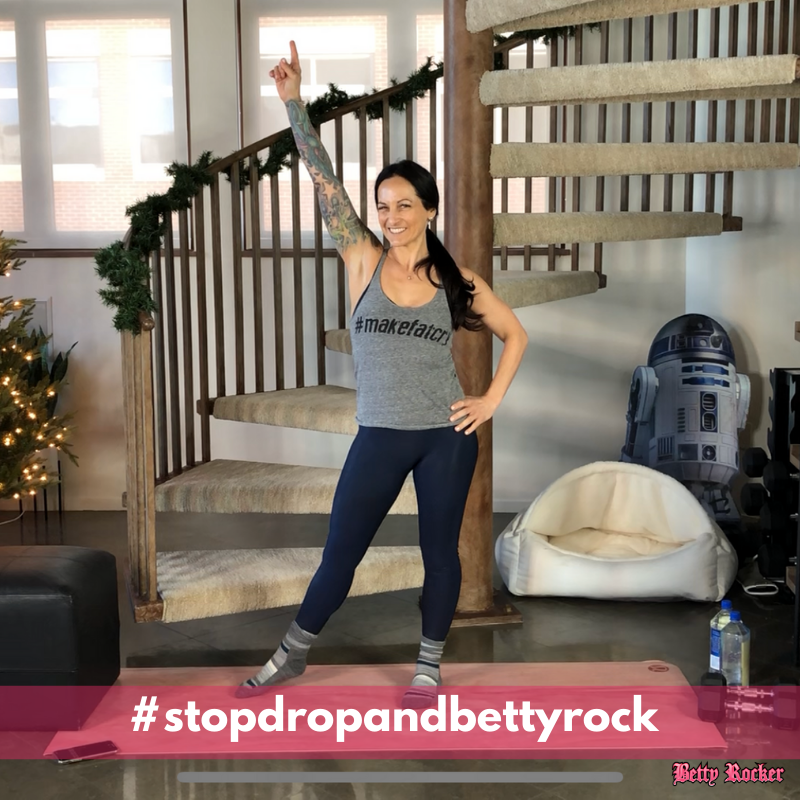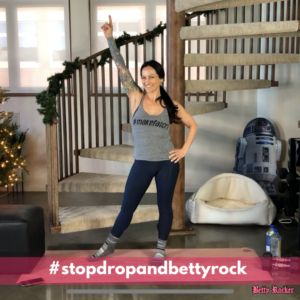 It's Day 1 of the 5-Day Home Workout Challenge – are you READY?
We are diving in today with a FULL BODY SMASH that you can do from home!
For extra resistance, I'll cue you to use water bottles/jugs, laundry jugs or dumbbells – and show the breakdown from beginner to advanced, low to high impact so you can do this no matter where you are, no matter what your fitness level.
But first, let's take a look at today's Nutrition Challenge!
DAY 1 NUTRITION CHALLENGE: Today I'd like you to really stay focused on eating whole foods.
Please avoid soda, candy, and foods with added sugars. This might require some forethought – just like coming to this class or doing this workout today required you to plan to make time for it. Eating healthy is just the same – we have to be intentional about it and that requires us planning to eat well.
Today I invite you to really take stock of your week and think about how you can ensure you are eating healthy food daily this week, and aren't going to fall back on snacking.
One of the big benefits to eating whole food nutrients regularly in your meals and making sure you're getting protein, whole food carbs, healthy fats and greens is that you will feel satisfied and full – and this will help eliminate cravings for sugar and fast foods that can sabotage your goals and all the effort you're putting in with these workouts.
BONUS NUTRITION RESOURCE: 3 Day Easy Eating Guide with Fast, Healthy Entrees
Ok Rockstar, now let's get you into this workout!
---
---
Find all the form notes, modifications and more written out down below, and check in with me and let me know how I can support you- I love hearing from you! I'll see you tomorrow for Day 2 – Legs and Booty Barre!
BTW – you've probably heard me talk about the "all or something" mentality, and to see real results with anything that's what it comes down to. "All or NOTHING" can create unrealistic expectations of ourselves that drive us to burn out.
I prefer steady, consistent action over time that is fun – so I not only enjoy the process, but see a LASTING result that's based on lifestyle habits I can stick to for the long term.
I was so moved by what Rock Your Life member Jessica said in her post to our group, and you can see how good she feels about herself in the second picture….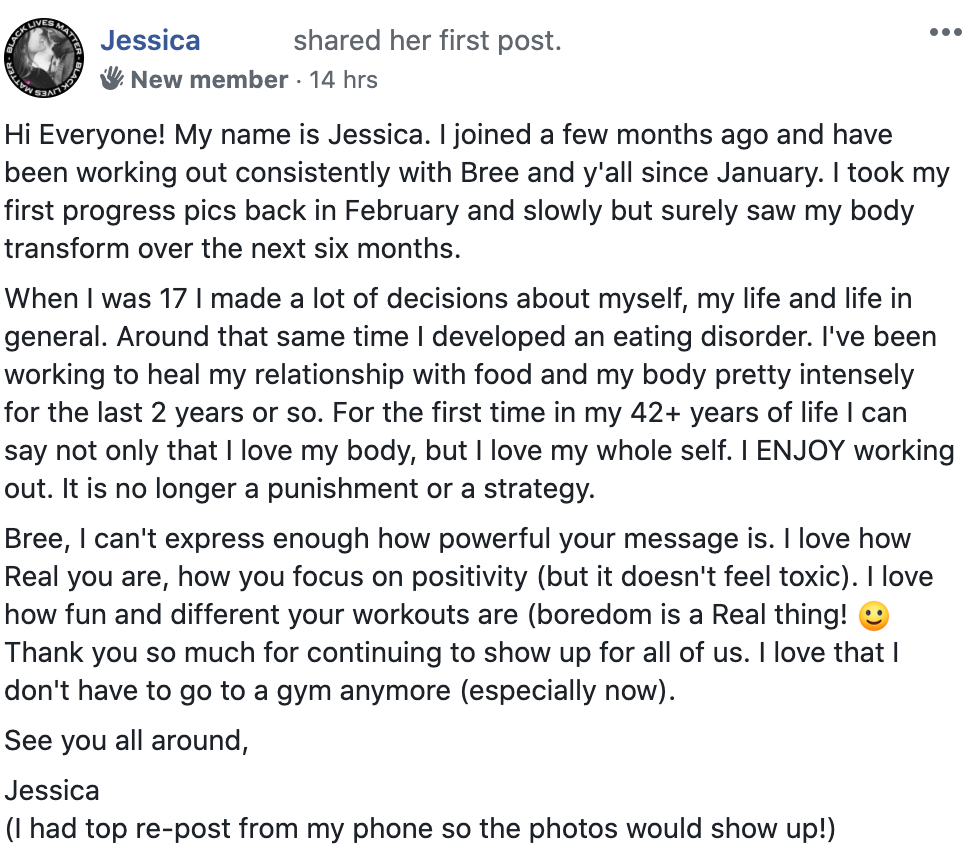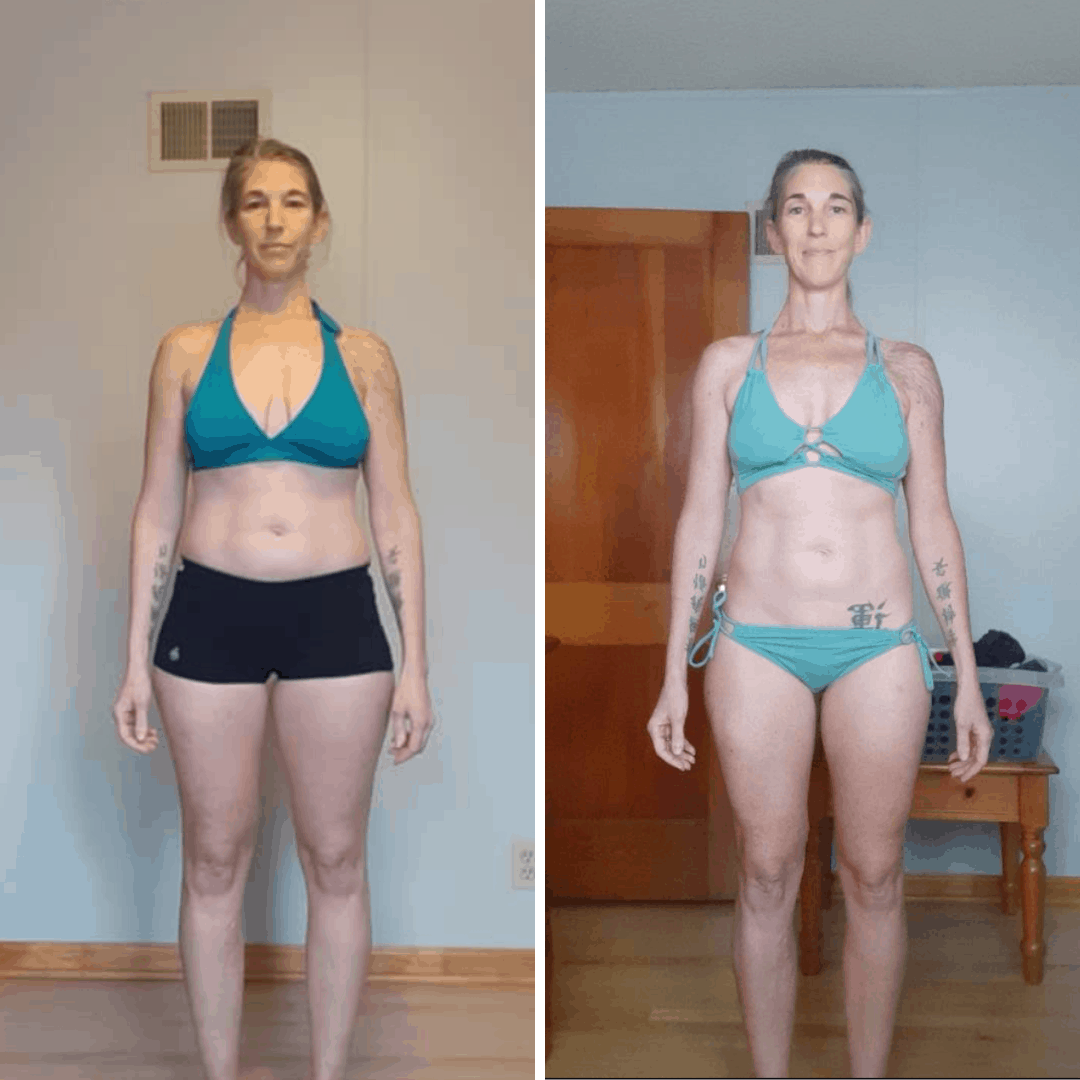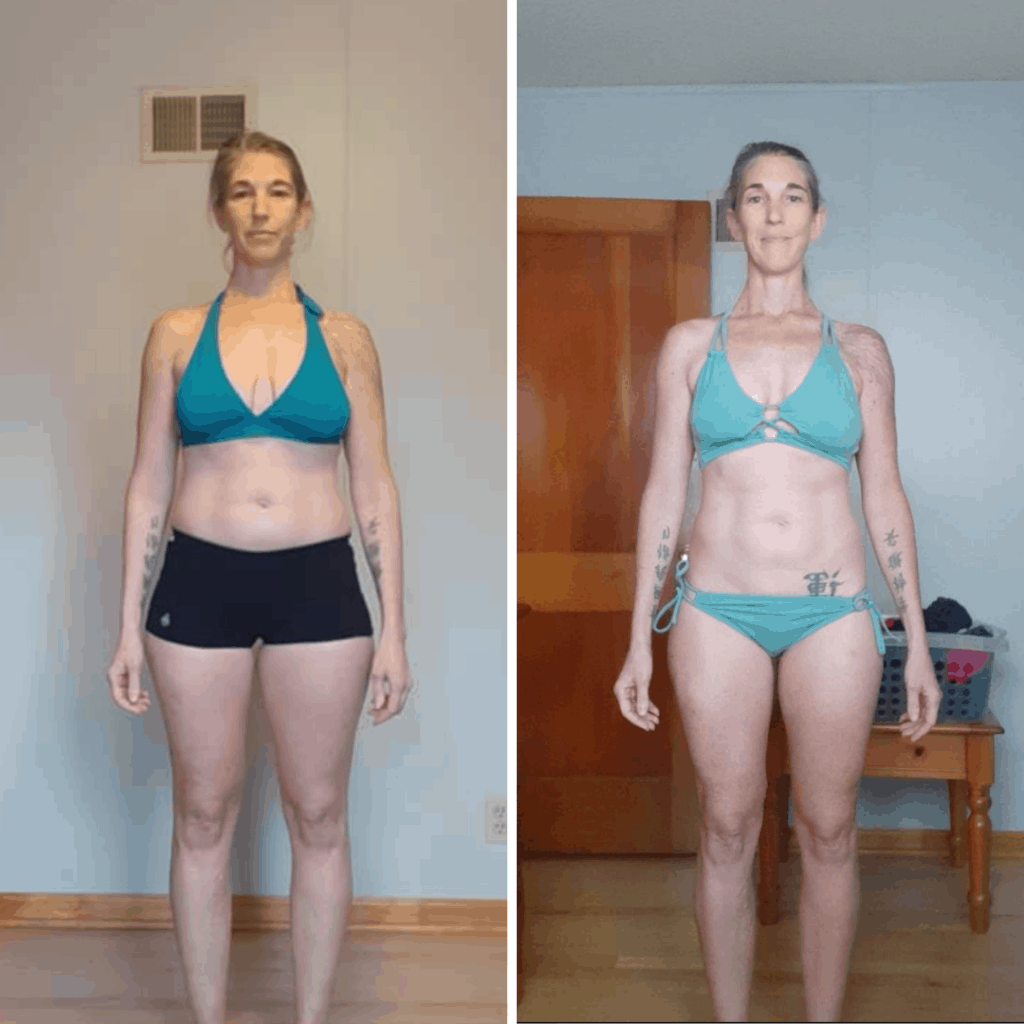 Full Body Smash
Click to expand and see all workout move descriptions.
Equipment Needed: Weighted Objects (water bottles, gallon jugs, dumbbells)
Format: Perform each move for the prescribed time and repetitions and repeat for 3 rounds.
Move 1: KANG Squats (10-12)
Stand with feet about hip distance apart, with your core engaged and your shoulder blades pulled back and down.
Keeping your core engaged, begin sending your hips back behind you as though you were going to close a car door, keeping your back flat and your hands close to your legs.
From here, drop your hips down into a squat by shooting your booty back behind you as though you were going to sit on a chair, keeping your weight in your heels.
Drive back through your feet into the hinge position and then come to standing, squeezing your glutes.
Repeat the movement.

MOD: Hold on to a chair or wall to help stabilize yourself. 
Move 2: Elbow Plank Hold with Knee Sliders (0:30-0:45)
Begin in an elbow plank position with your core engaged and shoulders stacked over your elbows.
Brace your core and bring your right knee up to your right elbow. You can also slide your knee up to your chest to add in more resistance.
Bring your leg back down and repeat on the other side.

MOD: Come down to your knees in your plank or do this on an elevated surface
Move 3: Kick to Knee combo (2:00)
Begin with your feet planted and your core engaged.
Take a step forward with your right leg and drive your left knee up into your chest.
Place your left leg back on the ground and kick in front of you with your right leg.
Do all on one side first and then switch.
Optional: Add in a hop between the knee drive and your kick.

MOD: Hold onto a chair back or stationary object to assist with balance. 
Move 4: Chair Sit to Stepback Kickback (10-12 each way)
Starting with your feet together, core engaged and shoulders rolled back, sink your butt down as if you were going to sit in a chair.
From here, draw your elbows in close to your rib cage holding the weights parallel to the ground.
Kick your left arm back to a tricep extension, while at the same time stepping back behind you with your left leg. Repeat the movement on the other side matching your kickback with your stepback.
Alternate the arms and legs.

MOD: Remove the stepback 
Move 5: Star Jumps (0:30-0:45)
Stand with your feet slightly wider than hip distance apart, core engaged.
Perform a semi squat by shooting your hips back behind you as though you were going to sit on a chair – keeping the weight in your heels and chest up, engaging your core.
Power up through your heels and jump up bringing your arms overhead and your legs out to end in a star position.
Land softly on the balls of your feet and repeat.

MOD:

Take out the jump and step your legs out. Use a chair or box to help cue you with good form in your squat so you're not loading all your weight forward, or bending at the waist.
Move 6: Alternating Forward Lunge with Biceps Curls (10-12 each side)
Begin standing with your core engaged and chest upright, shoulders rolled back. Holding your weights at your side.
Keeping your body upright like you have a crown on your head, step your right foot in front of you and begin bending your back knee until it nearly touches the ground in a 90 degree angle.
While holding at the bottom of your lunge position, perform a bicep curl with your left arm. Ensure that your chest remains upright, and your right knee does not rotate or press out over your right foot to maintain stability.
Power through your front heel and bring your back foot to meet your front foot as you come to standing.
Repeat with your left leg and alternate back and forth (ensure your knee is not shooting out over your toe and maintain an upright chest).

MOD: Take the curl out and hold on to a chair or wall to help stabilize yourself. 
---
…so I can support you in ROCKING your body AND your life! Get stronger and healthier with a community of rockstars to support you, home workout challenges for a fit body, and fresh new workout classes each week to keep you motivated!