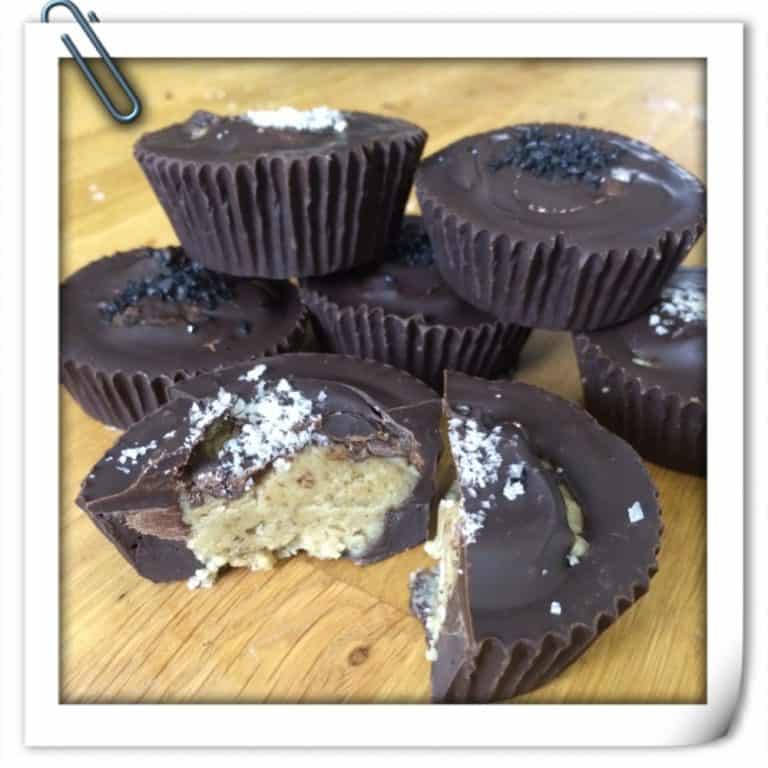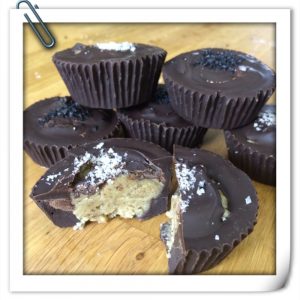 Thank goodness I have neighbors and friends to help me eat these desserts! I got a wicked craving for Reese's the other night – and it immediately made me want to make my own.
I started messing around with what became this insanely easy and delicious new dessert that you have to try…and I think my new neighbors are pretty stoked about it too 🙂
I didn't have peanut butter in the house, but I did have some walnut butter – you could use any kind of nut butter or sun butter even in this recipe and it would be awesome!
Give it a whirl – you could make a variety of sizes – I used regular sized muffin tins, but they'd be awesome in mini too if you have them.
---
Easy Dark Chocolate Nut Butter Cups
Yield: 6 full size cups, 12 mini cups
You will need: bowl, double boiler (or try my bowl in a wok method or use your microwave), spatula, measuring cups and spoons, cupcake/muffin tins, liners
8 oz dark chocolate pieces or chips (I use 70% dark or higher)
1/2 cup walnut butter (or other nut butter)
3 T honey
1/2 tsp vanilla extract
1/4 tsp sea salt
1. Melt chocolate in a double boiler, or create a water bath using a heat-safe bowl and a pan of water. You can also melt your chocolate in the microwave. When finished, set aside.
2. Assemble nut filling ingredients.
3. Combine them in a small bowl and mix well.
4. Line cupcake tins with liners.
5. Evenly distribute about 3/4 of your chocolate amongst your cupcake tins.
6. Form small, even sized dough balls out of your nut mixture, and place them on the chocolate.
7. Pour the remaining chocolate over top of the nuts.
8. Spread the chocolate out so it covers the nut mixture.
9. Top with a little sea salt. I'm using a combination of Pink Himalayan and Black Lava Sea Salt.
10. Cover and refrigerate for approximately 30 minutes.
11. Remove from tins and peel back the liner.
Nutrition Facts
Calories per Serving:

175
---
Let me help you make healthy eating easy (yes, you can still have dessert)!
The 30 Day Challenge Meal Plan includes all the recipes and grocery lists for breakfasts, smoothies, sides, snacks and entrees for 4 full weeks – with plenty of delicious options and structure to help you eat right for YOUR life!