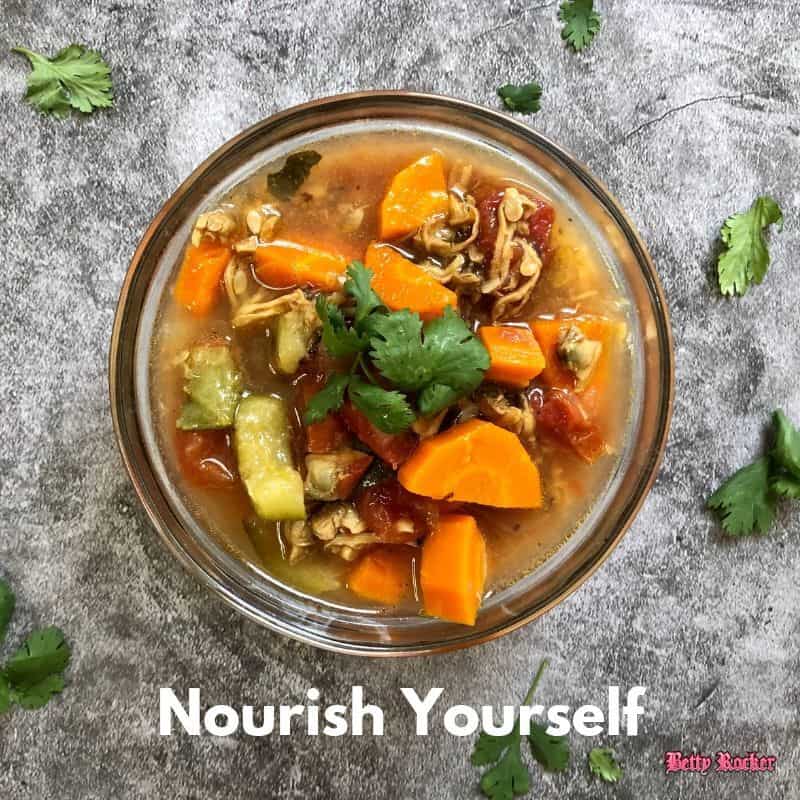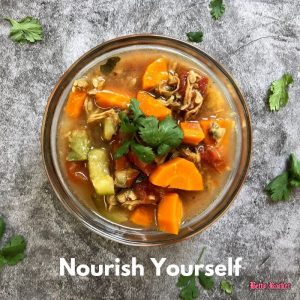 Welcome back to my kitchen! I've got a delicious, healthy and versatile one pot stew for you today. Toss some clams (or protein of choice) and fresh veggies in a stock pot, add some seasoning and you have a healthy dinner in 30 minutes or less!
Not only is this recipe easy to make, it's also packed full of nutrients that fuel your body and nourish you from the inside out.
I started eating clams more often thanks to my friend Dr Alan Christianson who reminded me how iron-rich clams are, and how important it is as a woman – especially an active woman – to be getting plenty of iron from the foods I eat.
Featured in the dish….
CLAMS
While I first think of clams as a great protein source – and they are (3-ounce serving of steamed clams contains 22 grams of protein), just one serving contains 24 milligrams of iron (132% of the recommended daily value) (1).
Iron is an essential mineral in our bodies that makes up different proteins and enzymes, including hemoglobin and myoglobin, both of which help carry oxygen in the blood. Iron is an important component of muscle tissue that also impacts energy levels and athletic performance (2).
Clams are also high in Vitamin C and Vitamin B12, which plays a vital role in brain and nervous system functioning (3).
B12 has been shown to fight chronic fatigue and help improve your sleep-wake patterns giving you a better, more restful nights sleep (4).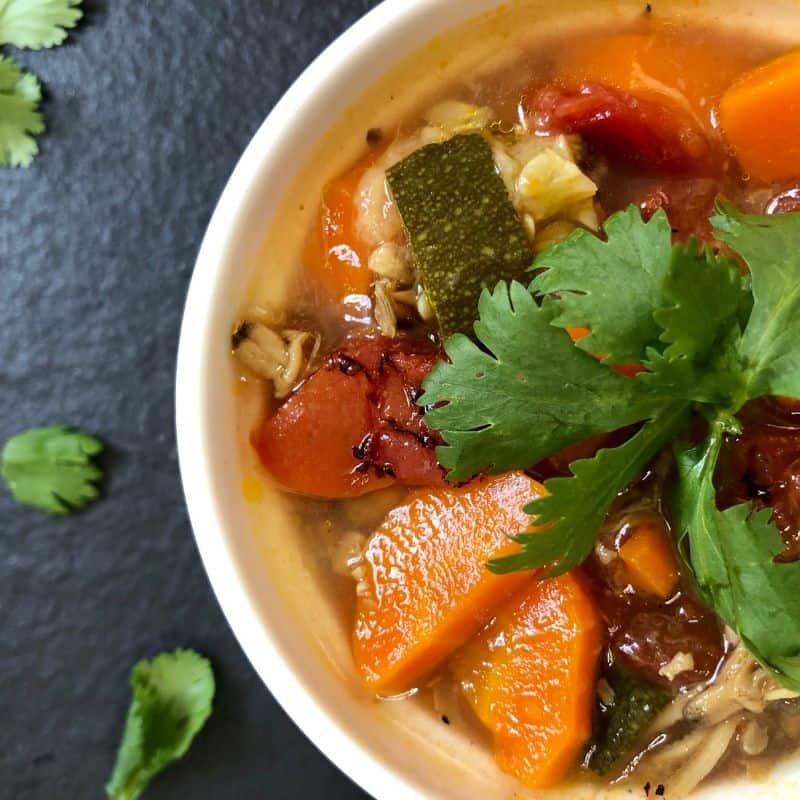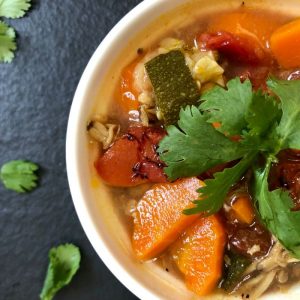 Vitamin C is a necessary nutrient and antioxidant that allows the body to make collagen, an essential building block for healthy bones, teeth and skin. This is why I always recommend including it when consuming collagen or in this recipe, bone broth (5).
BONE BROTH
Bone Broth is broth made from stewed bones and connective tissues. Every indigenous society I have studied uses the whole animal, not just the meat. This is less wasteful, more respectful, and also delivers important micronutrients to your body that work together to create cellular symbiosis and lasting health.
Collagen and gelatin can boost your immune system, fight inflammation, strengthen your bones and teeth, and is good for your hair, skin, joints and nails (6).
Consuming collagen in any form- in a broth or as a powder- can be a great way to supplement the collagen that your body already makes on its own and help promote healing in the intestines and improve the function of your gut which is important for your overall health (7).
There are a lot of different brands of bone broth out there so I always recommend that you buy one that comes from grass fed beef or cage free chickens, is non-GMO, and free of gluten, dairy, soy, artificial flavors or dyes.
Whether you choose to use clams and bone broth or a different protein and chicken/vegetable stock, you will still reap the benefits of zucchini, garlic and tomatoes. All of which are packed with vitamins, minerals and anti inflammatory properties to keep you healthy and support your body in all that it does for you (8, 9, 10)!
Delicious AND nutritious! 
---
Easy One Pot Stew
Yield: 5 servings
You will need: stock pot, knife, cutting board, measuring spoons
Key: T=Tablespoon; tsp=teaspoon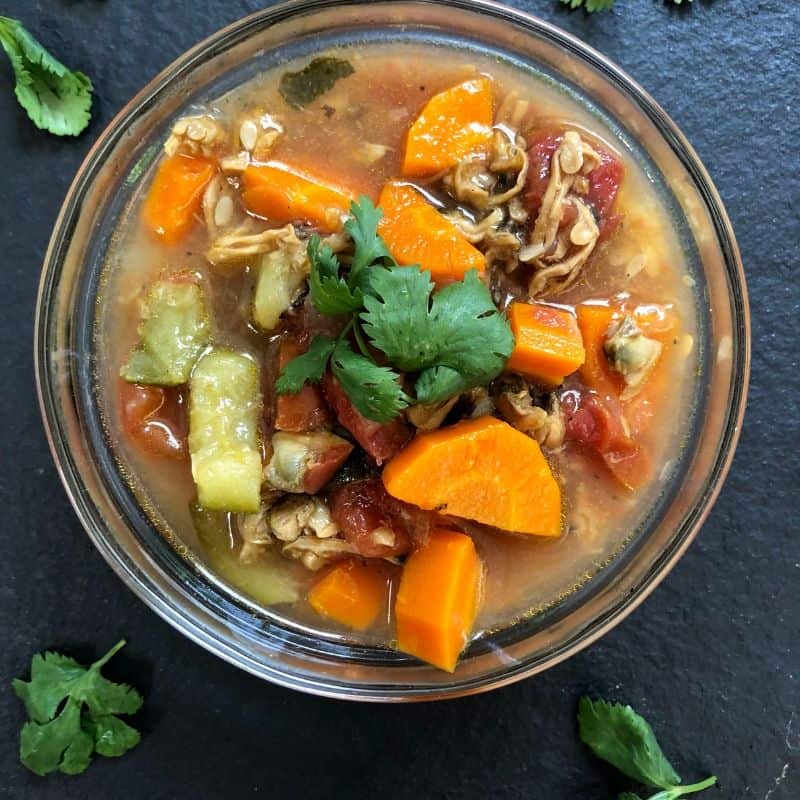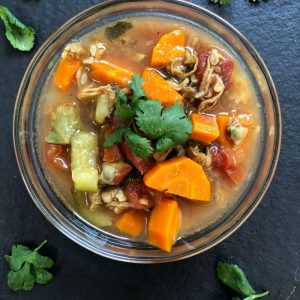 Ingredients:
1 T avocado oil
2-3 cloves garlic, minced
1 onion, diced
2-3 10 oz. cans of baby clams, drained *
2 zucchini, diced
3-4 small/medium carrots, diced
2 cups bone broth**
1 can fire roasted tomatoes
spices of choice to taste ***
1 tsp sea salt
1/4 cup cilantro or parsley, chopped
Instructions:
Add the oil to your stock pot and heat on medium for a couple of minutes. Once the oil is warm, add your garlic, onions and sea salt and sauté until translucent.
Add the zucchini and carrots and cook on low until veggies are tender, about 5 minutes.
Add the baby clams, bone broth, roasted tomatoes and your spices of choice and mix together.
Cook on low for 15-20 minutes.
Serve and top with cilantro or parsley.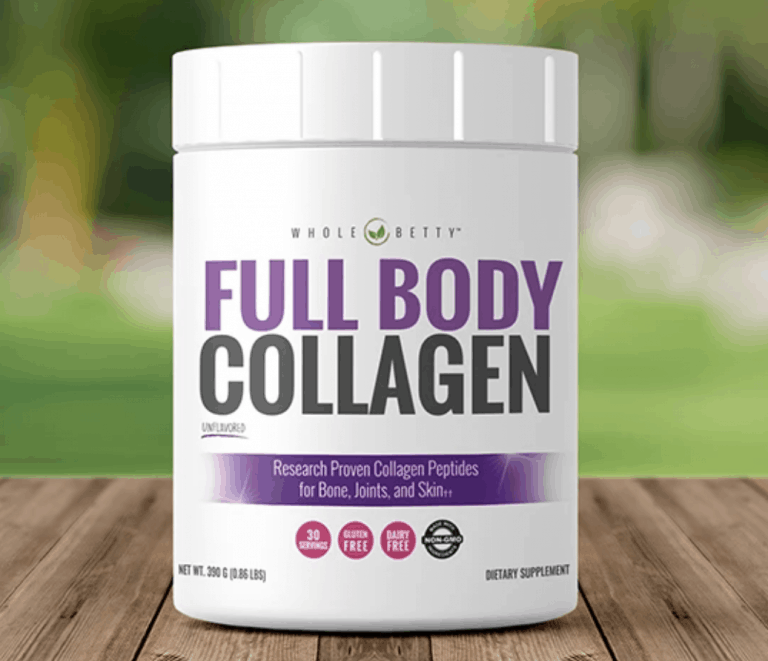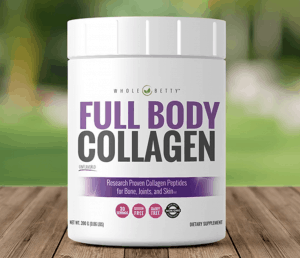 *You can use any protein you would like here- chicken, ground turkey or beef and even tempeh or beans if you are a vegetarian. However your cooking times may vary depending on what you choose. If you are doing chicken or ground meat, I recommend sautéing that separately first for a fews minutes to brown the meat before adding in the rest of the ingredients. 
**If you are vegetarian you can swap this out for vegetable broth. 
***I like to add turmeric and curry powder but feel free to play around with this! Dried oregano and basil would be delicious or even chili powder, paprika and cumin for a Mexican twist. It's so versatile!  Start with 1-2 tsp of each seasoning and add from there depending on how much flavor you like. 
Nutrition Facts
Calories per Serving:

193
I hope you enjoy this quick and healthy meal! Leave me a comment below and let me know how it turns out and if you made any modifications – I love hearing from you.
---
Let me help you make eating healthy easy with the Body Fuel System!
This is my signature eating system and it contains 6 weeks of done-for-you meal planning and recipe guides! You will not only learn the strategies that have given me long-term success, but also enjoy the time-saving benefits of having it all planned out for you!