You wouldn't know it if you talked to me or just watched my videos, but I deal with my own head just as much as anybody else.
The bigger my dreams get, the bigger my fears want to get. I doubt my abilities, my worth and my strength – sometimes often.
I know I talk a lot of motivation, but did you ever wonder how I know what needs to be said? Most of the time it's because that's what I had to say to myself to get over a hurdle or figure out how to deal with a problem I was having!
This past week it was particularly bad. I felt myself getting sick. Our emotions are intrinsically connected to our bodies, and feeling low will make even the strongest warrior weaken.
I was still feeling unsettled in my new space (no furniture yet) and feeling anxious about all of the work I needed to do now that a business partnership I had been exploring didn't work out. I was feeling let down by a friend who had bailed on me, and was letting what felt like the weight of the world settle on my shoulders.
And then I got in my car.
I was trying to get to the grocery store on Sunday, and I kept hitting red lights. I was hungry (don't go shopping on an empty stomach) and I was still feeling a little gloomy.
And then I had this simple thought:
"Well just because the lights are all red doesn't mean I'm going to turn around and go home."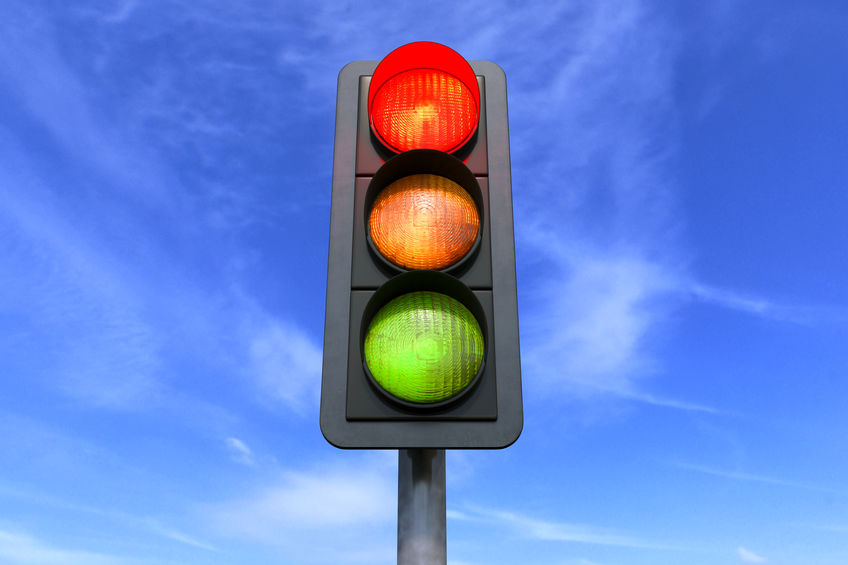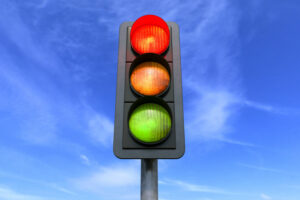 I had to laugh out loud, it was so simple. I mean, they always turn green. And sitting at a red light is exactly like what my doubts and fears felt like. A temporary pause in the drive.
I was still on the way to my destination. I wasn't going to stop driving there. I wasn't going to just up and pull the car over and take off walking into the wilderness of Cherry Creek North.
And I kind of just got it.
Doubts, fears and insecurities are going to come up as inevitably as hitting red and yellow lights.
And the thing is, they're not really slowing you down.
If you can see the red lights as just temporary stopping points, you can take the opportunity to reflect on your direction.  Reflect on your own personal responsibility in the things you're struggling with.
Maybe I needed to stop for a second and remember that I CHOSE to move across the country. I needed to remember that I put myself out there and tried to get some partners, and MY expectations were very high. I did that.
So instead of doubting myself and getting all bummed out, what if I just took some time to reflect on my actions and took an active role in deciding what the next moves were going to be?
I liked the sound of that! So sitting at that red light of self doubt was actually GIVING me an opportunity to plot new coordinates in my navigation system.
Haven't you ever had a setback that felt like failure turn out better than you expected?
I wrecked my bike last year and it majorly set me back from my training schedule. I was so frustrated not being able to work out! But during rehab, I learned about some old patterns in my body that were actually causing me to put MORE strain on my knees during my regular training. So my setback actually allowed me to get the information I needed to train a lot more effectively when I came back to it.
You probably have a story like that too…
….a relationship fell apart, and when it ended you blamed yourself and wanted to give up on ever finding love. But while you were sitting at that red light of insecurity, you figured out some stuff about yourself that allowed you to bring a better version of you to the next relationship – and sure enough the light turned green and you zoomed ahead.
Sometimes it feels like we're stuck at a red light for like a week, a month, a year! But it's okay.
The best thing you can do is roll down your windows, listen to your music – let it in and embrace the moment – and don't forget to smile at the other people stuck in traffic.
Because you're NEVER alone on this road – we're all going through our own road blocks and traffic lights every day.
What red light are you stopped at right now? What doubts are you facing, and have you given any thought to what your next moves should be?
What will happen when the light turns green?
Do you want to go the same direction you were going before, or are you changing course? Let me know. I'll talk to you next week.
---
We Would ALL Love To Support YOU Inside Rock Your Life…
…get stronger and healthier with a community of rockstars to support you, home workout challenges for a fit body, and fresh new workout classes each week to keep you motivated! Oh, and we've got tons of healthy recipes too!