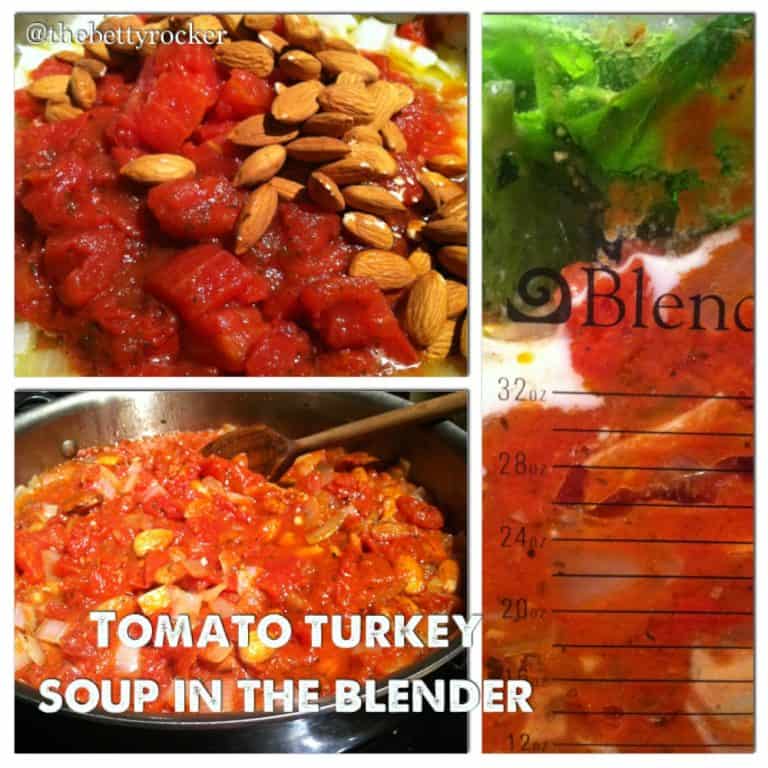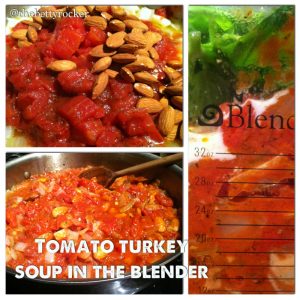 Sometimes you just have to get really creative to make something awesome.
I love tomato soup, but if I'm going to make a main meal, I want it to have protein in it so I can get all the nutrients I need to support my activities.
I decided to add some seasoned chicken (you could also use turkey) to my tomato-basil soup recipe – it was so good I had to share it.
Let me know if you try it, and what you think in comments below!
---
Fire-Roasted Tomato Chicken Soup
Yield: 6 servings
You will need: blender, knife, cutting board, measuring cups and spoons, baking sheet, wooden spoon, large dutch oven
1/4-1/2 cup cold pressed extra virgin olive oil
1 medium yellow onion, diced
3-5 cloves of garlic, minced
2 cans organic diced tomatoes, undrained (I love the Muir Glen fire roasted tomatoes)
1/2 cup almonds
1/2-3/4 cup almond milk
1/2-1 cup chopped fresh basil
Olive oil cooking spray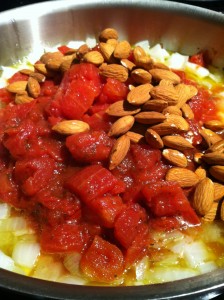 Poultry seasoning of your choice : you can go with a spicy pepper/paprika blend, a blend of thyme, rosemary, sea salt and tarragon, or simple with just rosemary, sea salt, pepper and sesame seeds.
1 lb boneless skinless chicken breast or turkey tenderloin, cubed
Soup Prep:
1. Preheat the oven to 350.
2. Prepare garlic and onions.
2. Heat the olive oil in a large skillet, and add onions and garlic. Sautee over medium heat for 5-10 minutes, stirring frequently until the onion is soft and translucent.
3. Reduce the heat to low and add the tomatoes and almonds.
4. Heat for 30 minutes, stirring occasionally.
5. In the meantime, prep a cookie sheet with olive oil, spray or regular.
Chicken Prep:
6. Chop up your herbs and throw the herbs, chicken/turkey pieces in a bag and shake them up (my version of shake n' bake) then evenly spread them on the baking sheet.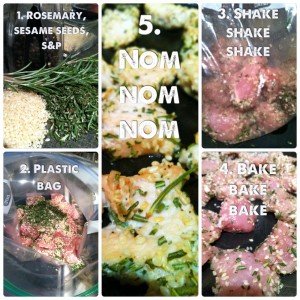 7. Bake for 15 minutes or until cooked through while your tomatoes are cooking on the stovetop.
Soup Continued:
8. Remove the tomato mixture from the heat and transfer it to the blender, using either a ladle or measuring cup to scoop it out of the skillet neatly.
9. Add the basil and almond milk and cover; then puree until smooth.
10. Once you've reached your desired consistency, add the baked chicken and pulse the blender several times until it's shredded but not completely blended.
Nutrition Facts
Calories per Serving:

336
This video is from 2012, and I make the recipe with you (I think we were using flip cams back then)  – but there's also a super cute motorcycle featurette at the beginning my friend made of me – this is old school Betty Rocker! Enjoy 🙂
---