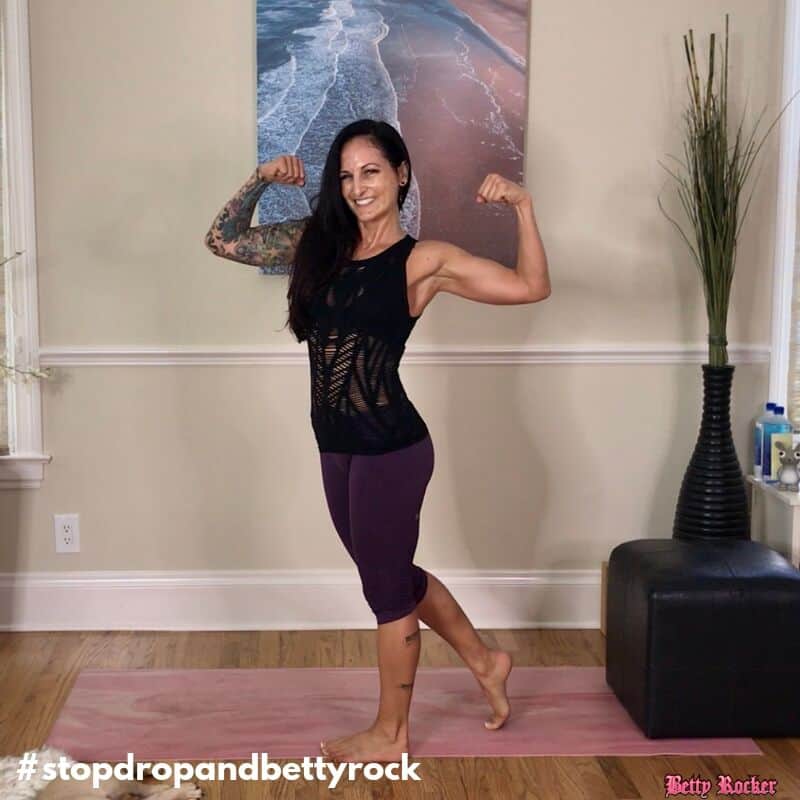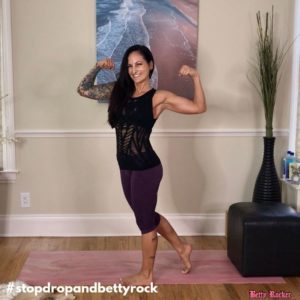 Get ready to #stopdropandbettyrock with this fun Full Body HIIT Circuit! This workout can be 7, 15 or 23 minutes long depending on what you have time for and how many rounds you do.
Remember, you don't need to spend a ton of time exercising, you just need to move consistently!
One of my main secrets to success is using the #stopdrobandbettyrock concept and doing a quick workout whenever and wherever I have the time. Sometimes that's one round of a workout or a quick set of pushups and squats, but I do something and that has been key in maintaining my physique.
Instead of feeling like a "failure" for not getting in an hour workout every day, I feel like a rockstar because I made time to do a workout. Reframing how you approach your workouts and how you see your success is essential. It's #allorsomething not all or nothing.
Today's workout is modeled after the workouts in the 90 Day Challenge and uses all body weight which allows us to take advantage of gravity and use our own body as resistance to sculpt and strengthen our body. We also add explosive cardio into the mix to burn fat and get our heart rates up!
This particular style of training is insanely effective for getting lean and shredded which is why I love doing bodyweight workouts- we get the maximum results in the shortest amount of time (1)! And with the versatility of being able to workout out from anywhere, anytime, your ability to stay consistent increases.
There is nothing to stop you from getting in some movement today Rockstar-let's go! 
---
5 Benefits

to Bodyweight Workouts:

 
1.They are good for any fitness level:
I love Bodyweight workouts because they can be easily modified to fit anyone! No matter your fitness level, you can make them work for you by adding extra reps, performing the exercises faster or slower, taking shorter or longer breaks and doing more or less rounds.
2.They are versatile:
Bodyweight training is also a great way to switch up your workout routine! There are countless exercise variations you can do which helps keep you from getting bored and staying motivated. Since there are so many different bodyweight exercises you can do, you can create a routine that will fit your life and help you reach your goals.
Still not sure what to do? Let me help you! Check out my done for you 12 week at home workout plan that takes out all of the guesswork.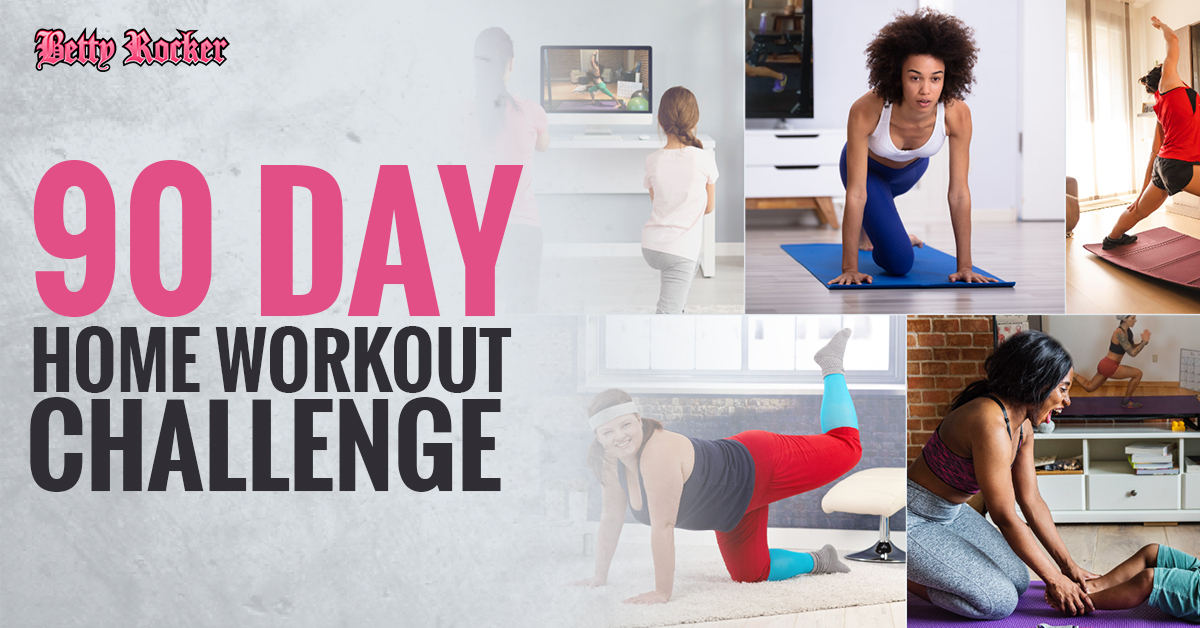 3. Can be done anywhere, anytime:
Body weight workouts can be done anytime, anywhere! You can train in a gym, in a park, on a beach, in your house or on a road trip—there really isn't anywhere you can't workout. And unlike other types of workouts, the only piece of equipment you need is your own body and luckily you take that with you everywhere you go!
Because bodyweight workouts are so convenient to do, it's also easier to maintain consistency with your workouts in the long run.  No matter the circumstances, whether you're traveling, or just can't make it to the gym, with bodyweight training, there's no reason why you can't get a great workout in!
4. Better balance and flexibility:
Bodyweight workouts can also help improve your overall balance and flexibility (2).  Since you are using your body to do the movements, you have to engage numerous joints and muscles, increasing your level of awareness and control.
Not only are bodyweight exercises fully functional, meaning they simulate and improve movements you do in daily activities, they also take your joints and muscles through a full range of motion, improving your flexibility (3). Plus, they have been shown to be especially beneficial for improving posture and preventing exercise-related injury (4).
5. A great way to combine cardio and strength in one workout:
Bodyweight workouts, like the one we are doing today, usually combine strength based movements with cardiovascular endurance- think incline pushups and skaters. This  creates the perfect environment for you to build muscle, burn calories and improve your aerobic capacity (5).
And since there's no equipment involved, you can easily transition  from one move to the next giving you a short but intense HIIT workout that yields major results such as increasing your metabolism and reducing body fat (6)!
---
Full Body HIIT Circuit
Click to expand and see a written description of all moves.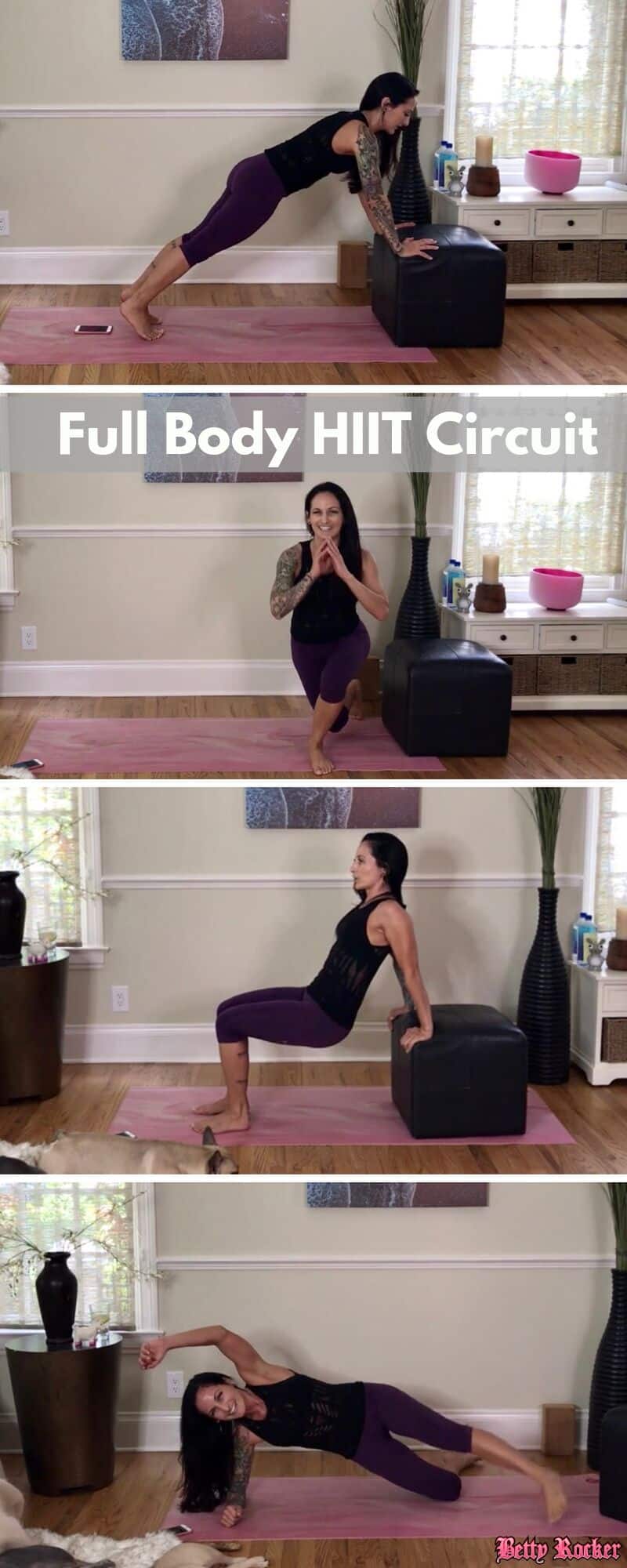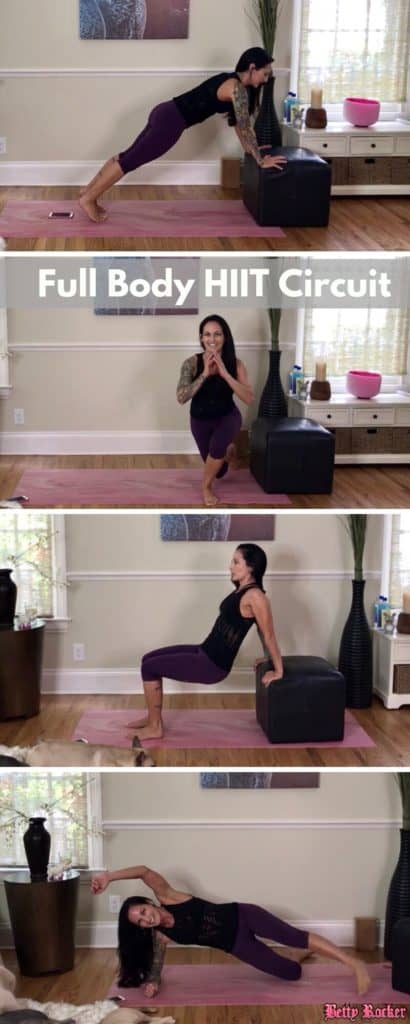 Format: Perform 2 rounds for the prescribed amount of time. Rest as needed.
Move 1: Sumo Full Body Extensions (1:00) add Jump squats
Start in a standing position with your feet wider than hip distance apart, then squat down, bringing your hands down near your feet. Pop up to standing, extending your hands up over your head.

Make sure to keep your core tight, and engage your booty at the top as you extend your arms overhead.

For Jump Squat:

Shoot your booty back behind you, keeping your chest up (don't bend forward) and weight back in your heels.

Use your glutes to power up to a jump. Land lightly, with a soft bend in your knees.
Move 2: Incline Push Ups (1:00) to Push Ups
You can use a wall, edge of a couch/chair, or do knee push-ups for this move.

Place your hands flat against the surface of your choosing and extend your legs out (the further your legs are from the wall/chair, the more challenging the move).

Perform a push-up by lowering yourself to meet the surface and pushing back up – keep your core engaged the whole time and neck neutral.

For Push-Ups:

Place your hands flat against the surface directly under your shoulders and extend your legs out behind you.

Perform a push-up by lowering yourself to meet the surface, back flat, core engaged, and eyes focused about 6 inches in front of you.

Push back up. Keep your core engaged the whole time and your neck in neutral alignment.
Move 3: Skaters (1:00) to High Knee Skaters
This is an explosive cardio move to get your heart rate pumping!

Start in a curtsy lunge position by stepping back with your right leg to just behind or slightly past your left leg.

Jump laterally (sideways) to switch legs and continue until the time runs out.

Mod: Take the hop out and do alternating reverse curtsy lunges.

For Skaters with High Knees:

In between your alternating skaters add in four high knees before switching to the opposite side.
Move 4: Slow Squat Thrusts (1:00) to Fast Squat Thrusts
Start with your feet hip-width apart, engage your core then bend your knees to plant your hands below your shoulders.

Step your feet back to tall plank, feet out wide. Maintain a strong plank, no arched back, belly button in and up.

Step your feet back in. Come back up to standing – repeat.

For Fast Squat Thrusts:

Start with your feet hip-width apart, engage your core then bend your knees to plant your hands below your shoulders.

Jump your feet back to tall plank, feet out wide. Maintain a strong plank, no arched back, belly button in and up. Jump your feet back in.
Move 5: Side Plank Toe Taps (1:00)
Come down to an elbow side plank on the side of your couch, chair, or ottoman with your feet scissored or stacked. Be sure your hips are square (one is not rolling forward). Make sure your elbow is just below your shoulder.

Tap your top foot in front of your bottom foot, then behind it. Hold your core strong and keep your hips lifted.

Mod

: Drop your bottom knee down for more support.

Progressed Move:

Come down onto your mat and do the exercise without the assistance of your elevated surface.
Move 6: Triceps Dips (1:00)
Come into reverse table top facing away from your box or raised surface, with your hands behind you on the box.

Keep your chest open and your elbows parallel to each other as you lower down and press up.

Keep your knees bent, and engage between your shoulder blades to help keep your chest open and keep pressure off your shoulders.

Mod: Take a standing or kneeling position holding a water bottle or weight overhead. Lower and lift it toward your back, keeping your elbows in parallel to each other and your chest open. Don't let your back arch.
Give yourself a round of applause! You did such a great job.
Leave me a comment below and let me know how you're feeling, where you did this workout from, and anything else you'd like to share. I love hearing from you!
---
Looking for a Workout Program to help you be the fittest, strongest, leanest version of yourself, all in the comfort of your own home?