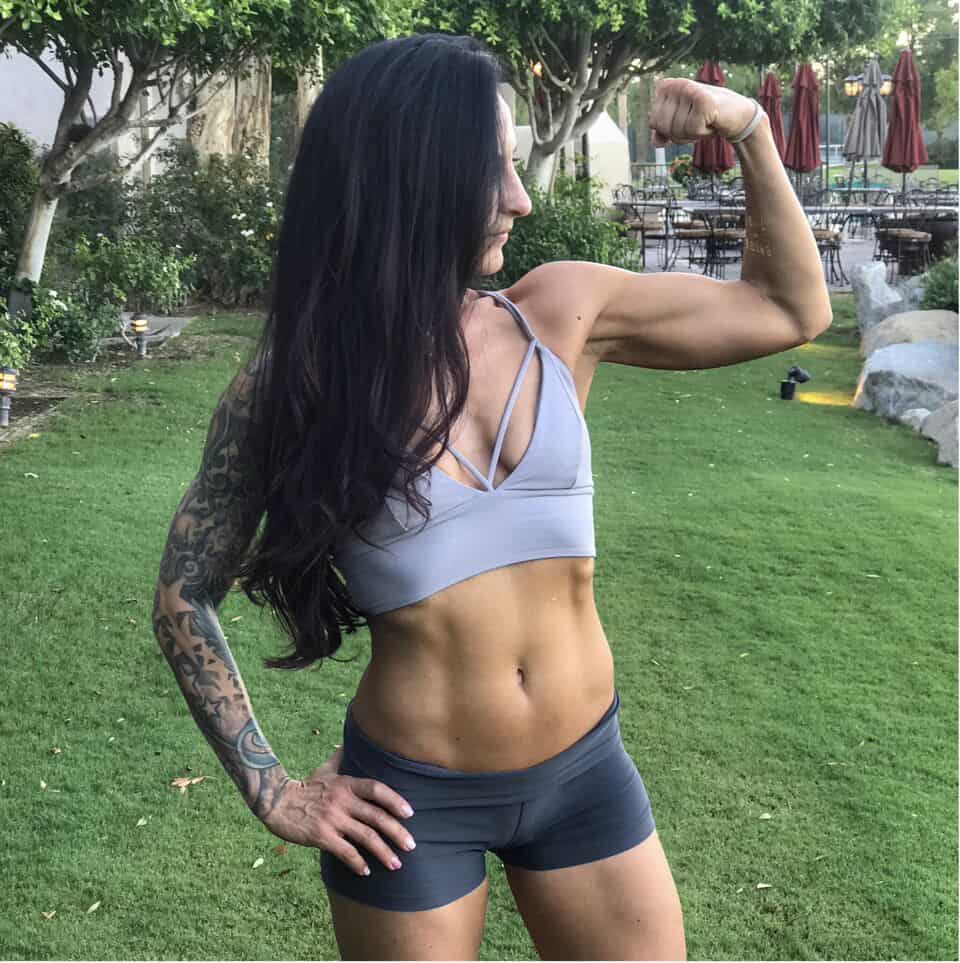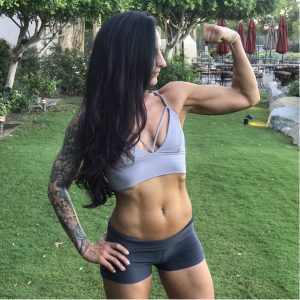 It's time to #stopdropandbettyrock, and I can't WAIT to dominate this full body Power Pyramid with you!
Pyramids are awesome – they're a special kind of ladder workout where we repeat a series of moves at varying time intervals.
I'm going to supercharge it with a bonus move you can do with me on the optional rest period, so get ready to sweat, burn and shred your body head to toe!
You can do this workout ANYWHERE – all you need is a water bottle, 15 minutes, and a little space to move.
This is one of the top requested training styles for our live workout classes in Rock Your Life – so I know you're going to love it!
Decide to show up for yourself and your health right here, right now, because this is how goals are reached!
Let's go!
---
One-off workouts are great, but having a plan to follow is even better! Take a 30-day Challenge in Rock Your Life and have workouts like this formatted into a plan to follow!
15-Minute Power Pyramid Workout (full body - no equipment)
Click to expand and see all workout move descriptions.
Format: Each main move repeats at the following time intervals: 0:15, 0:30, 0:45, 0:30, 0:15. Between each interval take a 0:15 rest, or do the bonus move.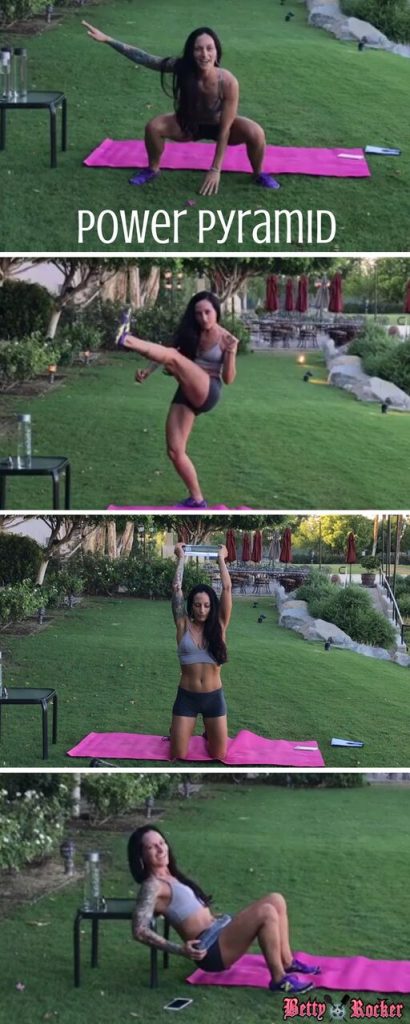 Move 1: Sumo Squat Touchdown
Hold your water bottle or weight and step out to a wide sumo stance, toes turned out slightly, shoulders back, core engaged.
Drop your hips back, coming into a sumo squat – reach your right hand to touch the ground and lower down toward the center of your space.
Jump your feet in as you come up from your squat, repeat this time reaching down with your left hand.

MOD: Leave out the jump, and do alternating sumo step outs alternating between your right arm and left arm.

Bonus Move – Lateral Raises: Hold your weighted objects and stand with feet hip distance apart, palms facing down. Engage your shoulders back and down slightly.
Smoothly raise your arms out to the sides.
Move 2: Hip Thrusters
Come down, balance your mid back, between your shoulder blades on the side of your chair, couch or ottoman.
If you're using weights, position them in your hip creases.
Squat your booty down, press up and away. Position yourself so your weight is going straight down into your heels.

Mod: Take out the elevated surface and come down to a lying position on your mat. Take out the weights and just use your body weight.

Bonus Move – Tricep Dips: Come into reverse tabletop facing away from your box or raised surface, with your hands behind you on the box.
Keep your chest open and your elbows parallel to each other as you lower down and press up.
Keep your knees bent, and engage between your shoulders to help keep your chest open and not put too much pressure on your shoulders.

Mod: Take a standing or kneeling position holding a water bottle or weight overhead. Lower and lift it toward your back, keeping your elbows in parallel to each other and your chest open. Don't let your back arch.
Move 3: Boxing Burpees
Come down, plant your hands just below your shoulders.
Step or jump your feet back into a plank position (add in an optional push up here).
Step or jump your feet back to your hands, come to a standing position and do a front kick, back kick and repeat using opposite legs for the kicks.

Mod: Use the side of your chair, ottoman or couch that you used for the triceps

 dips. Elevate your body, step back into a plank position, do a half push up or take it out, step your feet back up and come to a standing position – instead of doing the full kick do a low knee and a back knee.

Bonus Move – Calf Raises: Stand tall, core engaged holding weighted objects in each hand (weights are optional).
Keep your shoulders engaged and actively drawing slightly back to keep your chest up.
Lift up onto your toes and lower back down.
---
…so I can support you in ROCKING your body AND your life! Get stronger and healthier with a community of rockstars to support you, home workout challenges for a fit body, and fresh new workout classes each week to keep you motivated!