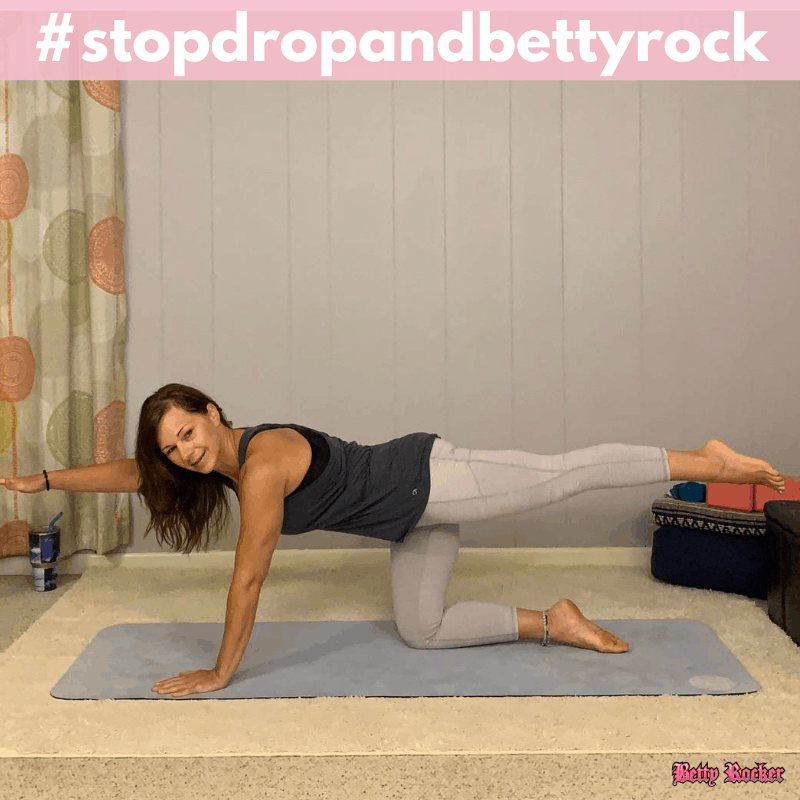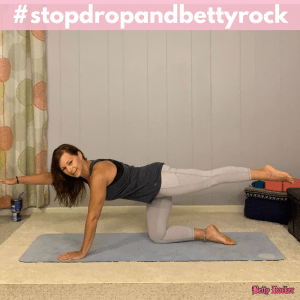 For an awesome full body strength and cardio sesh, today's workout is perfect! Plus you won't need any equipment so you can #stopdropandbettyrock anywhere you are!
You'll be working out with Coach Nikki, one of the amazing Team Betty Rocker coaches from Rock Your Life.  She'll have you targeting your entire body with an extra emphasis on your booty and core!
Coach Nikki is a yoga instructor ERYT200, an AFAA Certified Personal Trainer, a Mat Pilates Instructor and a Team Betty Rocker Coach!
Keep reading to find out more about the workout she has in store for you and why she loves it!
---
Hey Rockstars, Coach Nikki here! In this superset workout you will utilize the core for stabilization while working larger muscles to tone and sculpt the whole body. Progressing the moves in each round makes this workout fun and challenging!
This bodyweight only workout is one of my favorite ways to train because I can do it anywhere, anytime. Even while watching my favorite streaming show!
Grab some water to stay hydrated and let's get ready to sweat together!
---
Listen for the breakdown for different fitness levels and form cues so you know how to make each move right for where you're at!
---
One-off workouts are great, but having a plan to follow is even better! Take a 30-day Challenge in Rock Your Life and have workouts like this formatted into a plan to follow!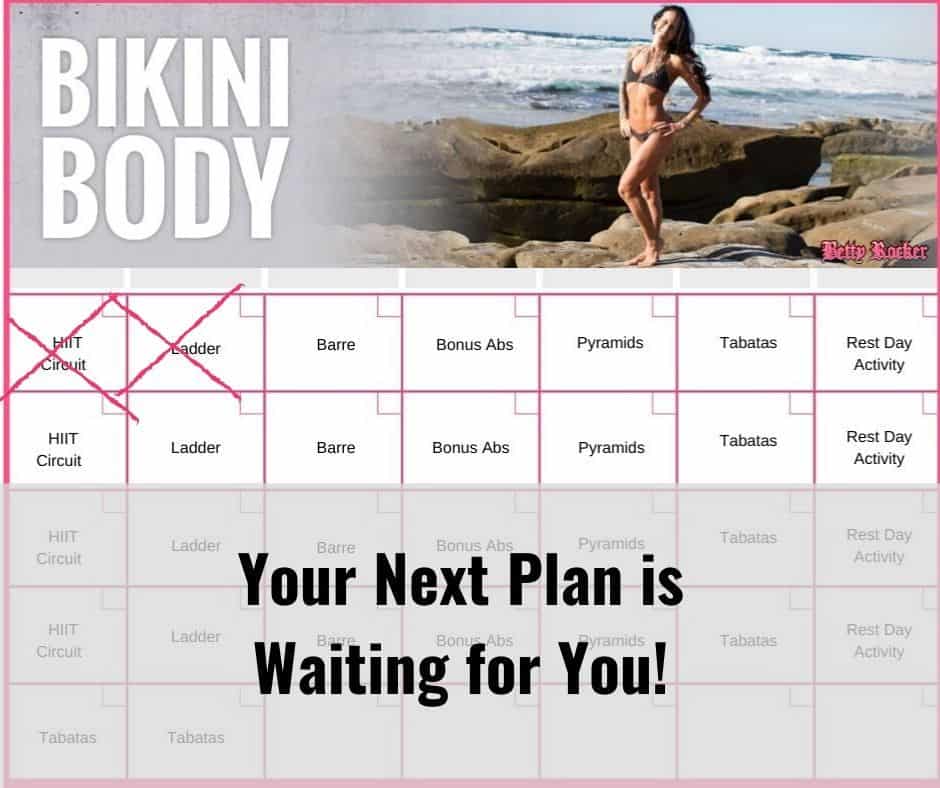 Full Body Shred
Click to expand and see all workout move descriptions.
Equipment Needed: None (optional elevated surface).
Format: Perform each movement for the prescribed time/repetitions and repeat for 3 rounds. Rest as needed.
Superset 1: 
Move 1: Alternating Bird Dog Crunch (10-12 each side)
Begin in a kneeling tabletop position with your shoulders stacked over your hands and your core engaged.

Extend your right arm and left leg while squeezing the glute of the extended leg, keeping your core engaged and not allowing your hips to rotate.

Bring your right elbow to meet your left knee below your body and you crunch your torso and contract your abs.

Return to your tabletop position and repeat on the other side and alternate back and forth.

MOD: keeping both hands on the mat, extend just your leg behind you and crunch it in below your body.
Move 2: Lying Extensions (10)
Lie face-up with your arms extended toward the ceiling, directly over your shoulders, and knees bent at 90 degrees over your hips, calves parallel to the floor.

Keeping your shoulders down, engage your core by pressing your lower back into the mat and extend your arms and legs away from you until straight out.

Bring your arms and legs back together as far as you can to crunch your torso and repeat.

MOD: Keep knees bent and touch your heel down to the mat instead of extending.

Superset 2: 
Move 1: Sumo Squat to Knee Crunch (8-10 each side)
Begin with your feet wider than hips distance and your toes turned out slightly. 

Keeping your core engaged and torso lifted, shoot your booty back like you are going to sit down in a chair and allow your knees to track your toes. Be careful not to bend forward at the hips and only go as deep as you can go without losing good form.

As you come up, power through your heels and drive your right knee up to meet your right elbow as you crunch your torso.
Move 2: Elevated Single Leg Hip Thruster (10-12)
Position your back on an elevated surface (couch or chair). The edge of the surface should be at the base of your shoulder blades. Bend your knees and have them at 90 degrees.

Straighten your right leg to be parallel to your left.

Drive through your left heel to lift your hips to the ceiling, squeezing your glutes and keeping a tight core.

Drop your hips back down toward the floor with control and repeat. Perform all reps on one side before switching.

MOD: Perform this on the ground rather than an elevated surface or do this with both feet down rather than single leg.

Optional: Add a weight to your hip crease to increase the resistance.
Superset 3: 
Move 1: Reverse Lunge to Sumo Touch Down (8-10 each way)
Begin in a standing position with your core engaged and chest upright.

Step your right foot back behind you and begin bending your back knee until it nearly touches the ground in a 90 degree angle.

As you stand up, power through your front heel and bring your back foot to meet your front foot as you come to standing.

Repeat with your left leg and as you come out of your second lunge, step your foot out to the side to perform a sumo squat and as you squat, reach down to touch the ground below you. (Ensure your knee is not shooting out over your toe and maintain an upright chest as you lunge).

MOD: Hold on to a chair or wall to help stabilize you.

Advanced Option: Jump out of your lunge to and switch your front and back legs, landing lightly with your weight balanced in your front heel. Similarly, you can jump into the sumo squat position for the touch down. 
Move 2: Superwoman Lifts with Trap Activator (10-12)
Lie on your stomach with your arms and legs extended.

Lift your legs and arms off the mat together, using your lower back and glute strength.

As you lift your body off the mat, draw your elbows back towards your ribcage, focusing on the squeeze between your shoulder blades.

Re-extend your arms, and lower both arms and legs back to the starting position.

MOD: Begin by isolating your upper body only, leaving your legs on the mat for stability. Perform several upper body isolated lifts. Then perform several lower body isolated lifts. Work on isolated upper and lower body lifts until you feel comfortable putting them together.
Great job Rockstar! I'm so proud of you for showing up for yourself today.
Be sure to check in below with me and Coach Nikki and let us know where you are did this workout – in your house? Outside? Can't wait to hear from you!
---
…so we can support you in ROCKING your body AND your life! Get stronger and healthier with a community of rockstars to support you, home workout challenges for a fit body, and fresh new workout classes each week to keep you motivated!