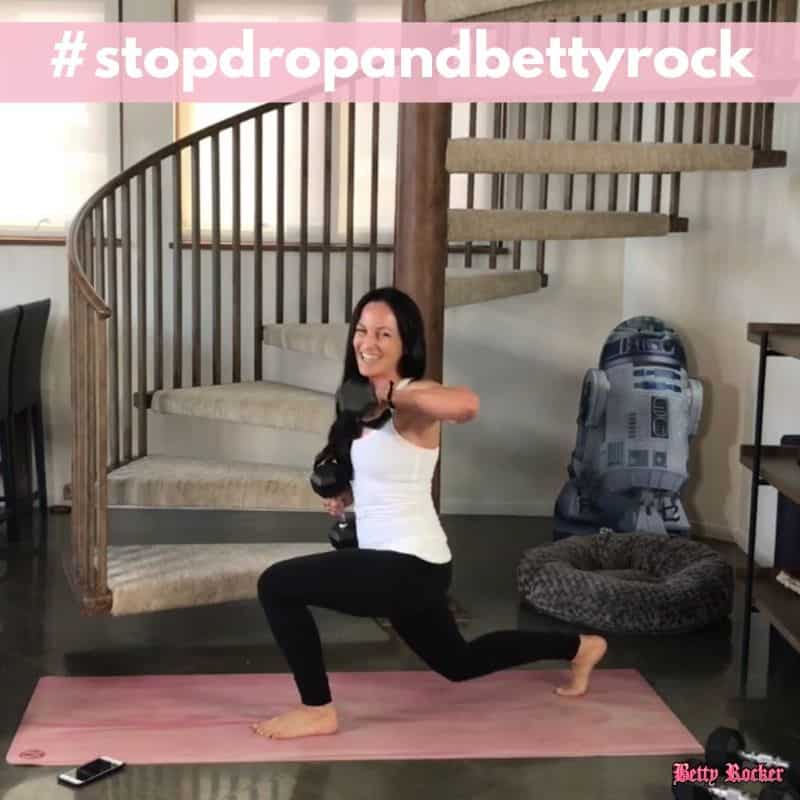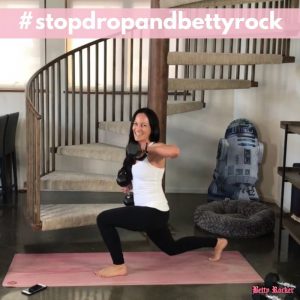 Hey Rockstar! Get ready for cardio-intensive bursts and muscle building moves in this awesome Full Body Superset workout!
You'll recognize this style of circuit training if you've done Home Workout Domination before, my 8- week at home workout program that pairs explosive cardio with strengthening moves so you get stronger while burning fat!
Never beat yourself up or be down on yourself for following the modification or lower impact options that I offer. It's essential that we get stronger safely and within our own limits, so listen to your body and up the challenge as YOU feel good doing so, not just because I am. This will ensure your long-term success and speed your results.
I always demonstrate a couple options so that the wide range of fitness levels watching can all find their groove. I take the lower impact versions whenever I need to myself, and didn't build my current strength by simply going all out and doing the hardest thing possible all at once I built up to it.
While there isn't one "perfect way to train," there are guidelines for form that will fire the right muscles to get you the best results – and keep you safe. And there is the importance for each of us to be self aware and personally responsible for our energy and our actions so we work within our own limits and are able to progress without burning out or getting hurt.
This is a learning process too, figuring out what you need and what is best for you. I made mistakes that set me back along the way in the past, like overtraining, trying to "show off" or "prove" how strong I was. None of that served me. I got hurt, I burned out, and I had setbacks that sabotaged my goals. So remember to keep tuning into your body and how it's feeling. I'll continue to offer you lots of options.
Listen to your body and support yourself as you progress. It's not a competition, it's a practice. ❤️
Now let's #stopdropandbettyrock!
---
Ready for more? I've got you covered! The Home Workout Domination program is perfect if you're looking for a time-saving resistance training plan to do at home, at the gym, or on the road – it will torch body fat, and tighten and strengthen your legs, glutes, abs, and arms – total body domination!
Full Body Supersets
Click to expand and see all workout move descriptions.
Equipment: Weighted objects (water bottles, dumbbells, household objects etc).
Format: Perform each movement for the prescribed time/repetitions and repeat for 3 rounds. Rest as needed.
Superset 1:
Squat Thrust (0:30-0:45)
Stand tall with your feet slightly wider than hip distance apart, core engaged.

Bend your knees and plant your hands just below shoulders. 

Step or jump your feet back to a tall plank, keeping your core tight and back flat, gaze about 6 inches in front of you for a neutral spine.

Jump or step your feet back to your hands, loading your weight in your heels and use your momentum to power up into a jump

MOD: Perform this movement with your hands on an inclined surface, like a chair, couch or ottoman. You can also take the impact out entirely by stepping back and forth rather than jumping, and coming up to a body squat rather than a jump.
Biceps Curls (8-12)
Holding your weighted objects with your palms facing you, pull your shoulder blades back and down with your core engaged. 

Keeping the upper arms stationary, perform a bicep curl with both arms by curling the weight up to your shoulder while contracting your biceps (palms facing you). 

Reverse the movement to return to your starting position and repeat. 

Superset 2:
Hopovers (0:30-0:45)
Begin in a tall plank position with your hands on an elevated surface like a chair, bench or ottoman.

Using your core, lift your hips up to the ceiling and jump your feet up and over to the other side as if you were hoping over a bench. 

Hop back and forth from right to left, initiating through your core and landing lightly on each side.

MOD: From a seated position (on the floor or edge of a couch) with your knees bent, hands placed behind you and chest up tall, draw a circle with your knees from right to left to mimic the core movement of the hopovers.
Alternating Reverse Lunges with Flexed Lateral Raise (8-12 each side)
Begin in a standing position with your core engaged, chest upright, weights in your hands, and arms beside you, bent in a 90 degree angle.

Step your right foot back behind you and begin bending your back knee until your back knee nearly touches the ground in a 90 degree angle.

As you descend, perform a bent arm lateral raise by raising your elbows up toward the ceiling keeping your wrists and elbows in line. Keep your shoulder blades pulled down and back throughout the lateral raise.

Return your arms to the starting position and as you stand up, power through your front heel and come to standing.

Repeat with the left leg and alternate back and forth. 
Superset 3:
Skaters (Sliders) (0:30-0:45)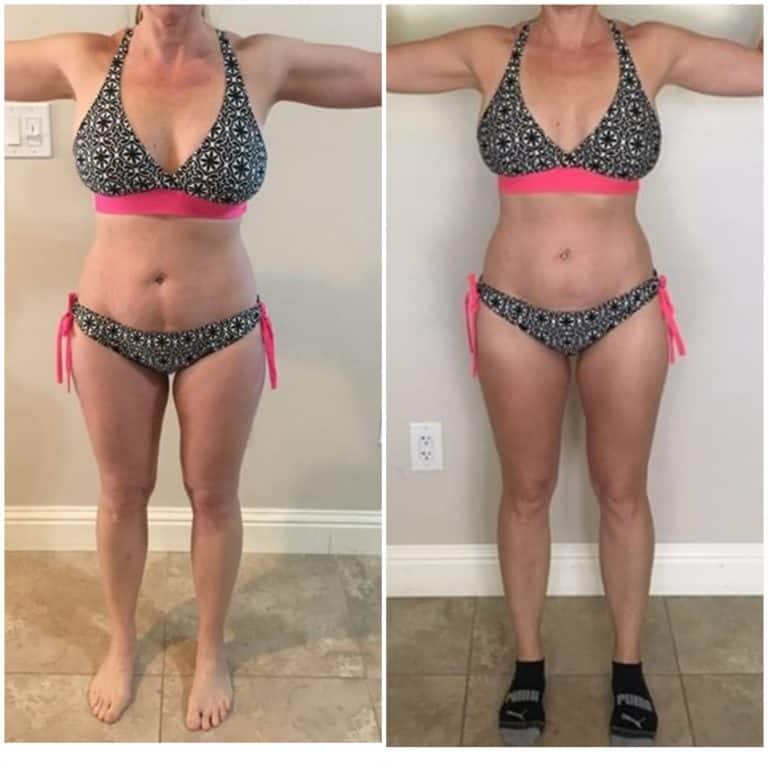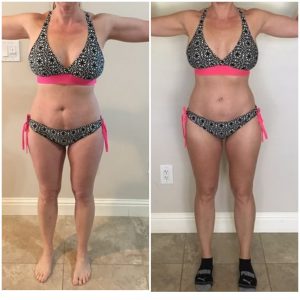 Begin in a standing position with your core engaged and chest upright.

Perform a curtsy lunge by stepping your right foot back behind you and over to the left as your left knee bends behind you and reach your hand down to touch the ground. 

Power off your front heel and as you come back up to standing, step or hop laterally to the right side of your mat to perform a curtsy lunge with your left leg and repeat. 

MOD: Take the hop out and do alternating reverse lunges.
Single Leg Hip Thrusters (8-12 each side)
Position your back on an elevated surface (couch or chair). The edge of the surface should be at the base of your shoulder blades. Bend your knees and have them at 90 degrees.

Straighten your right leg to be parallel to your left. (Optionally, you can add a weight to your left hip crease). 

Drop your hips down toward the floor and then press back up by driving through your left heel to lift your hips to the ceiling, squeezing your glutes and keeping a tight core.

Drop your hips back down toward the floor with control and repeat. Perform all reps on one side before switching.  

MOD: Perform this on the ground rather than an elevated surface or do this with both feet down rather than single leg. 
Amazing job, Rockstar – I look forward to seeing you next time! Check in with me and let me know how you enjoyed the workout.
---
If you like this style of workout, you'll love Home Workout Domination, my circuit training program that you can do from home (or in the gym) with minimal equipment.
It combines resistance training and explosive cardio for 8 weeks of shredding and fit body fun. Sculpt and define your abs, legs, arms and booty with me in these follow along workouts, and get stronger, improve your posture and look and feel your best!